"That was easy"

Restaurant Software
Get a flexible and user-friendly booking, takeaway or shop system for your restaurant today.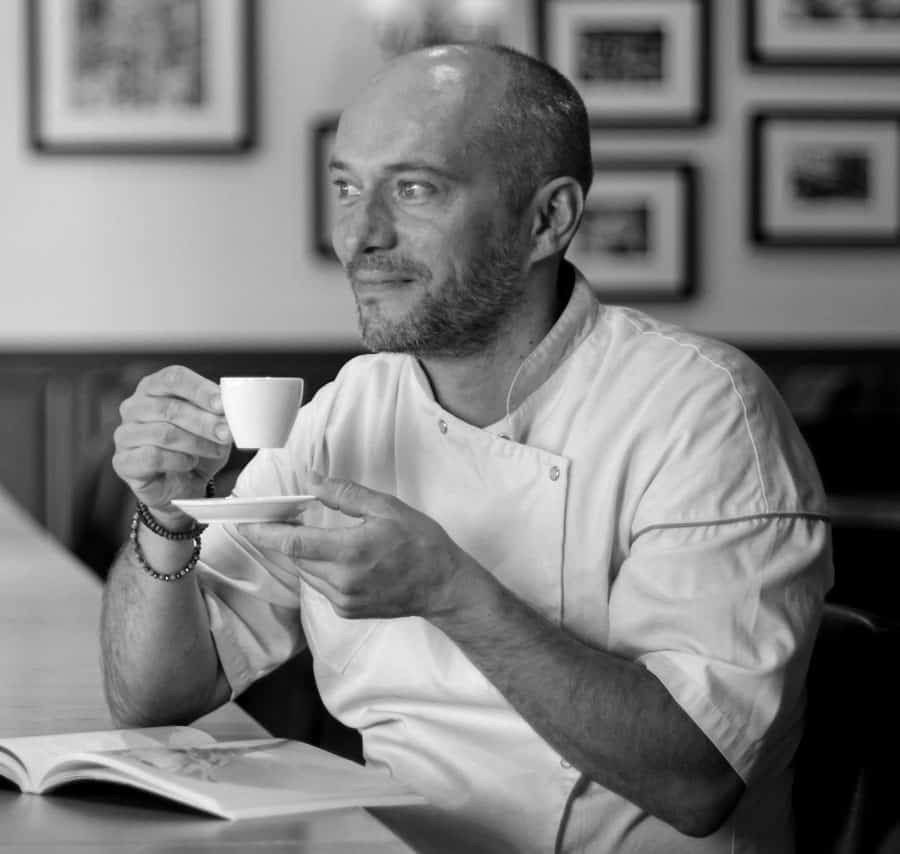 Trusted by great restaurants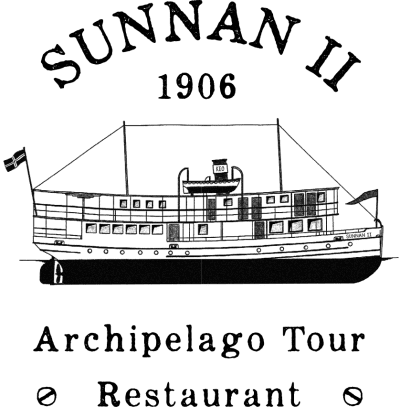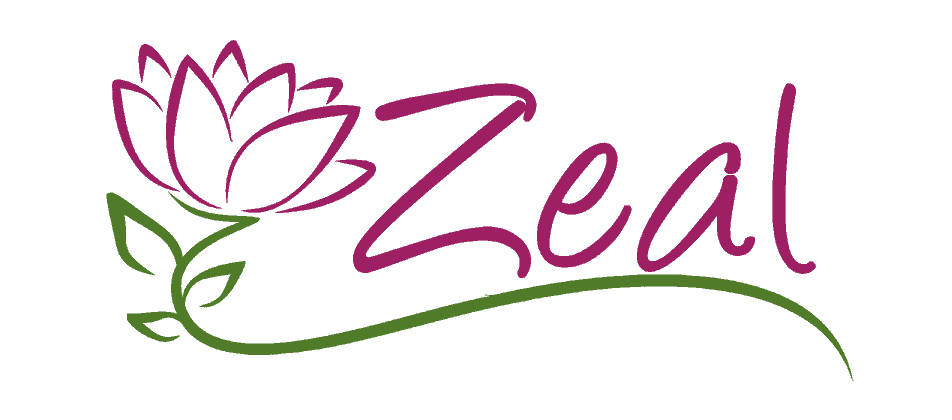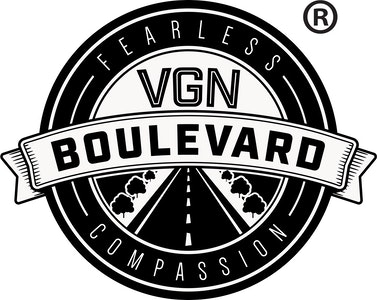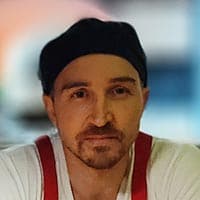 "resOS stood out to be more stable and easy to understand. I was surprised that the price was better than other competitors as well!"
— Georgios Owner of Basilico
Reservations & Table Management
An efficient booking system is the backbone of any restaurant that accepts table reservations. Choose a flexible system that is easy to use and stable.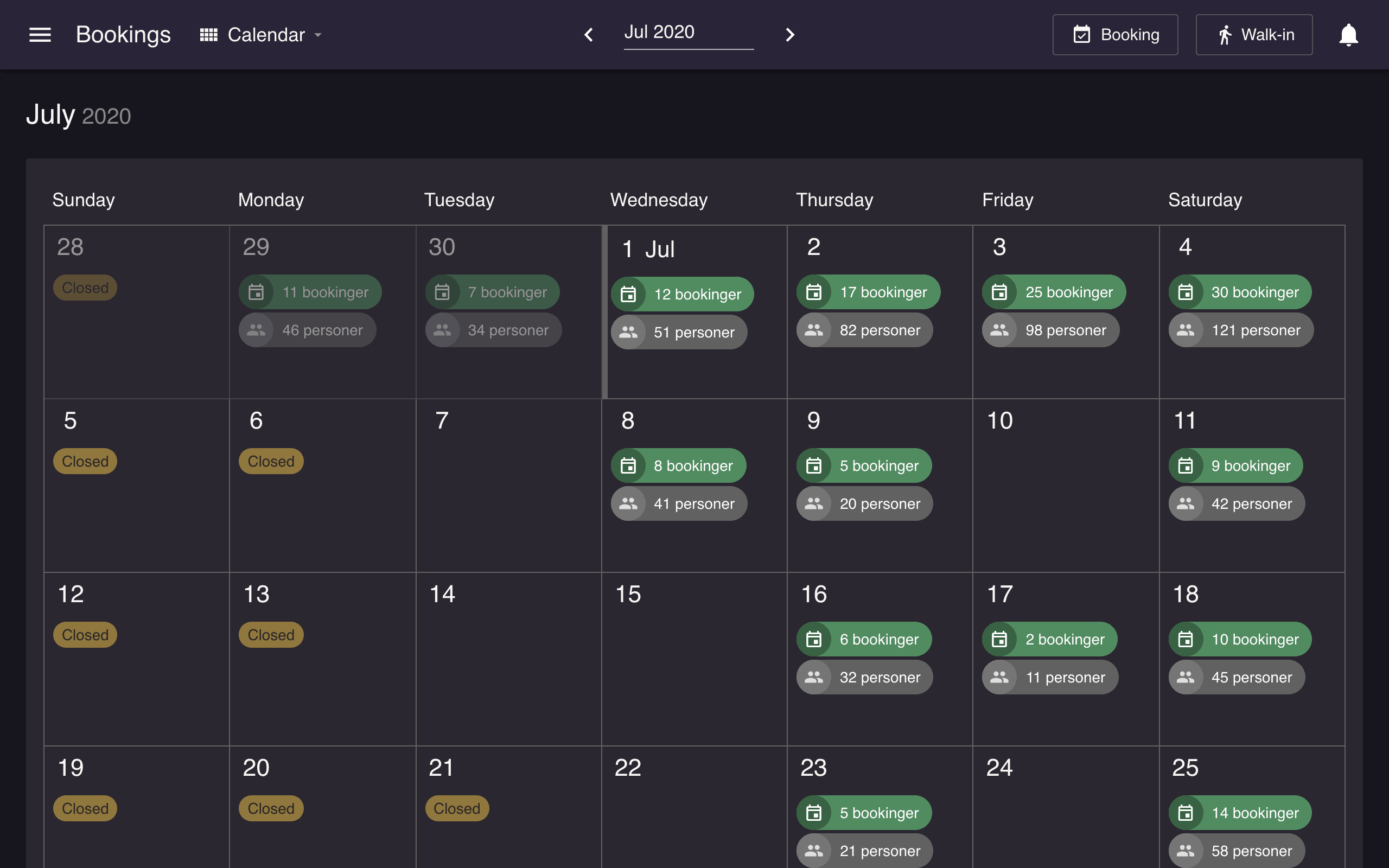 Get an overview of your bookings and guests
Our calendar view makes is easy to get an overview of bookings, guests and opening hours.
Use it to plan ahead or navigate to a specific date.
Stay in control of bookings, tables and time
If you use automatic or manual table management the schedule view makes it easy to stay in control, as the restaurant fills up and time goes by.
Click to add a booking and change booking status instantly with the status shortcut.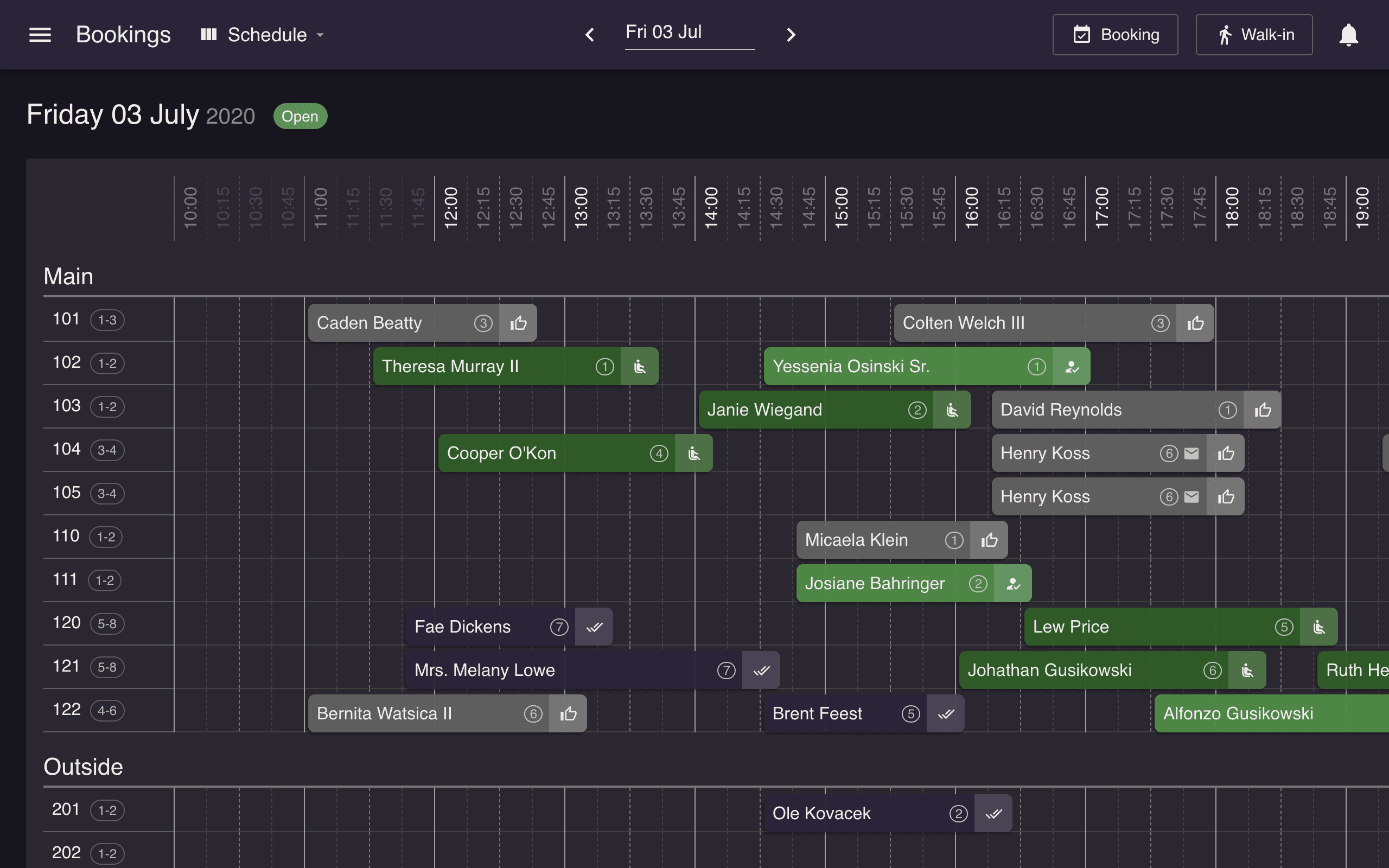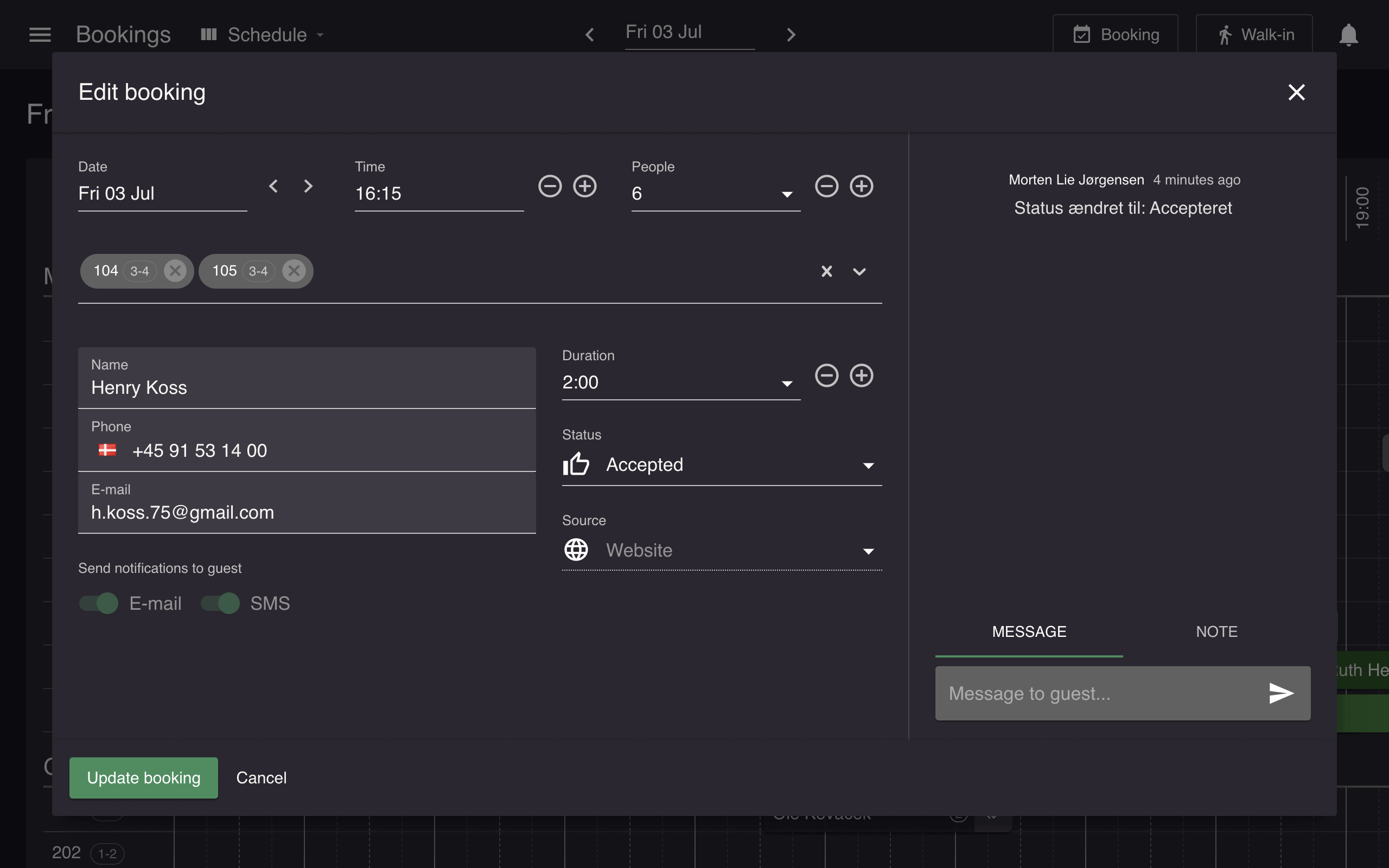 Add and edit bookings with communication build in
Adding or editing reservations is easy and fast, with flexible table selection and notification settings.
Receive and write messages to guests and add internal notes, directly on the booking.
Setup you floor plan in our drag-and-drop editor and use it to get a visual overview of your tables.
View table availability live or at a date and time you select. Click or tab a table to view or add a booking.
❯ Use the floor plan to visually manage tables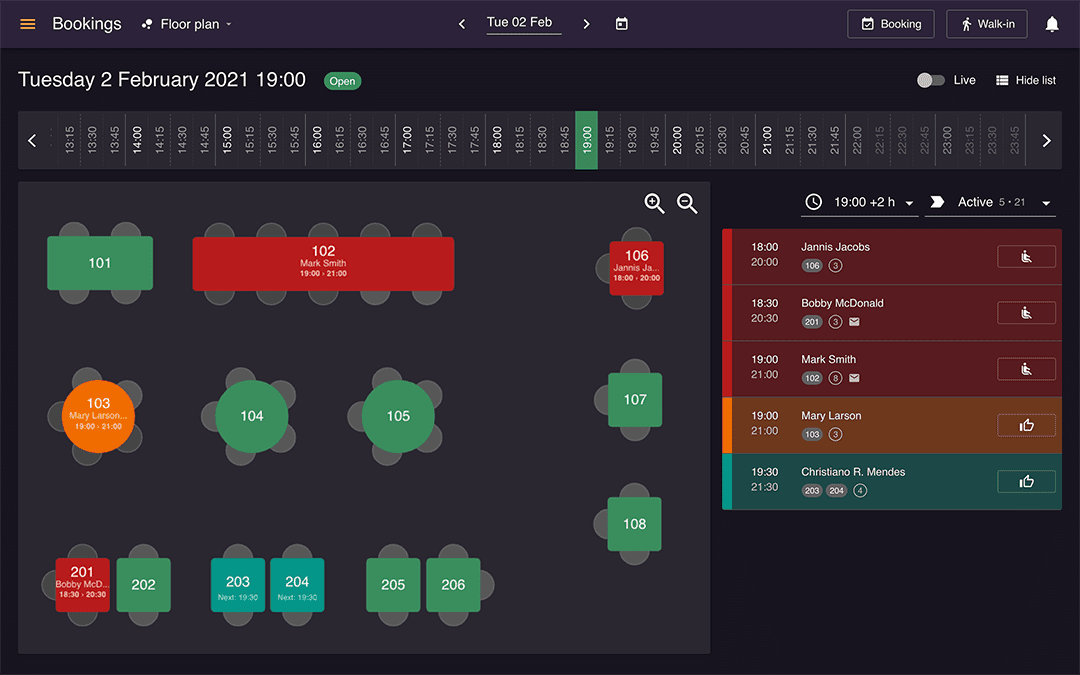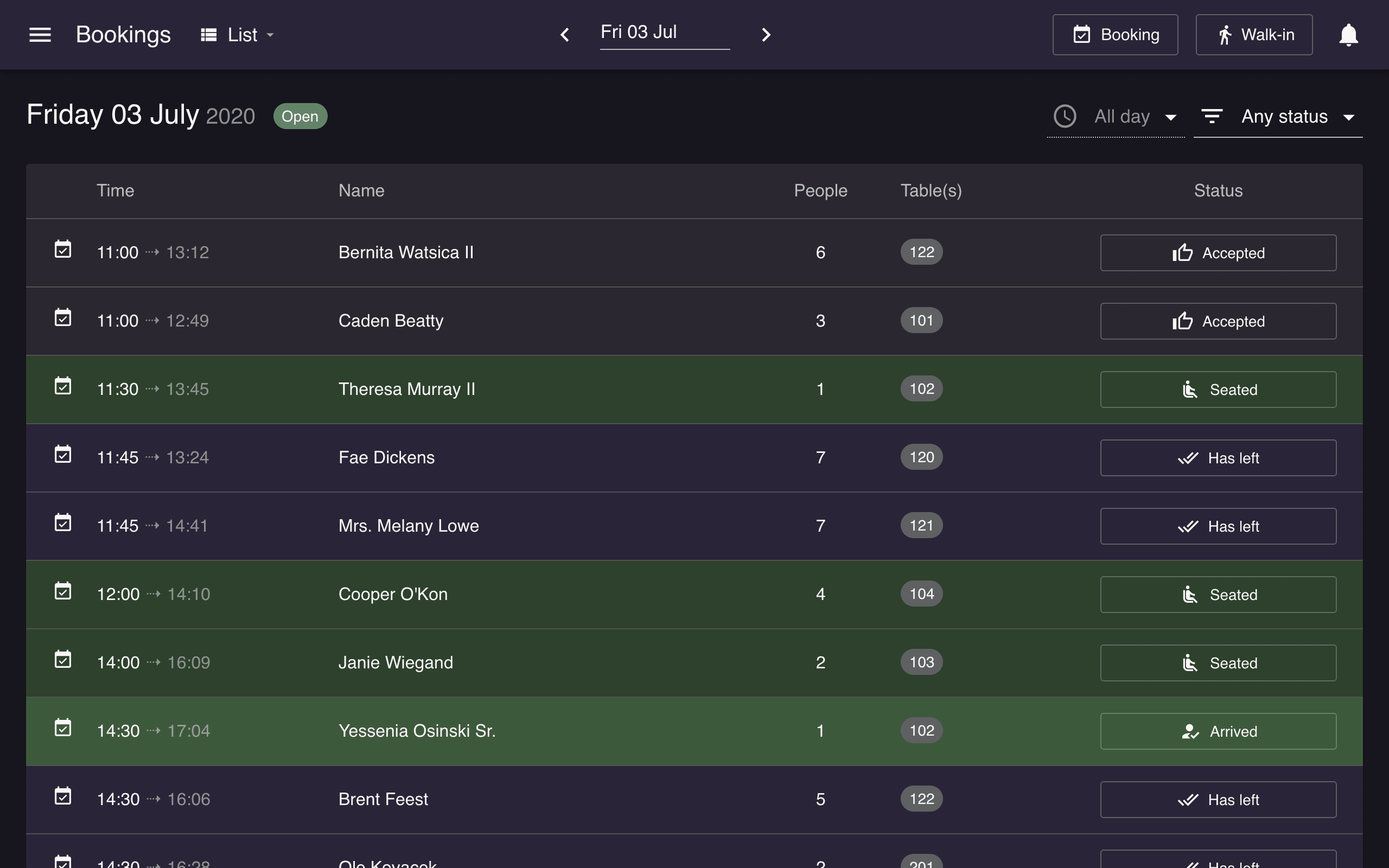 Keep it simple if you prefer
Use the list view if you like to keep things simple, need a chronological view of bookings or do not want to use table management.
Accept booking automatically or manually accept by request.
Give a great first impression with a booking form guests love
Designed to make it as fast and easy as possible to book a table, your resOS booking form will make sure no guest is lost in the process.
Implement is as widget on your website or simply link to your personal booking page subdomain.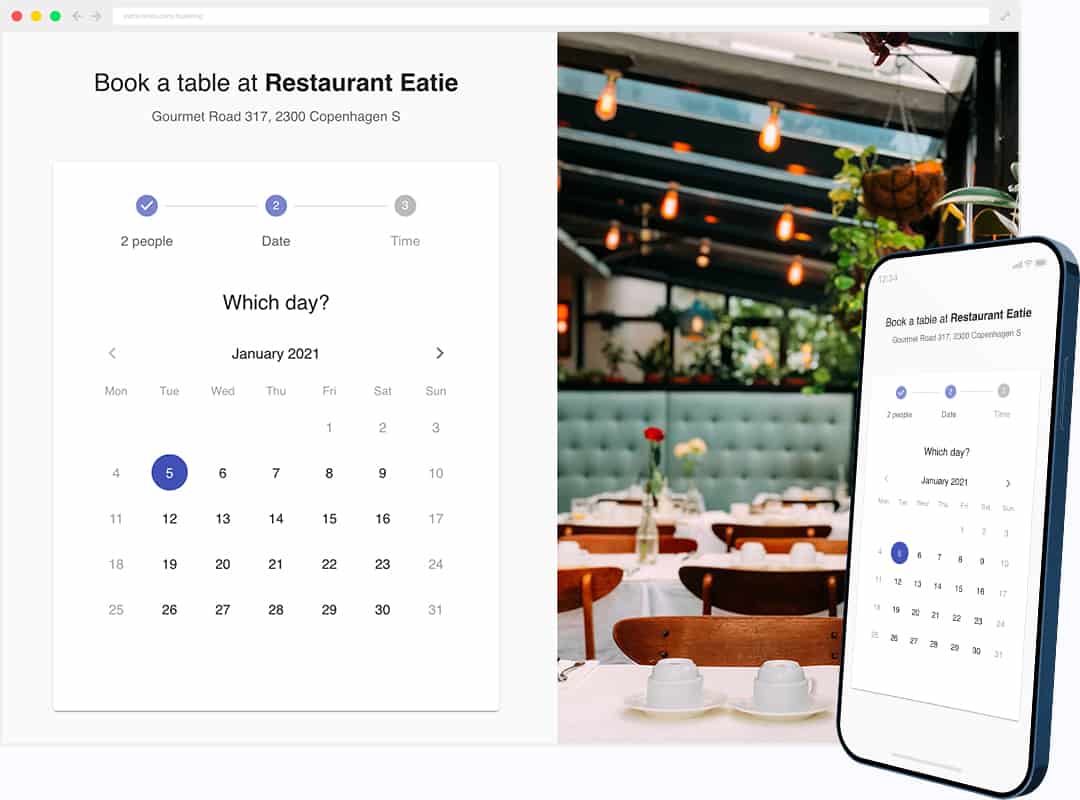 "We chose resOS based on the platform's ease of use, appearance and price. It has been super easy to train our servers in using the system."
— Bjarne Lastein Owner of The Blue Train
Takeaway
Increase your revenue by offering your products as takeaway today using the resOS restaurant takeaway system. Simple and easy to setup.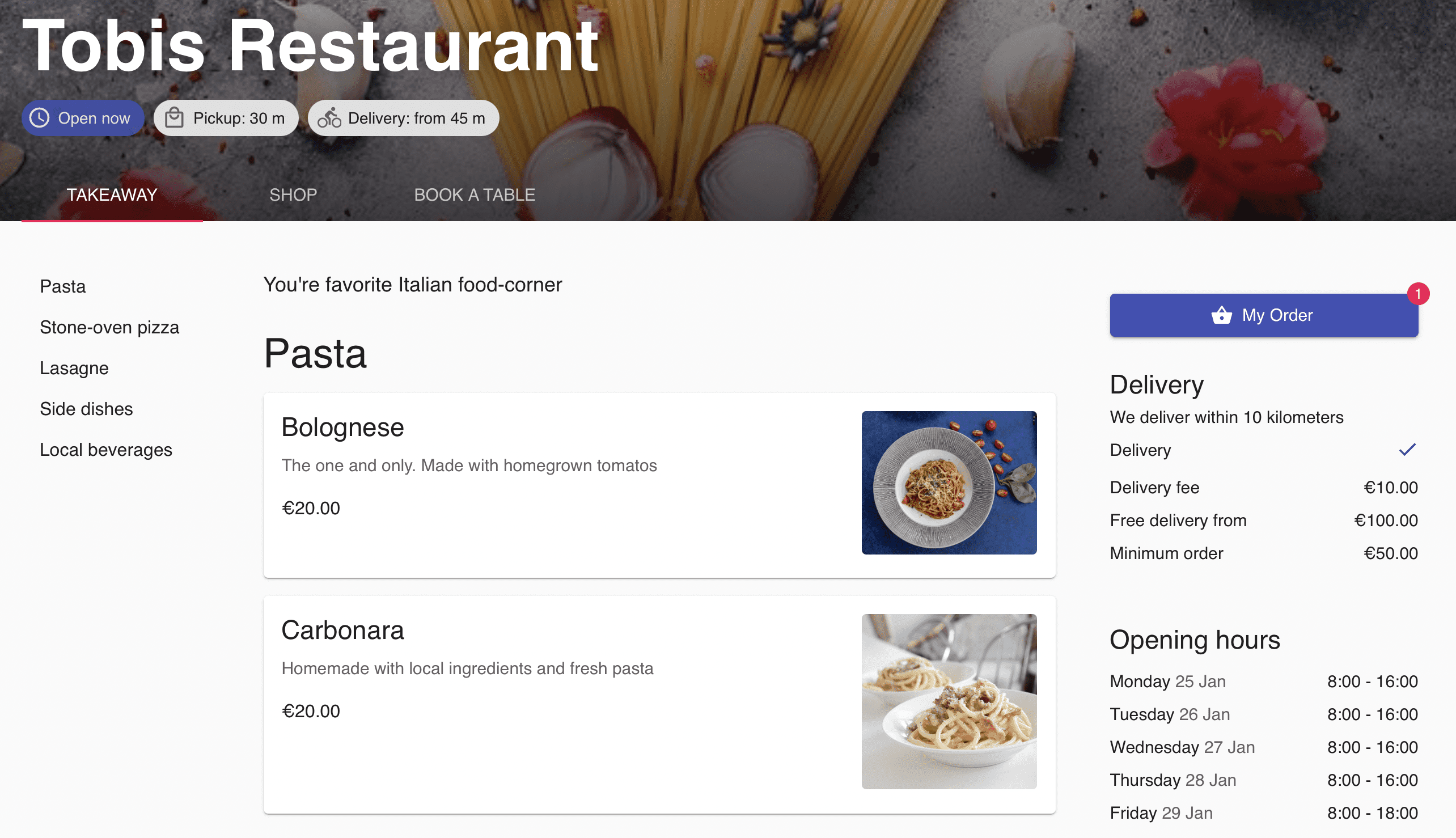 Customize your personal takeaway system
Offer takeaway in an elegant and guest-friendly way. resOS' modern takeaway system allows you to bring food to your customers in full accordance with your own preferences.
Flexible solutions to fit your needs
Decide which payment methods your customers should be able to use. Easy to manage and setup. Apple Pay, VISA, and Mastercard supported.
0% commission and 4% online creditcard transaction fee (optional).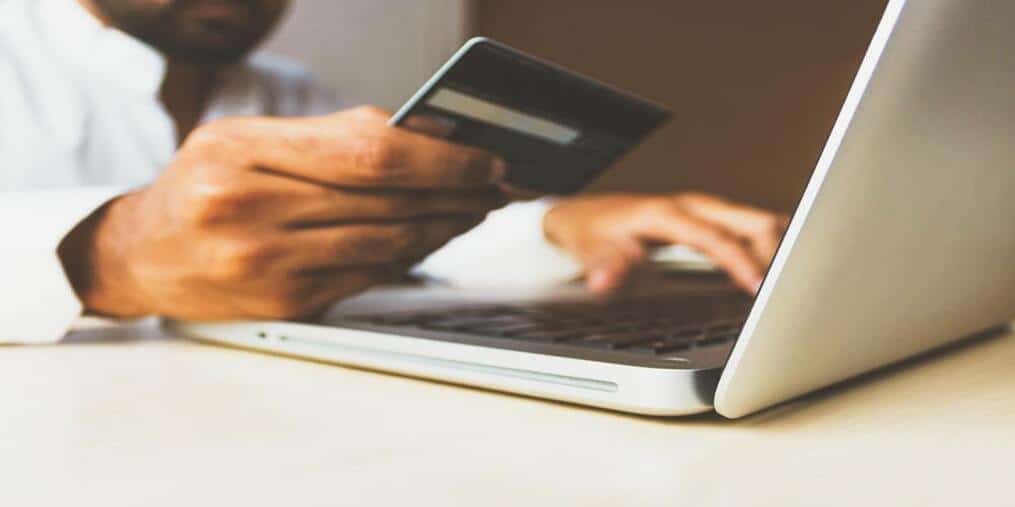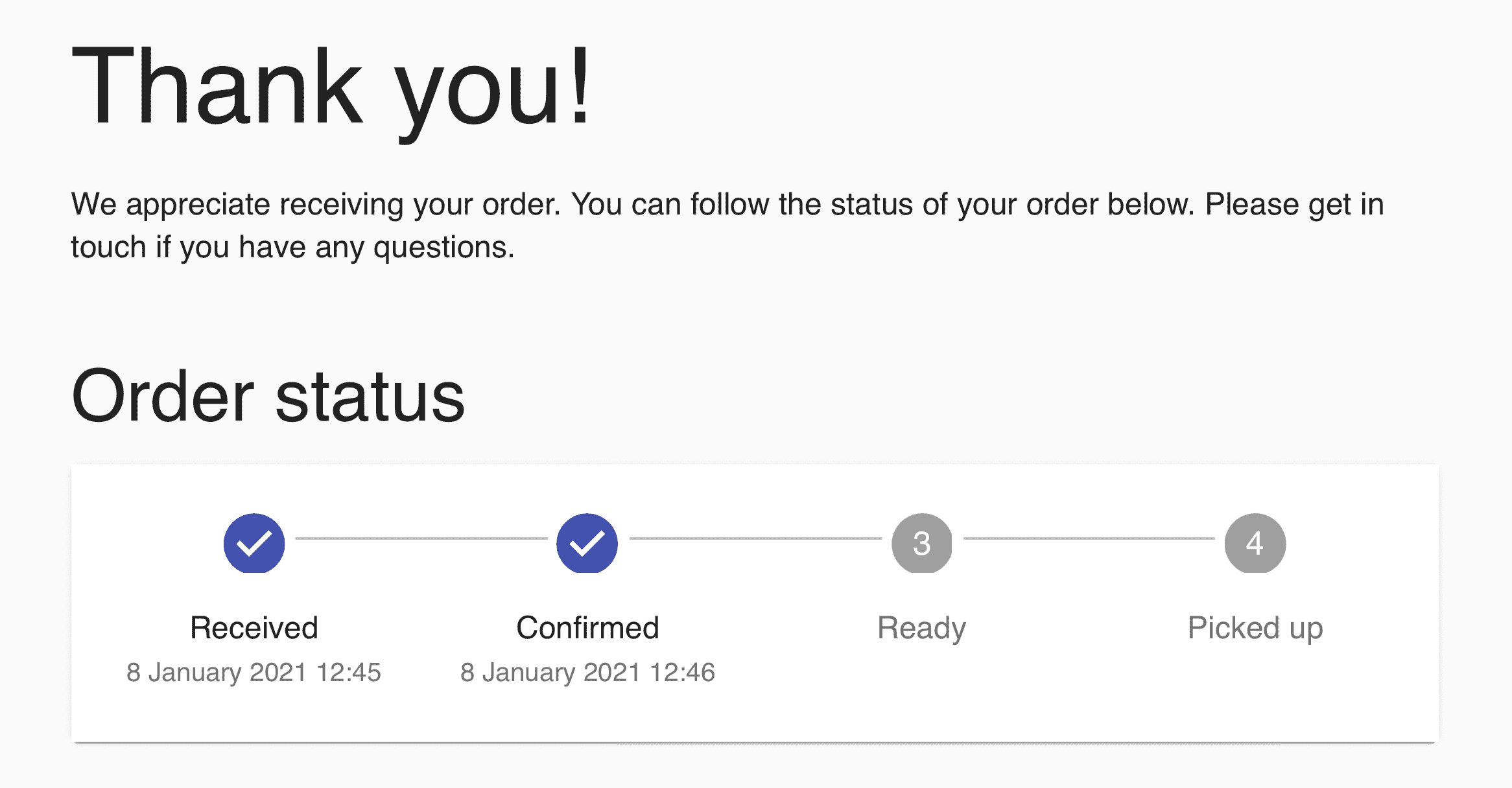 Let your guests track their orders
Avoid misunderstandings by providing your guests with an order overview.
Keep track of your orders in a simple way
See your orders for today, preorders as well as archived orders. Change status on their order depending on its progress, and filter them to get a clear overview.
Change your delivery and pickup time throughout the day quickly and easily, so you are up to date constantly.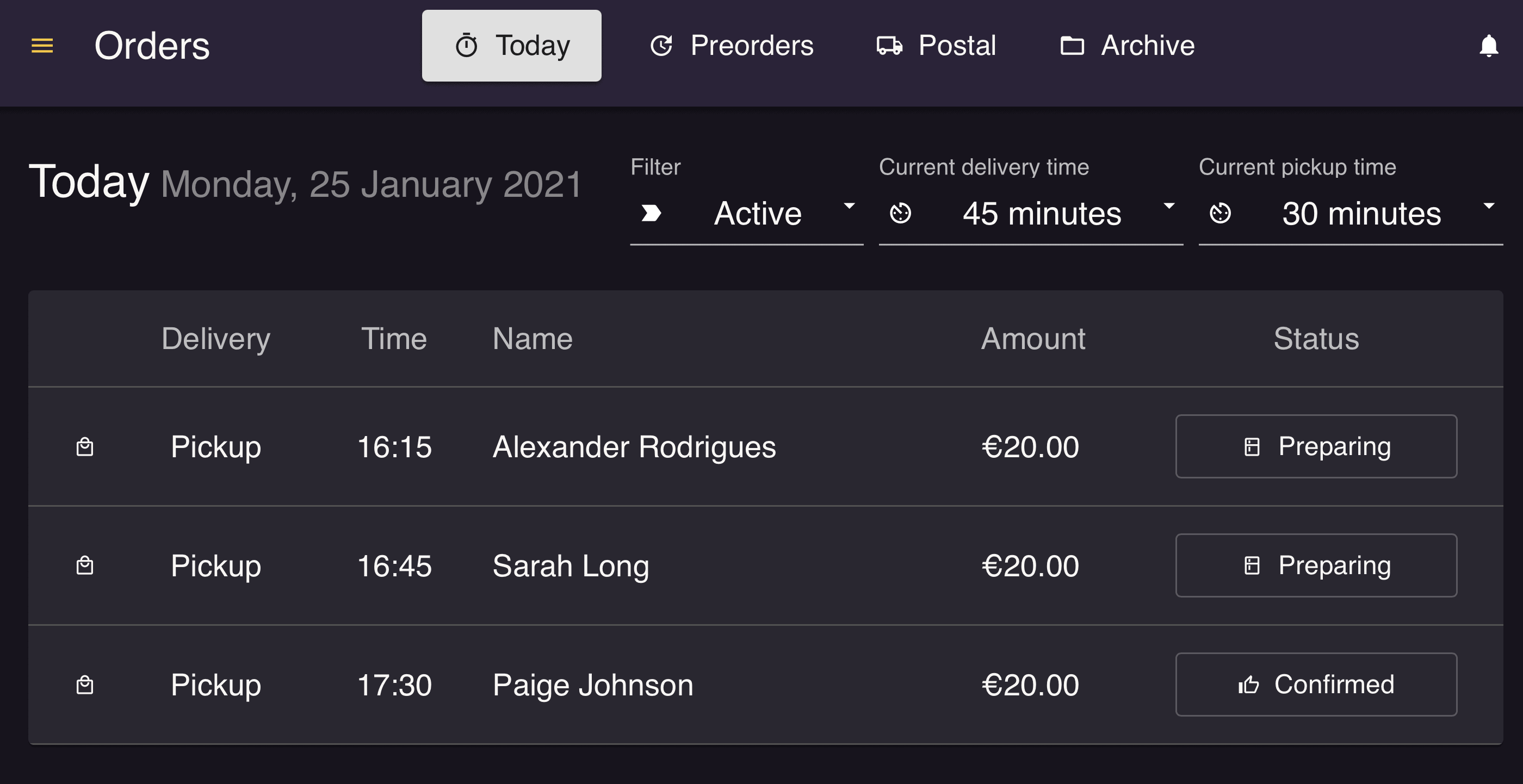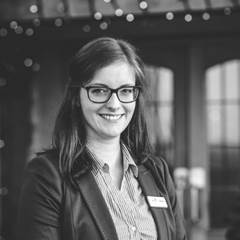 "I just set this up yesterday, brilliant system, so glad I found it. Orders already coming in overnight!"
— Sarah Heath Marketing & Business Development Coordinator at The Royal Oak
Try it risk free
Setup now
Free up to 20 takeaway /mo.
Webshop
Sell your unique products in an easy and tangle-free manner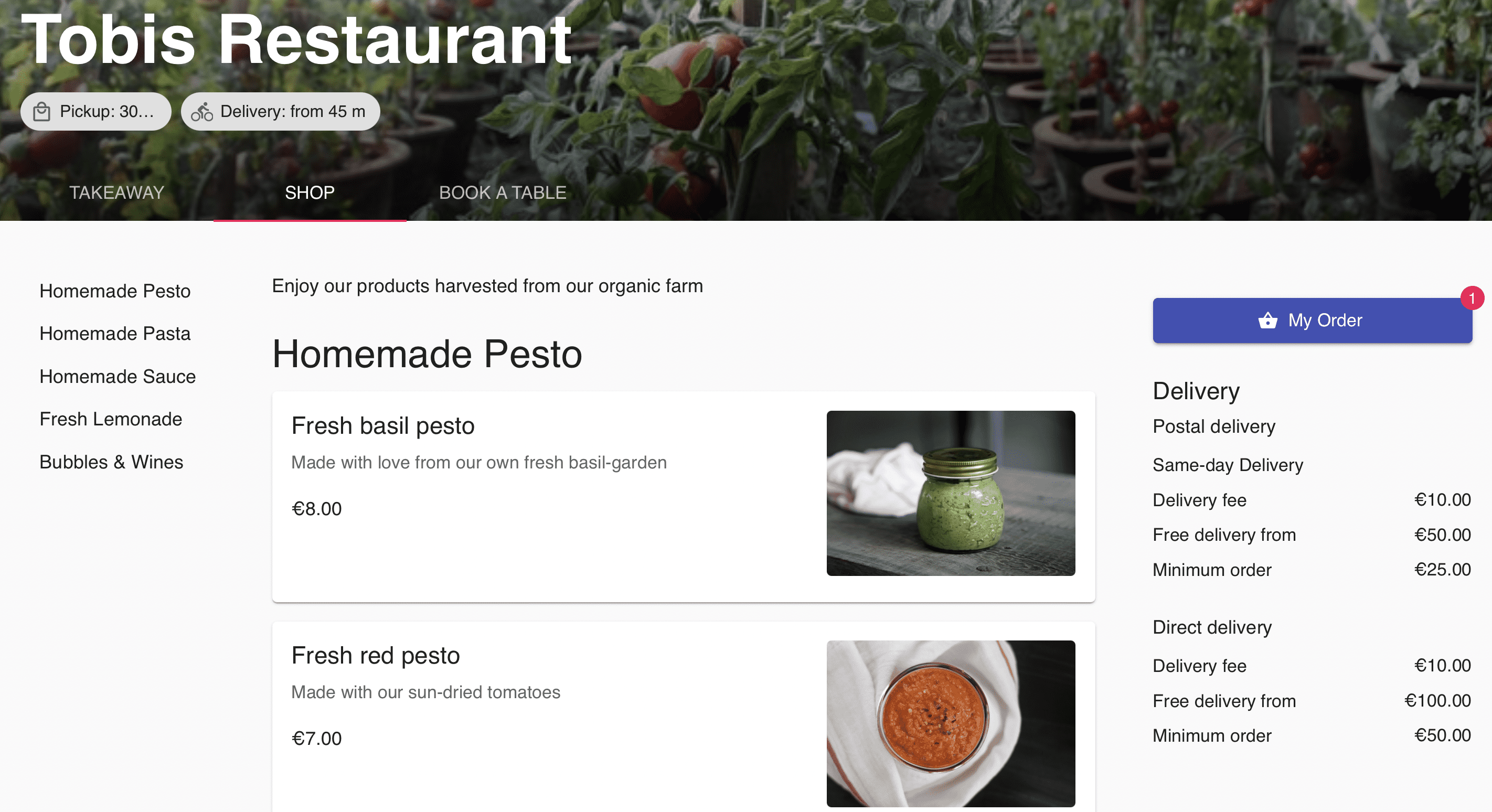 Sell your products through a personalized webshop.
Customize your shop page the way you like it. Add your own pictures of the products, and choose a header image that represents your place.
Easy and simple to set up. Add an unlimited amount of products.
Give your customers flexibility when ordering products.
Provide a variety of delivery options, such as postal delivery and direct delivery.
Adjust delivery and pickup time from day to day, so you are up to date constantly.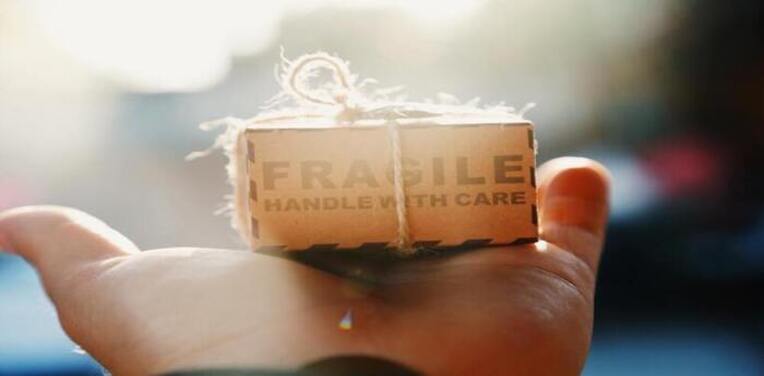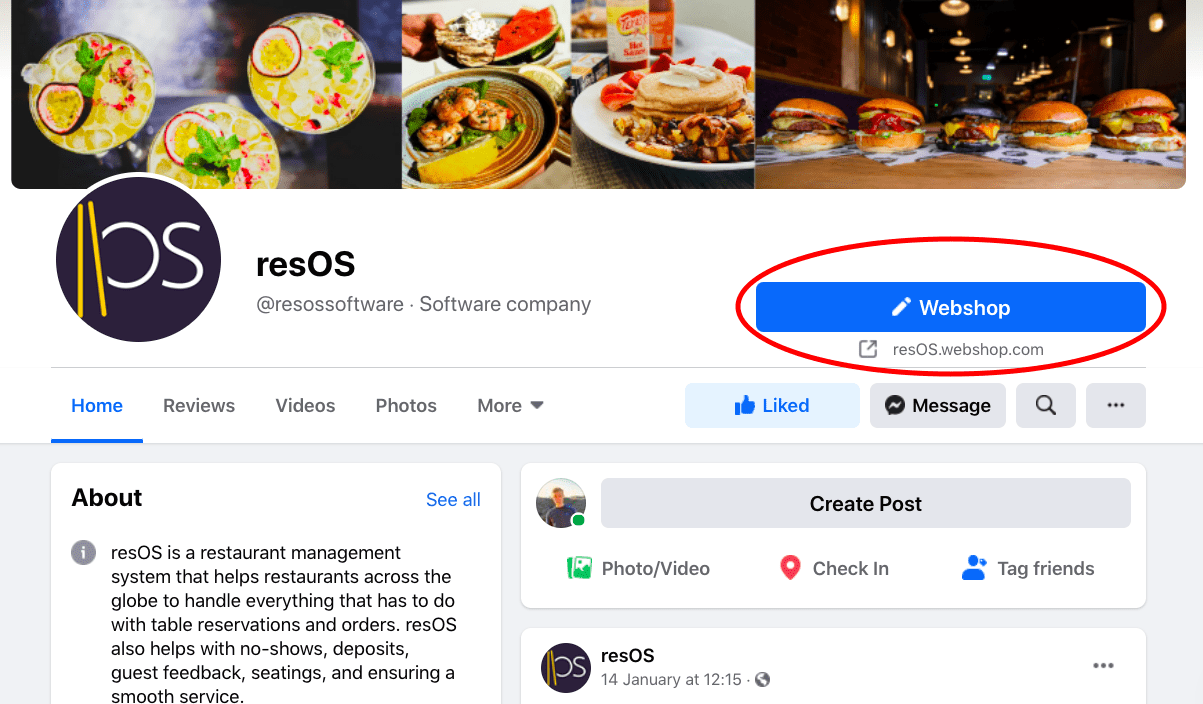 Improve your online presence
Connect your webshop with Facebook, Instagram, and Google My Business to attract more customers.
Easy to implement, with guides included.
Flexible and adjustable settings to fit your needs.
Adjust the system for your preferences, such as payment options, notifications, and VAT percentage.
Customers will receive an order status overview, so they know how far their product is and you won't be bothered.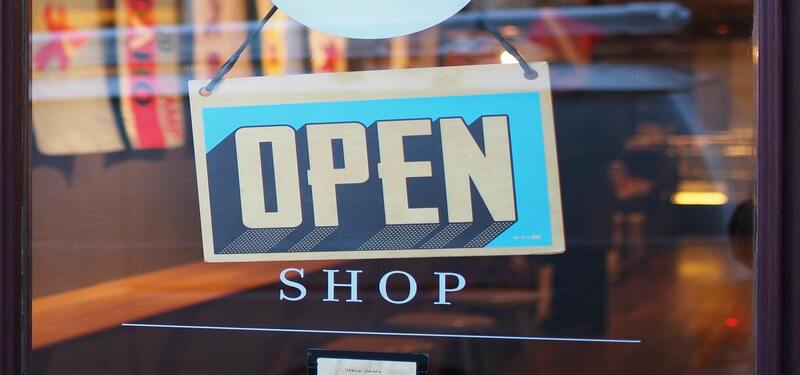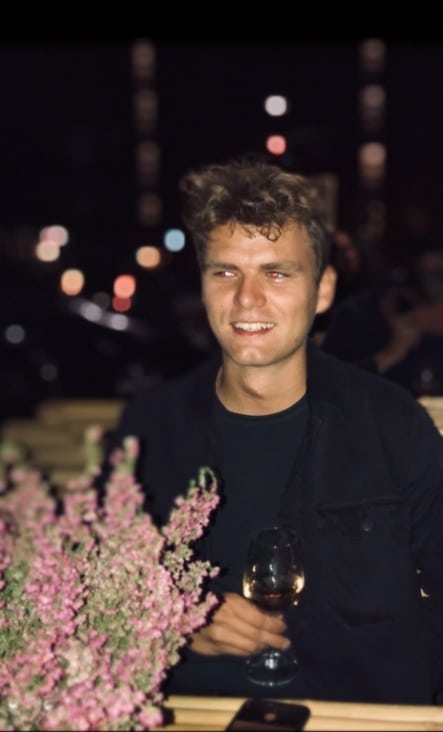 "I finally found a good way to offer my local products. Love how user-friendly and simple it is! The price is low, and my customers are happy. "
— Tobias Diness Owner of Tobis Restaurant
Try it risk free
Setup now
Free up to 10 shop orders/mo.
Work faster with the resOS restaurant booking system, table planner and takeaway app for iOS and Android
resOS works great in the browser for handling reservations and takeaway orders, but for your mobile and tablet try our full featured apps for iPhone, iPad and Android tablets and phones.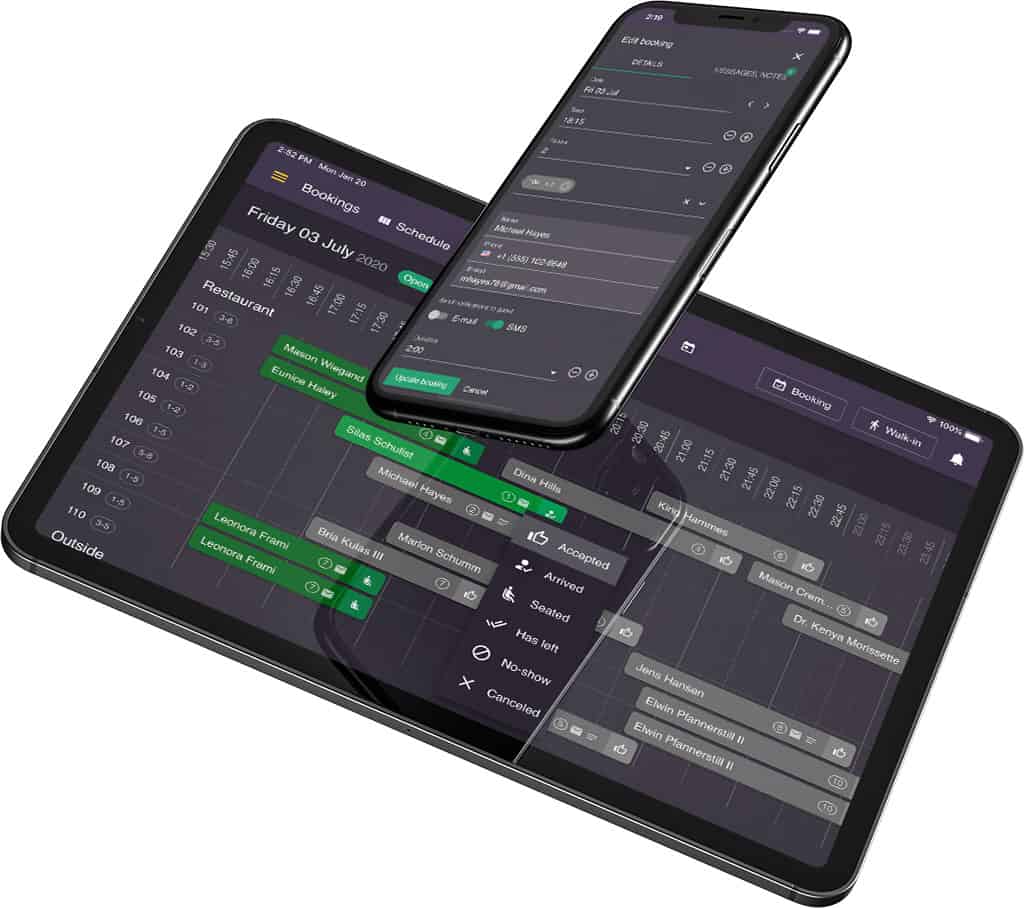 All the features you need
resOS is very easy to use while still offering a lot of features, ready for you if you need them. All plans and products, including our free plans, include all features.