What is an integration?
An integration lets you connect other software products to your resOS setup, so you can take payments, connect data from Google Analytics with your booking account, and much more. You can also create your own integrations by using Zapier. This gives you a lot of opportunities to connect different accounts and get more accurate data when you combine different sources in one place.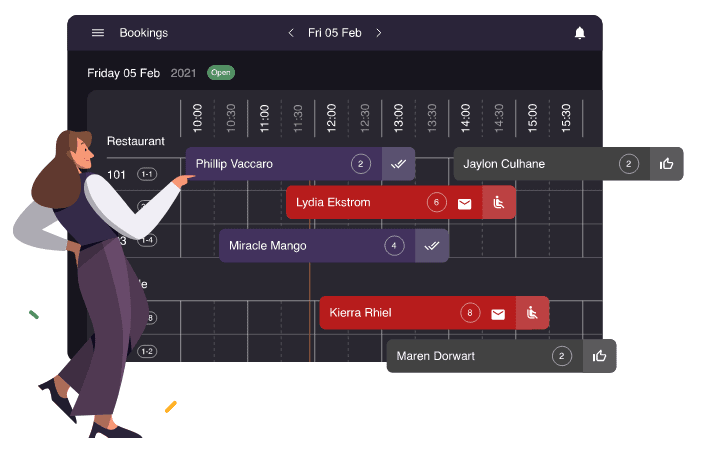 Benefits of integrations
By integrating your data and systems, you'll get a greater overview and minimize manual errors. Once you've set up the integrations, you'll be able to automate a lot of manual tasks – and save a lot of your own valuable time. This means that you'll spend less time on boring, repetitive administrative tasks – and can spend more time optimizing the customer experience in your restaurant. Not only will you save time, but you'll also be able to better manage and analyze your data as you'll get a more complete overview of e.g conversion rate on the website, visitors who've already booked, etc.
How to use integrations – examples:
Example: Bookings directly from Facebook
The obvious one would be to connect your Facebook page to your resOS account and let your customers book a table straight from Facebook – where they're already engaging with you. This means less friction for your customers and the data will automatically be synced between the platforms. It's really easy to set up, so there is really no reason not to do this.
Example: Analyze your restaurant data
Another simple one could be that you would like to have all bookings in a Google Sheet, so you can start crunching numbers and analyze the data from your restaurant operations. So you would connect Google Sheets to your resOS account and automatically start the transfer of data to a sheet, where you'd be able to keep track of bookings, customer satisfaction, revenue, and much more.
You could even connect all this data to Google Data Studio, so you could analyze which customers account for the most revenue and satisfaction. The possibilities are endless, so it's also important to start simple and expand as you go.