What can you achieve with automatic booking reminders?
Set up multiple reminders via SMS and e-mail to prevent no-shows
Remind the staff about bookings to make sure everything is ready for the guest's arrival
Give guests a better customer experience
Increase your revenue and improve time management
How does the table booking reminders feature work?
Restaurants can have a chaotic atmosphere if they are not well organized. And most of the time their staff has busy schedules. It's almost impossible for employees to remember all the table bookings, the time of the bookings, or the number of guests per booking. Therefore, it is now possible to send your guests table booking reminders via SMS and Email. This will lead your guests to have a better experience. Moreover, it will help to increase your revenue and minimize the number of no-shows.
The purpose of this feature is to simply not let the users and the restaurant forget about certain table bookings that are already scheduled in the resOS software. You can set them in place right after scheduling the booking. Reservation reminders are sent out as a notification at a specific time before the scheduled booking. How many times and when exactly they are sent? You decide that!
Choose different notifications
resOS has thought about both you and your guests! You can set up 2 different types of table booking reminders:
Table booking reminders are sent to either the user or the restaurant. A reminder will automatically be sent to the recipient after the booking is created. Then, they are sent as notifications through the resOS platform at the time decided by you or your staff.
Customized reminders that can be sent through email or SMS, or even both if needed. They are set up after the booking is scheduled. The details such as time and recipients are also chosen by the restaurant.
Why you should send out table booking reminders
Table booking reminders have several benefits for your restaurant. Not only can they reduce no-shows by reminding both parties involved about the specific booking, but it also helps the restaurant with time management and making sure everything is ready when the guests arrive.
How to set up table booking reminders in resOS
You can activate the reminders in the resOS app the same way as other features in resOS. After they are activated you can adjust the setting in just 3 easy steps:
Go to resOS menu and then click on "Settings"
Click the option called ''Notifications''.
Choose ''Reminders'' from the 3 options in the menu. When clicking on it, the page should look like this: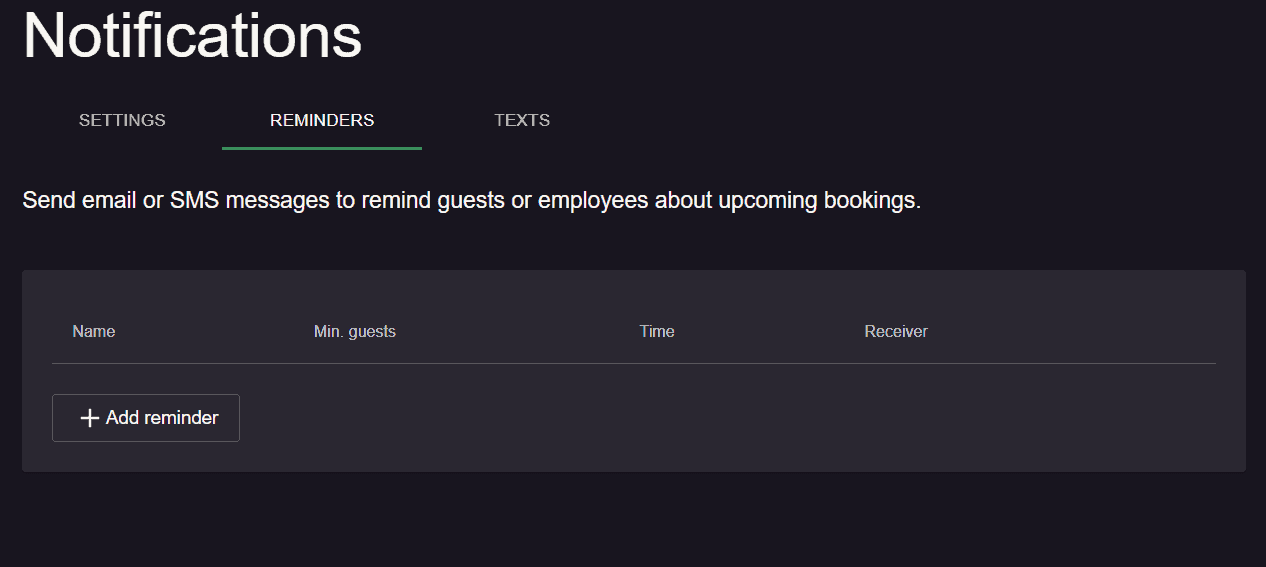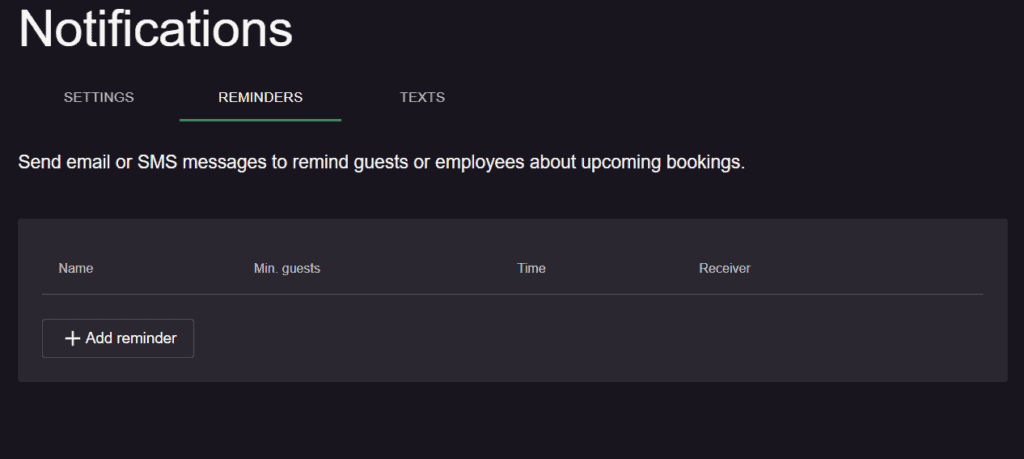 Further on, you have an option to create/edit reminders, where details such as the time before the booking that the reminder is sent, the name of the reminder, the receiver, etc. can be added. So, you or your restaurant's staff have to complete these, and the page in the system looks like this: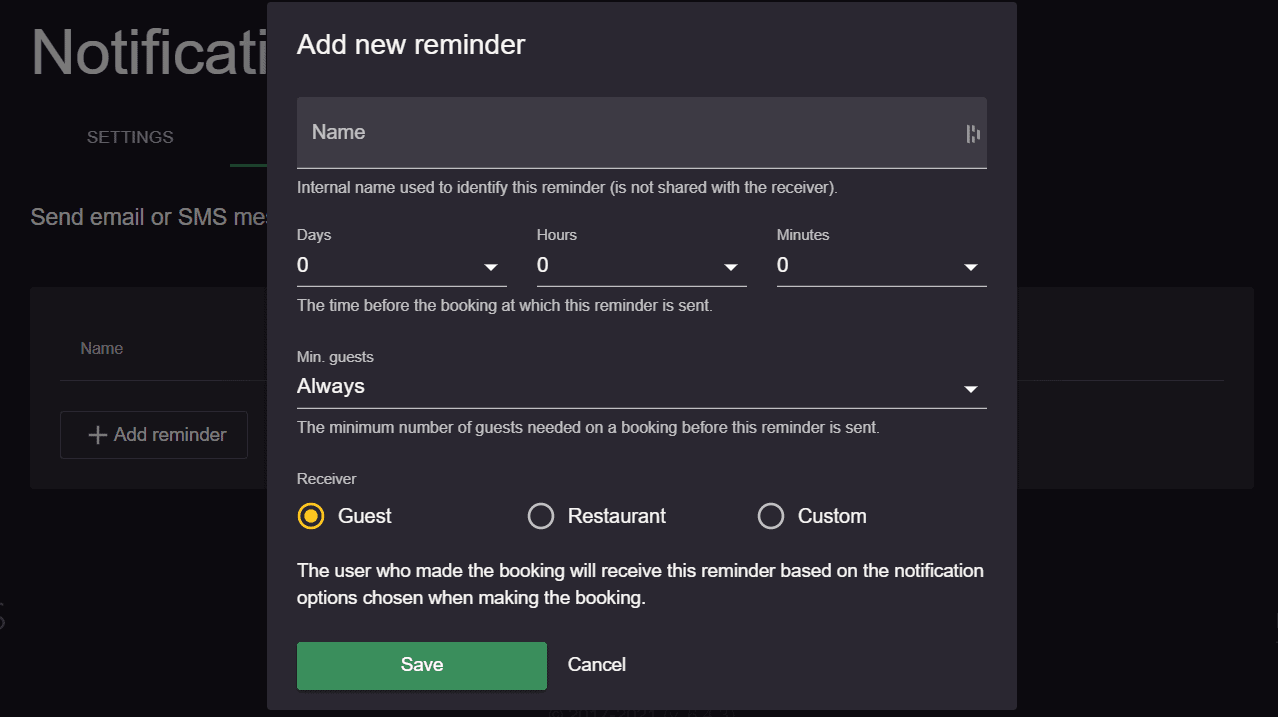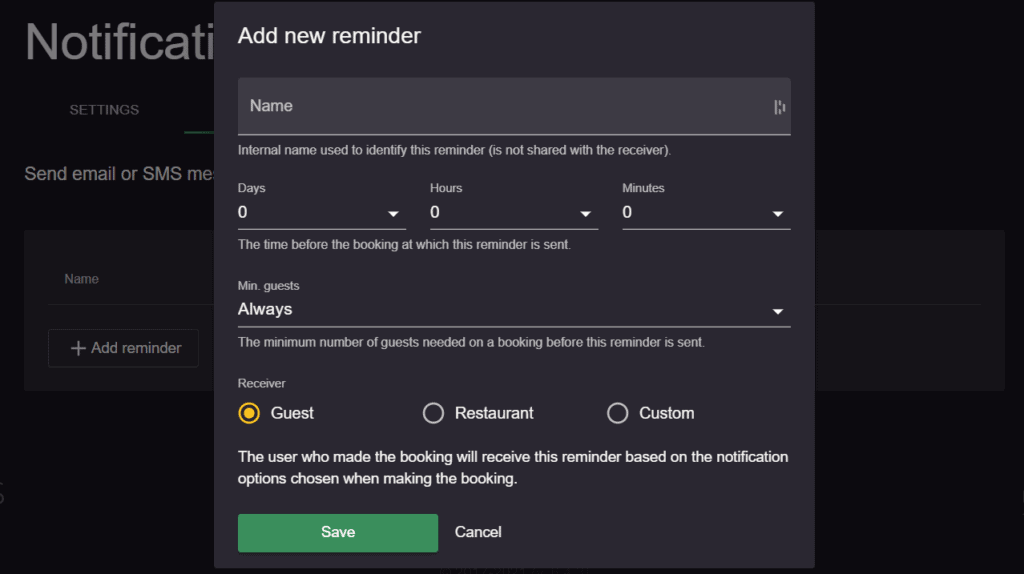 And that's it! You have now successfully created a reminder!
Multiple booking reminders are available
Also, another cool thing about this feature is that you can create multiple reminders both for you and your guests. Let's say you would like to start by having one 24 hours before the booking. Then, you would like to have a second one an hour before the booking. You can just make sure both your staff and your guests are prepared for it, in this way.
Read also about how you can prevent guests' no-shows with resOS.
If you have any questions about activating table booking reminders or you need more information on how this feature can help you and your restaurant, write to us at [email protected] and we will get back to you as soon as possible.