Make your restaurant more visible on Google and get more bookings using resOS' integration with Reserve with Google. An integration to Reserve with Google reduces friction and makes it easier for your customers and potential guests to book a table at your place when they look you up on Google. Keep reading for more information about the integration between Reserve with Google and resOS.

How Reserve with Google can help you
With the blue button on your Google My Business account, you can encourage guests to easily reserve a table at your restaurant. Reserve with Google is used by restaurants and eateries around the world to ensure a smooth and easy booking experience for the customer.
We highly recommend all restaurants set up this integration with Reserve with Google. When exposing guests to the option of reserving a table at your venue, guests are, obviously more prone to book a table. This setup provides your guests with a quick and simple booking experience, and you will receive your bookings through your resOS booking system like you always have. Reserve with Google supports all management-related features, which means that you can maintain your preferred way of working with bookings and table management.
Many of our users at resOS are already successfully implementing Reserve with Google integration into their businesses. By activating this integration, they make their establishment as visible and easily bookable as possible. Set it up easily with resOS at no additional hassle or cost to you, nonetheless.
Read also this article about how Reserve with Google can help you get more bookings.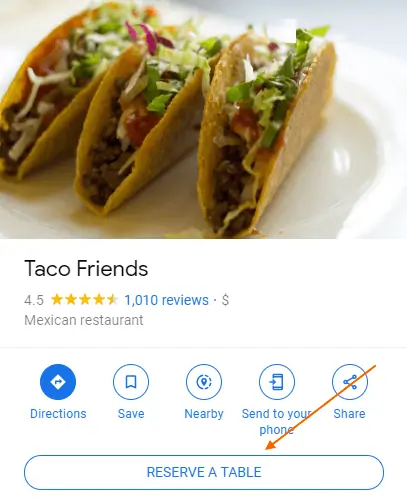 Get started with Reserve with Google with 5 easy steps
It's super straightforward to set up the integration for Reserve with Google.
Make sure you have a Google business profile
Go to your resOS profile -> Menu -> apps -> Scroll down to Integrations and activate 'Reserve with Google'
Make sure the information in both Google and resOS are aligned such as name, address and city so we can match it with google.
Wait 24 hours and everything should be linked
Start getting bookings through Google
Read also our FAQ article about table booking through Google.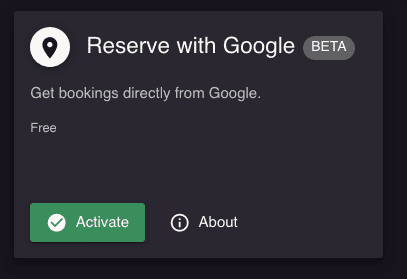 Read also about how you can make your restaurant more visible on Google.
Do you need help getting started?
Our customer support team is always ready to help you! Write to us at [email protected]