Google Analytics gives you the ability to view and analyze traffic sources on your website, visitor behaviors, average time spent on your pages, and more. You don't have to be an expert to keep track of your analytics goals and make the most of them.
How Google Analytics can help you
Integrate your resOS account with Google Analytics and get access to valuable information, such as how many people and how frequently they visit your website, and how many people place the order from you.
Google Analytics allows you to track the whole process from customers' first visit until they complete their order or booking through resOS. Therefore, you can follow, analyze and work on the engagement rate for your restaurant. Besides, you can link Google Analytics to AdWords to optimize online booking, order placements, and Google Ads.
Based on given performance results, you can work on the different ways to adapt your website according to your customers' needs. For example, if most of your customers are only interested in your menu or booking page, consider making these things easier to reach on your website.
Integrate Google Analytics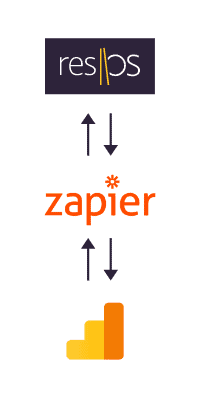 To integrate Google Analytics into resOS, you need to install the Zapier app in the resOS system. Not only will it allow you to connect Google Analytics to resOS, but you will also find thousands of other integrations that can be beneficial to your business success.
Once you get started with Zapier, you can create Zaps with the apps you already have and the ones you think will help you manage the eatery better – in this case, with Google Analytics! The process is straightforward, and those integrations can open many possibilities for you and your business's success and high performance.
If you don't have a resOS account yet, sign up for free access below and start making your business easier and more efficient! Activate the Zapier right away, and you can explore the many more integrations and apps we offer.
Do you need help getting started?
Our customer support team is always ready to help you! Write us at [email protected]