Many restaurants are struggling with guests' no-shows for reservations. Sometimes, guests would tend to book a few restaurants and then choose where they will go at the last moment. They might not be aware of the consequence of such an action. But anyone working within the restaurant industry knows that booking no-shows often mean they'll have to turn down other walk-in customers while waiting for the guests who made a booking in the first place.
The no-show feature will prevent your business from those experiences. Moreover, it will minimize the number of no-shows. Therefore, you won't lose the table worth the revenue and you will be able to take some bookings made over the phone/email or walk-ins instead.
The purpose of this feature is to oblige the guests to show up for the booking they made. Or, at least, it will minimize the chances of them not showing up. This will be done simply by charging those guests that decide not to show up.
Are you interested in this feature? Keep on reading!

If you have certain guests that made a habit out of not showing up to their bookings, you can flag them. This will help for preventing no-shows. You can read more about flagging bad guests to prevent no-shows.
How to set up the no-show feature for guests' no-shows?
resOS's no-show feature is an addition to the Stripe app that we already have in the system. In many ways, it works the same as our prepayment app.
If you want to access and activate the no-show feature, do the following:
Activate online payment app in the system
Make sure you have connected your Stripe account with resOS
Activate the no-show feature
Go to your 'opening hours'
Choose whether you want the fee to be calculated per guest on the booking, or a standard fee for all bookings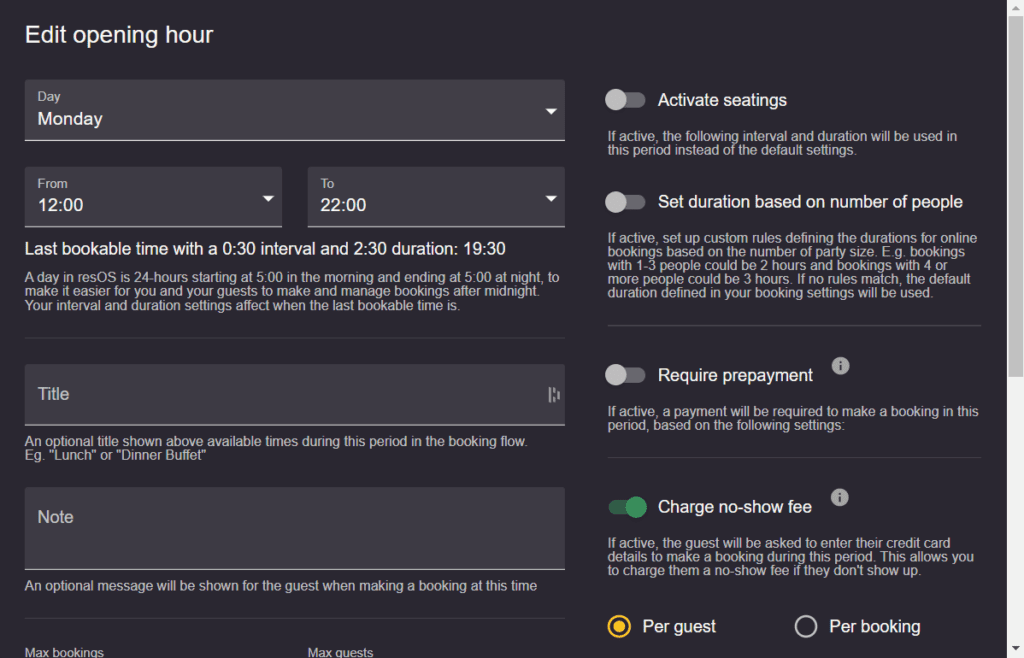 When guests want to make a booking, and they go through the booking flow, on the last step, they would typically have to pay. Instead of paying, they will have to authorize their payment card and approve the fact that resOS can charge them afterward if they don't show up.
To put it simply, resOS will save their card details and charge them if needed, which means we will prevent the unwanted no-show scenario!
Read also about how you can charge reservation prepayments or deposits.
What do you, as a restaurant, have to do to get the fee in case of guests' no-shows?
The only thing you, as a restaurant, would have to do is change the booking status to 'no-show,' and the system will check if the booking had a no-show fee on it. If so, it will automatically charge the customer from their authorized card later on. In other words, that means that Stripe stores securely the credit card details from your guests by using credit card capture and uses the details later to withdraw the no-show fee.
Most importantly, this feature has several advantages. Firstly, it will reduce no-shows by obliging guests to pay the fee if they decide not to show up, Moreover, it helps the restaurant with time management. Lastly, it reduces the overall stress of the restaurant staff.
If you have any further questions about activating the no-show or you need more information on how this feature can help you and your restaurant, feel free to reach out on [email protected], and we will get back to you as soon as possible.