resOS' restaurant table booking system will be your best and most loyal friend when it comes to managing your restaurant and table reservations. The system is developed to be as modern, user-friendly, and flexible as possible in order to assist you in your daily operations. resOS provides you with all the essential features you need to run effective table management, and smooth service at your restaurant.
Here you can read about some of our main features and how they will improve your business.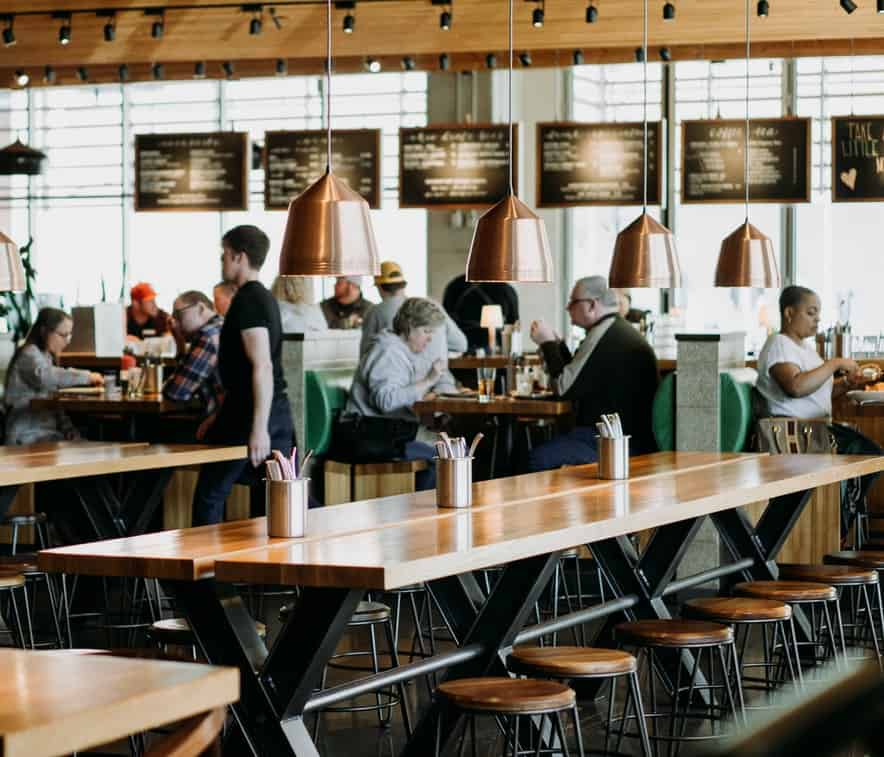 A table booking app for all restaurants
resOS' booking system and table planner was developed to offer restaurants a modern, intuitive, flexible, and affordable restaurant management system, that simply included all the necessary features. Below are listed some of the most important operations that you would need your table booking system to handle:
Manage seats and tables efficiently with a visual table planner
With our visual table planner, you and your staff will get a clear overview of your tables and their occupancy. This will improve your daily routines, as it will help staff members to keep track of reservations and quickly allocate tables to incoming guests.
The table planner will show a seating chart with all tables as well as the number/name for each one of them. The system will allow you to click directly on the table you would like to use for the specific booking. Read more about the visual table planner here.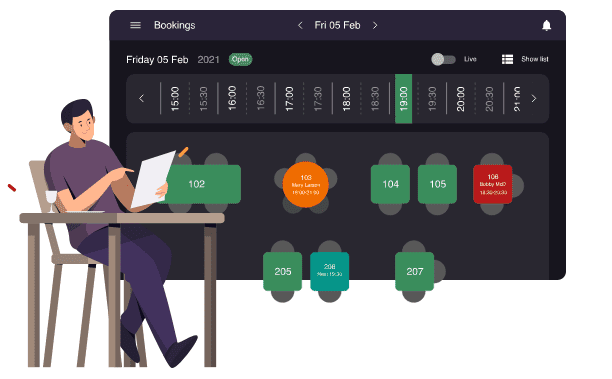 Reduce no-shows at your restaurant
The no-show feature will minimize the number of bookings where the guests do not show up.
The purpose of this feature is to oblige the guests to show up for the booking they made. Or, at least, it will minimize the chances of them not showing up. This will be done simply by charging those guests that decide not to show up. If you have certain guests that made a habit out of not showing up to their bookings, you can flag them. This will help for preventing no-shows. You can read more about flagging bad guests to prevent no-shows.
Charge guests a prepayment/deposit when they reserve a table
With resOS you can require prepayments when people book a table or charge no-show fees later if people don't show up. The deposit feature can be applied to your opening hours, but not necessarily to all of them. This means that you can add a deposit to some of your opening hours.
You can decide to only charge a deposit for a certain number of guests per reservation. In that way, you can choose that reservations with only a few guests don't have to pay a deposit. For example, if the setting is set to a minimum of 4 guests, there will only be charged a deposit on bookings with 4 or more guests.
Get more table bookings online with Google
Reserve with Google allows you to offer your guests a fast and easy way to serve a table at your restaurant when guests find you on Google. By adding Reserve with Google to your restaurant, café, bar, pub, bakery, karaoke bar, or whatever establishment you may have, you are reducing friction and making it easier for both yourself and your customers to make reservations.
Reserve with Google gives guests convenient access to booking a table directly via your Google Business profile. Experience an increase in table reservations and happy customers without any extra charge.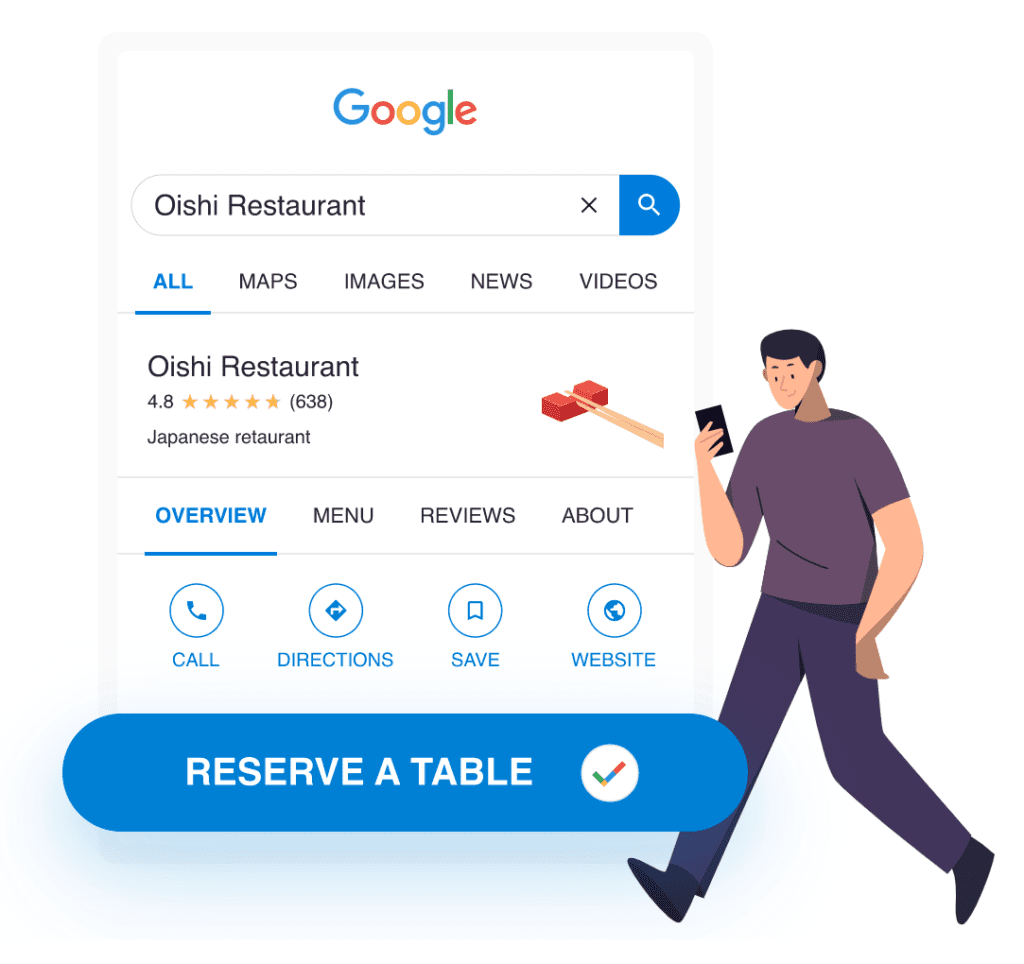 Set up different seatings to fit your servings
The seating feature allows for a simple and efficient setup of different seatings during the same day. One of the main reasons why a set up of different seatings makes sense is also that a lot of restaurants take breaks between services, for example between lunch and dinner. Maybe your staff needs to rest? Or have lunch? Or maybe they just need to make sure that they have time to make preparations for the dinner seating.
The seating feature allows the restaurant to e.g. have 2 different seatings – one for lunch and the second for dinner. This means that that the guests will be able to book a table during one of the two seatings, but not during the time the restaurant takes its break. In addition, this feature allows you to add different criteria to each seating so that you can customize it according to the availability and services at the specific time slot.
Communicate with your guests before the visit
Our built-in communication features allow you to communicate with your guests to fast and easily improve your guest satisfaction and reduce the number of no-shows. Our communication system makes it easy for you to be in contact with the guests before they visit your restaurant. Before the visit, your guests can make requests about seating by the window or dietary and allergies. When you answer them directly, it gives them a better experience of your restaurant and what they can expect.
Having a clear communication system will help you avoid any misunderstandings with the guests, improve their satisfaction, and it will help reduce no-shows.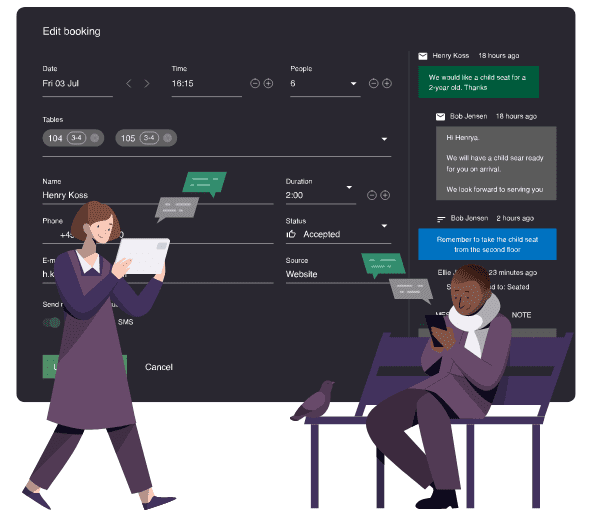 Get automatic customer profiles for all guests
The customer database includes automatic customer profiles that are easily accessible. Automatic customer profiles provide both - a better overview and give you the opportunity to create an even better experience for guests at your restaurant.
Every time a new booking is created, the system automatically matches the information (such as name, email, or phone number) of the guest to a customer profile and associated previous bookings. If it's the first time that the guest is at your restaurant, then a new customer profile will appear.
And if you add the booking manually, the system suggests previous guests to you as you type. This allows you to book your guests faster and more efficiently.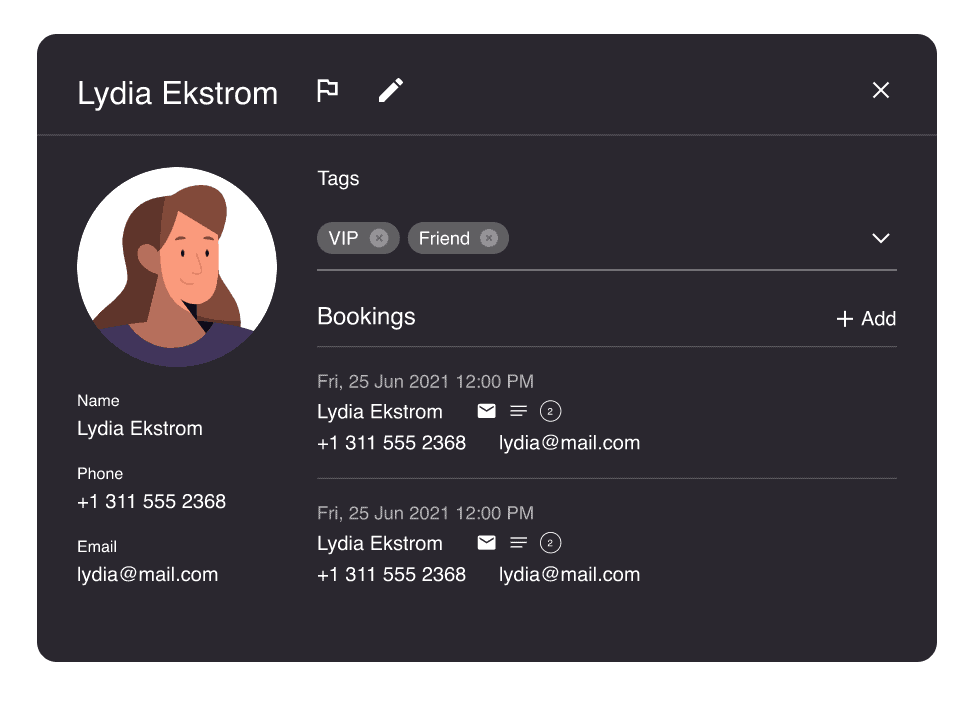 Keep track of table bookings with a schedule view
Make it as easy as possible for your guests to book a table at your restaurant with your resOS online booking system.
We made it extremely easy for you to manage your online reservations and walk-ins. The scheduling system allows you to follow a chronological order of reservations you have on a particular day. The time table will give you a visual overview of the reservations and the important criteria for each booking.
The schedule follows a system of colors in the relation to the status of the reservation, the name of the reservation will appear in grey when the reservation is added to the system but it has no status. The reservation will automatically turn green once the guest will be seated at the table.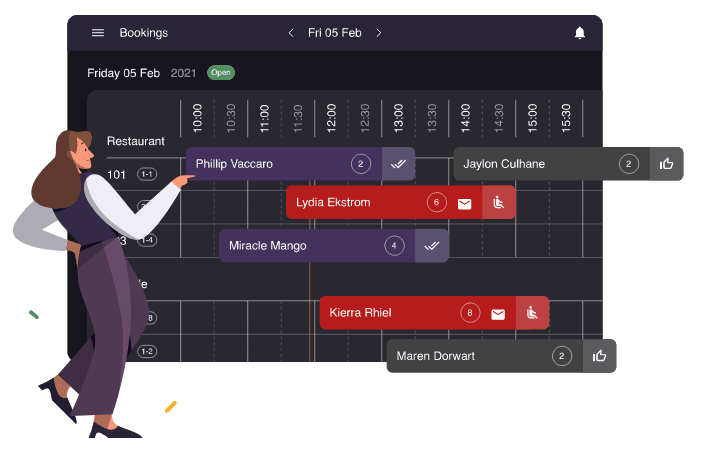 Restaurant table booking system - Affordable pricing for everyone!
resOS is a flexible restaurant booking system app that gives you all the features you need, and therefore you can choose your own package for which the prices range from free to cheap. All plans includes all features, so regardless of what price plan you choose, you wont miss out on any of the cool features like the ones listed above.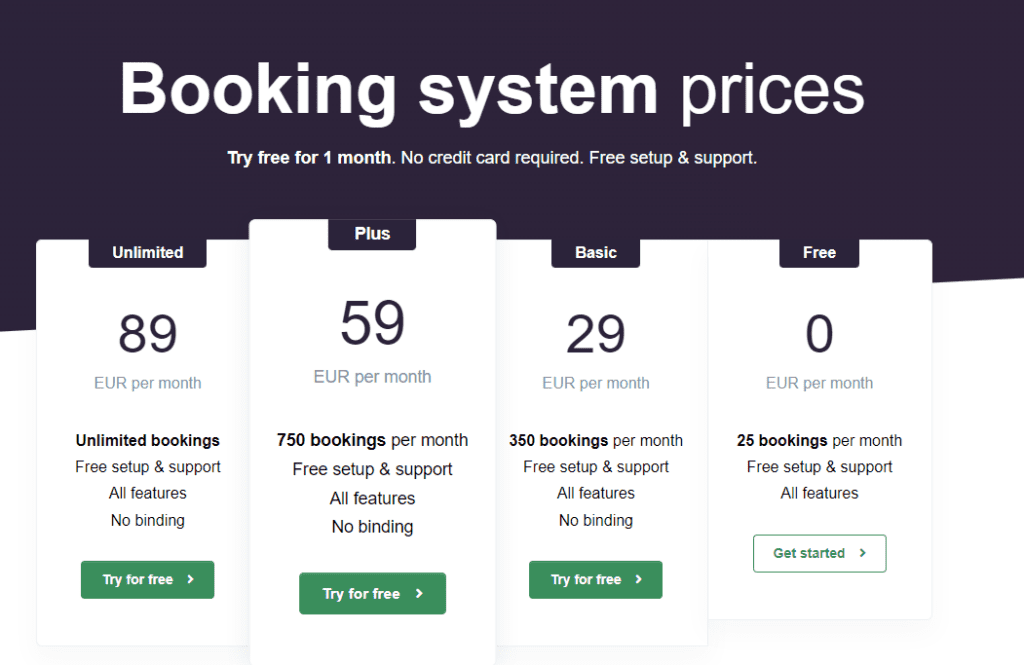 Do you want to know more about resOS' restaurant table booking system?
Do you have any questions about resOS or want to know more about how it can be a perfect match for your restaurant? Contact our support team at [email protected] and we will get back to you as soon as we can.