What can you achieve with custom seatings?
Avoid an overcrowded restaurant with many guests coming in at the same time
Customize seatings according to the availability at specific time slots
Strategically avoid empty tables before and after the most popular timeframe
Nudge guests to consider booking a table at hours with fewer bookings
Strategically add different seatings to fit the restaurants' availability
The seating feature allows for a simple and efficient setup of different seatings during the same day. One of the main reasons why a set up of different seatings makes sense is also that a lot of restaurants take breaks between services, for example between lunch and dinner. Maybe your staff needs to rest? Or have lunch? Or maybe they just need to make sure that they have time to make preparations for the dinner seating. The seating feature allows the restaurant to e.g. have 2 different seatings – one for lunch and the second for dinner. This means that the guests will be able to book a table during one of the two seatings, but not during the time the restaurant takes its break.
In addition, this feature allows you to add different criteria to each seating so that you can customize it according to the availability and services at the specific time slot. You might for instance be aware that a lot of people show up during lunch without a booking. For this reason, you might decide that the system only can accept 10 bookings during lunch because you want to be available for walk-ins.
Set up different seatings and optimize your customer turnover
When adding and customizing your restaurant's different seatings, you can also add different duration times for each seating. Maybe dinner seating should have a longer duration so that the guests have time to enjoy a lovely dinner for 2 hours? While for lunch the guests only need 1:30?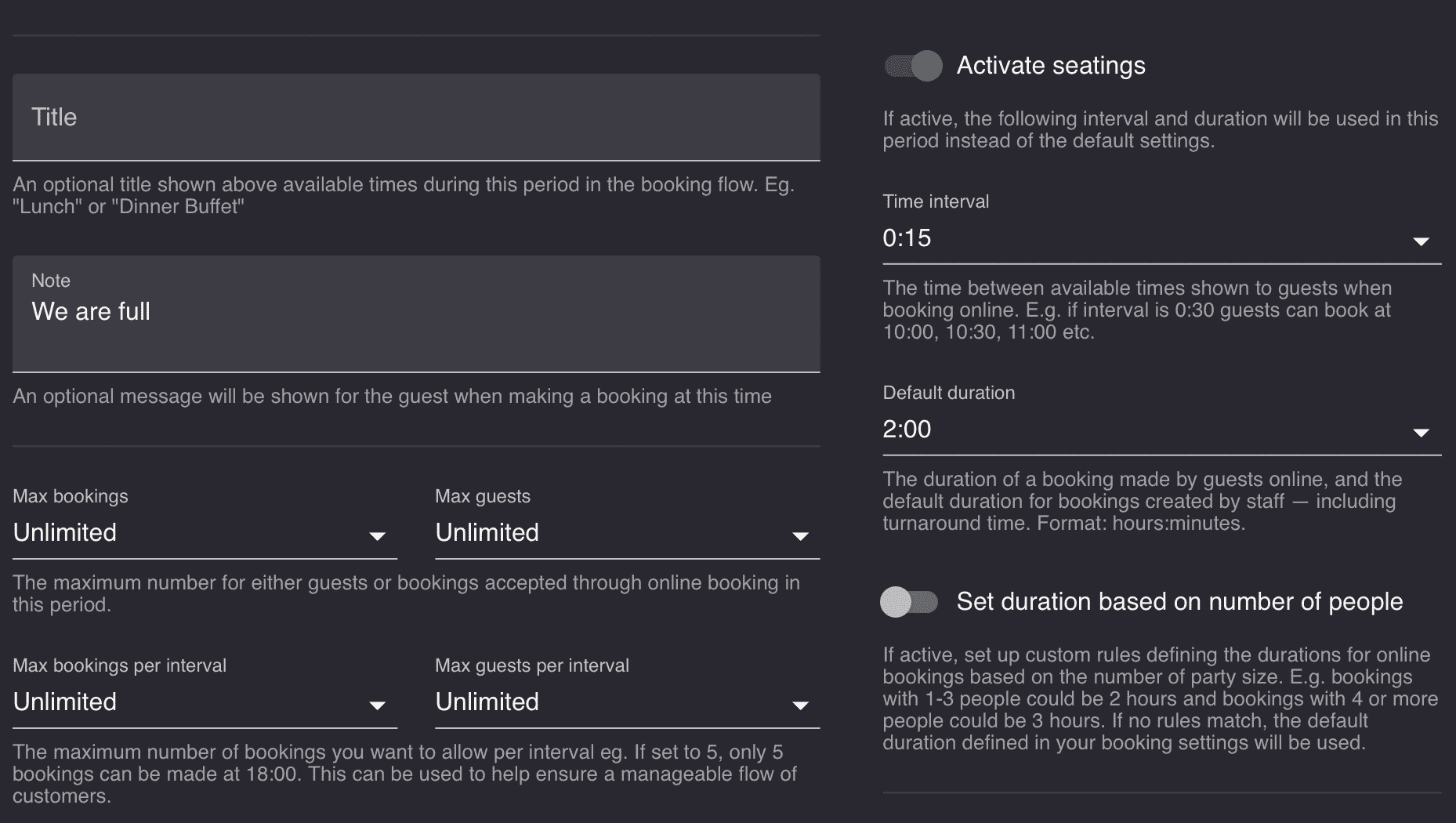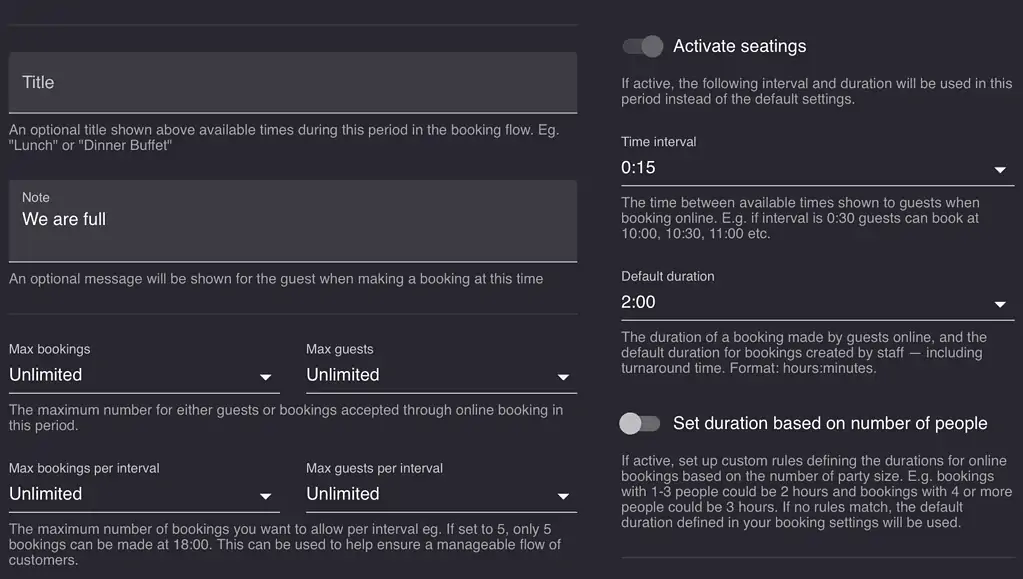 Handle your tables strategically to increase your revenue
Do you experience that your tables are always fully booked at a certain timeframe while empty at others? This is not an unusual problem, not even for the most popular restaurants. Especially in countries like Denmark and Sweden where many people prefer eating dinner around 19, as this makes it difficult to have time for two dinner seatings. This can be avoided by setting up different seatings, as this allows you to strategically handle the availability of your tables.
Read also about how you can get more reservations with Reserve with Google here.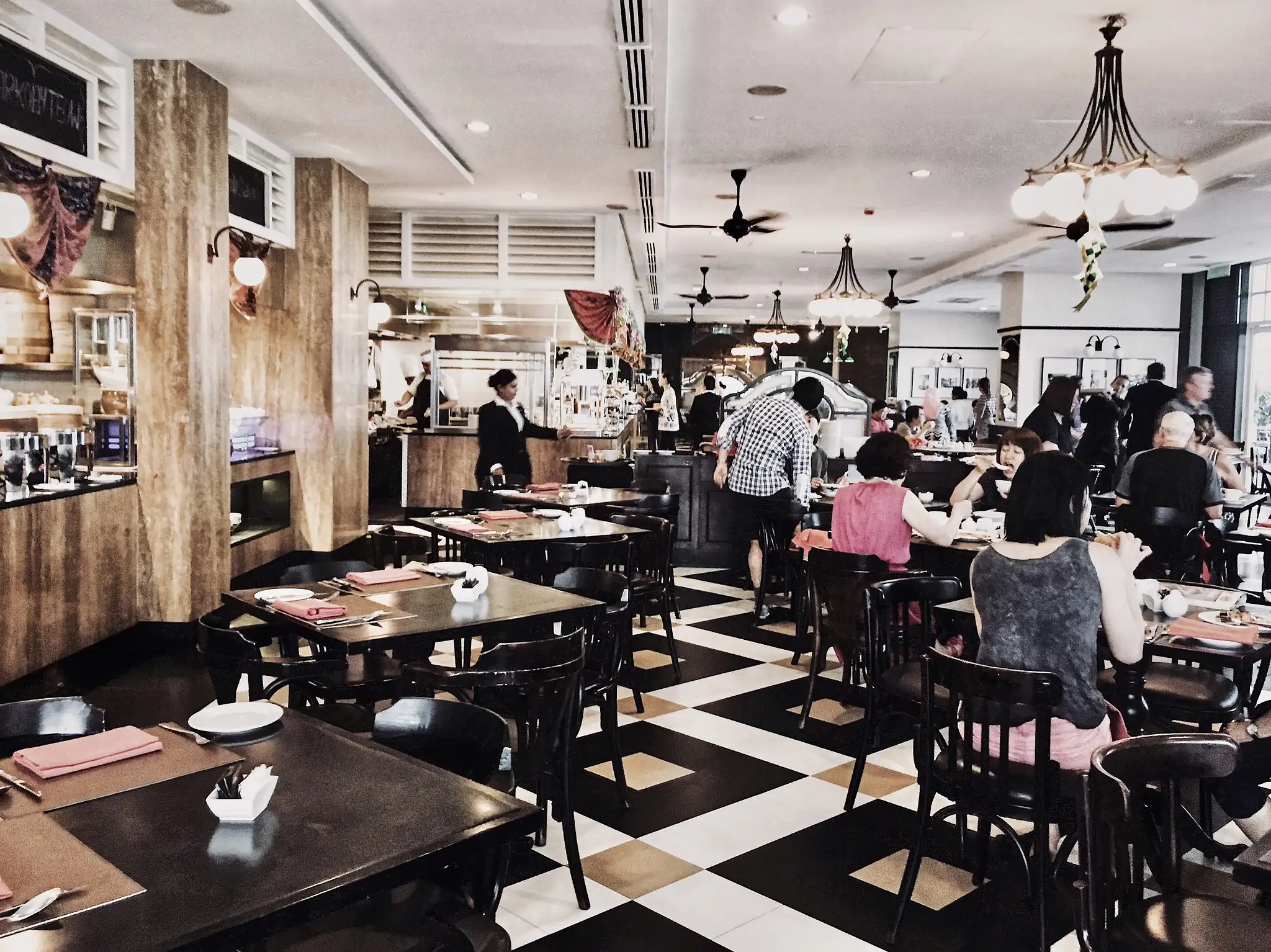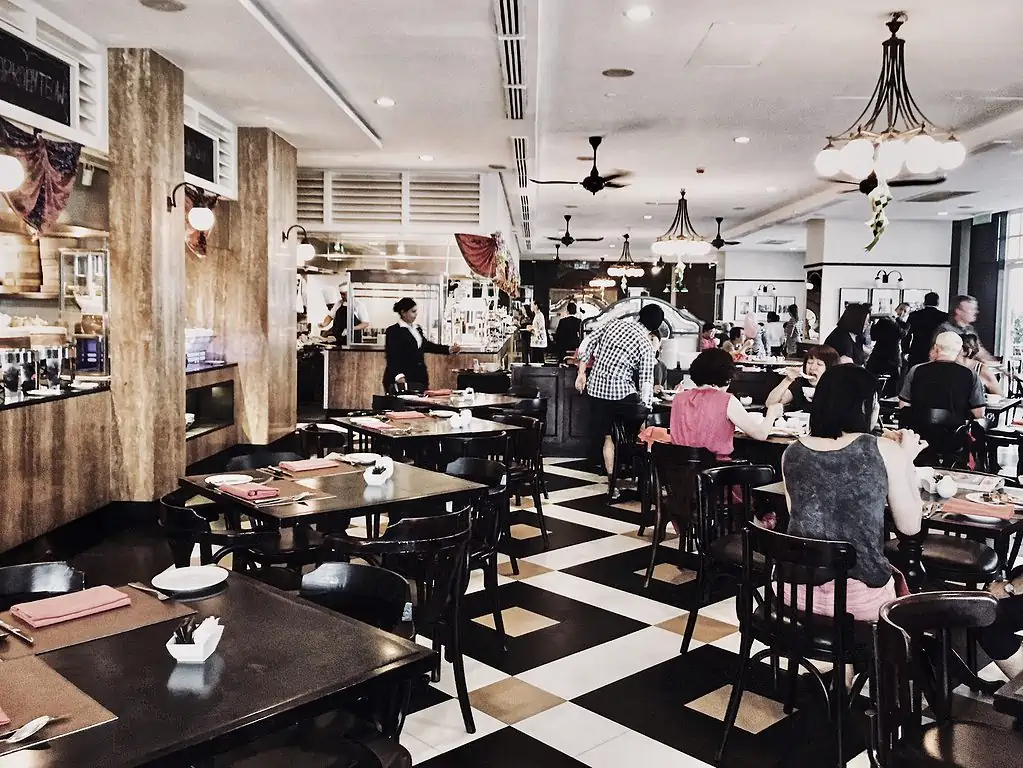 In order to strategically avoid empty tables before and after the most popular timeframe, you should set different availability criteria during the evening. It is for instance a good idea to limit the number of available tables that can be booked at the most popular time slot. Instead, you can add the rest of the available tables half an hour before or after. By doing this, you can directly affect your guests' booking patterns and nudge them to consider booking a table at different hours.
Explore the benefits of seatings
Our seating function allows you to be much more flexible and strategic than by only using normal opening hours. What you can do now is:
Create multiple opening hours on the same day (with different seatings)
Add name & note for each opening hour – e.g. brunch, lunch, dinner
Set a max number of bookings and/or guests for each opening hour
Activate seatings for your opening hours (meaning that they will follow the settings for the interval + duration of the booking)
If you have any questions about seatings, email [email protected]. Our wonderful support team is always ready to help. Also, be sure to read about our efficient table planner here.