Are you a bistro looking for the perfect booking system to handle bookings and walk-ins? Here at resOS we have developed a user-friendly booking system for bistros. The booking system is simple yet professional and will give the guests a good impression of your bistro before the guests visit you for a good dinner.
resOS helps your bistro with
Handling walk-ins and online bookings easily
Getting an overview of available times
Table management and handling of availability of tables
Making more money to you can focus on making more exquisite dishes and serving great wines
Add online booking on your website, Facebook, Google and Eatie profile
All good evenings will offer plenty of bookings as well as impulsive walk-ins. If your bistro is more visible on the major platforms online such as Facebook and Google, the chance for more guests is greater. If you then add a booking system to all of these platforms, the chance of getting more bookings is also higher.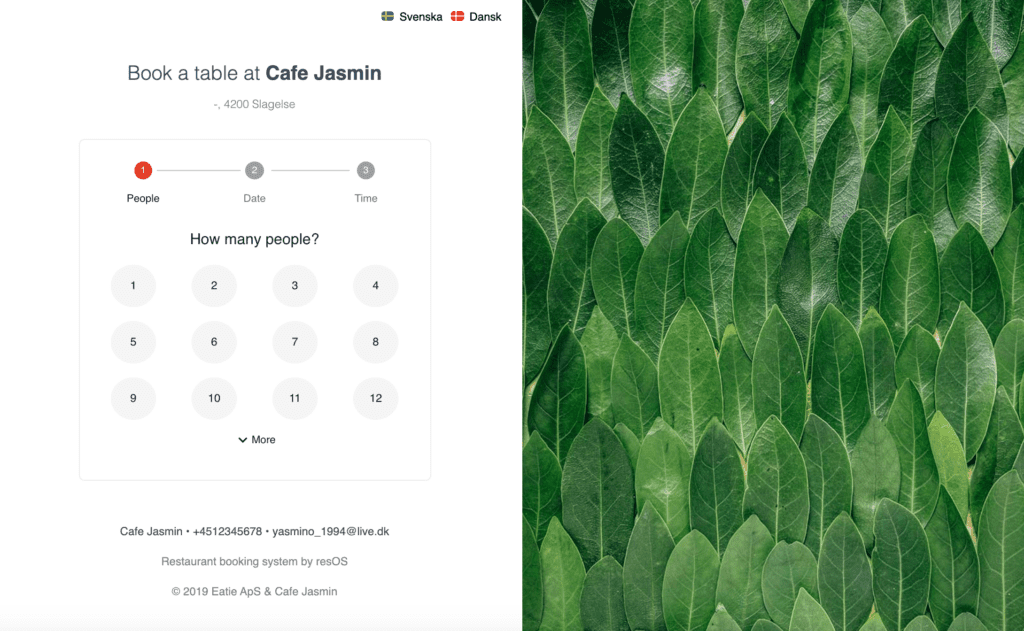 With this booking system, you can show the best side of your bistro on several different platforms. By enabling bookings on all these platforms, you increase the likelihood of receiving more bookings. We help you set up the booking system in an easy way so you can receive more bookings quickly.
Communicate directly with the guests online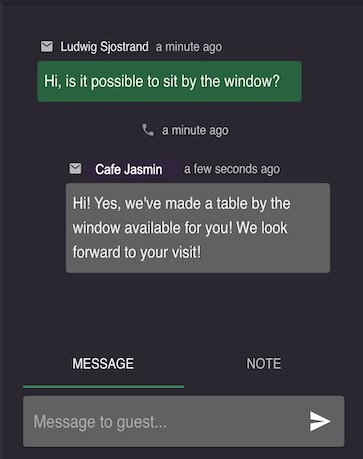 It is crucial to be able to have a good dialogue with your guests. When a guest books a table through resOS, it is possible to do just that. This makes it possible to engage in a dialogue with them. Through the dialogue, you can ensure that the guest gets the best possible experience prior to their visit.
Some guests may have some dietary restrictions, some may wish for a flag on the table, some may request a seat by the window. You can communicate with the guests directly in our chat system, so you can be sure that all their questions and requests are met.
With resOS online booking system, you can respond to requests and questions from guests, and the guest can respond directly. This will allow you to make sure that the guest has the necessary information before they visit you, and it will make it easy to make a great first impression.
This is how you can get notified of new bookings
Activate table management, if you want bookings to be confirmed automatically
If you want to accept or decline the booking manually, you can do this through email, SMS or an automatic phone call
You can get an overview of your bookings in resOS online system
If you use table management, your bookings will be accepted automatically. If you do not want to use table management, you can accept or decline bookings directly through email and SMS.
In the online system, you can also get an overview of the bookings. You can also easily add walk-ins and navigate through your conversations with guests. You also get a good timetable view of your upcoming bookings in the future.
resOS is for you who wants to
Get a good overview of the bistro's bookings and available times
Give a good impression of your bistro with a good-looking booking form
Offer the guests the possibility to book online through your website, Facebook, and Google.
Avoid miscommunication and no-shows
Have more time to focus on giving your guests a wonderful experience at your bistro
Do you want to have a user-friendly booking system for bistros? Are you interested in trying resOS for free? Don't hesitate to contact us at [email protected]. Our sweet customer support will get back to you as soon as they can!