This article helps you get started with how to set up table management for your restaurant. Effective table management helps you keep track of your available tables, available times, and the availability of tables and areas. Get started with table management to effectively turn your tables faster and get more bookings.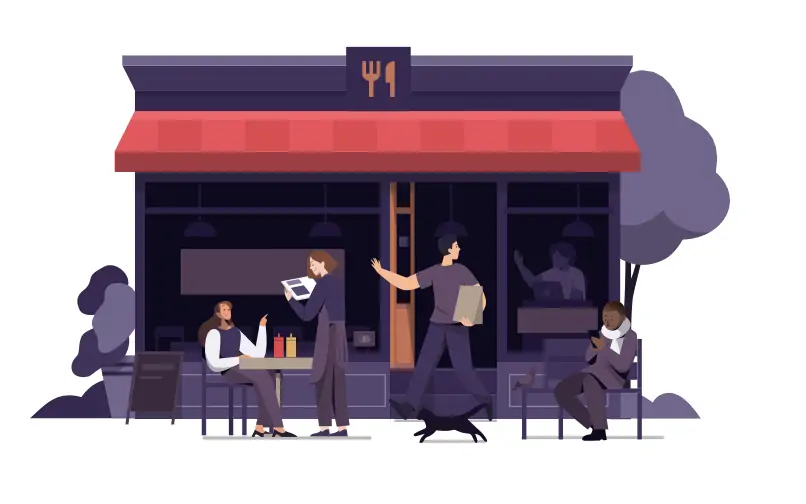 How to enable automatic/manual table management
To enable table management you have to first go to your resOS profile and choose "Settings" and thereafter "Booking". On the section 'New online bookings,' you can choose whether you want to manually confirm bookings, or if you want bookings to be confirmed automatically. If you wish reservations to be confirmed automatically, the guests will be able to book your available times only. The bookings will automatically be confirmed in the system.
Via 'managing tables', you can choose whether the system should automatically assign tables to a booking, or if it should be a manual process. You can also disable 'managing tables' completely.
Read more about how you can effectively manage tables and available times with the table management feature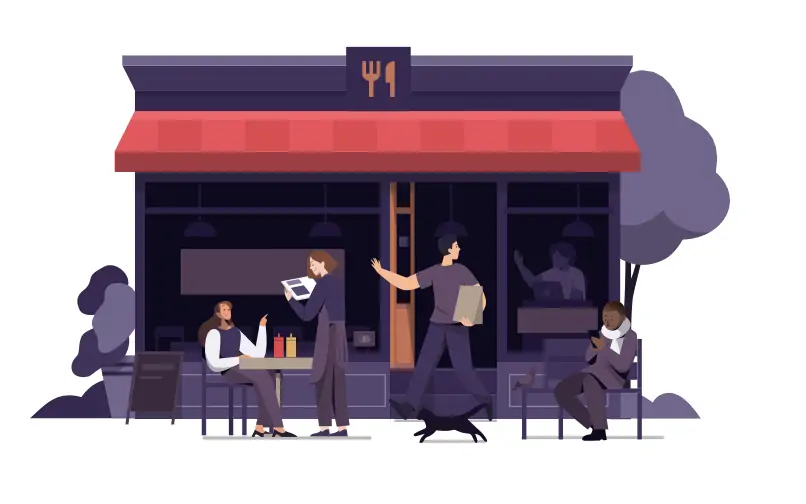 Select the combination of table management that suits you the most
Combo 1 This combo makes the whole table management process manual for you to handle. You will receive notifications about booking requests, and manually assign tables to bookings that are confirmed.

Combo 2 This combination automates the whole process. You can set up the tables (in order of areas and priority). The system will then automatically select the table and confirm the booking if a table is available.

Combo 3 You can either "add tables to bookings automatically" or "manually add tables to bookings but you will manually approve or decline the reservation

Setting default booking duration and interval
To choose the time interval and default duration that applies for bookings in all your opening hours, scroll down on the same page to "Duration & time".
Define time interval
Here you can define the interval, which defines the time between available times shown to guests when they book a table online. For example, if the interval is set to "0:30" (0 hours, 30 minutes) and your restaurant opens at 10:00, the guests can make reservations at 10:00, 10:30, 11:00, etc.
Define duration
On the same page, you can set the "Default duration" of a booking. This is the duration of a booking made by guests online will have – and the default duration set on bookings created by the staff. This should include turnaround time as the table will be available for reservations after this duration. The format is hours: minutes. For example, if the guests have the table for 2 hours, and you need 15 minutes to clear the table, you can set the duration to 2:15.
Minimum/Max time in advance
Here you can define the minimum time in advance that a guest can book a table. For example, if set to 1 hour and the time is 13:00, the earliest time a guest can book will be 14:00. Also, if maximum time is set to e.g. "1 week", only the next 7 days will be available when making a booking.
Define duration to guests
Here you can also choose if the duration will be shown to the guest on the confirmation page and via a notification. Also, you can choose to set up custom rules defining the durations for online bookings based on the number of party size.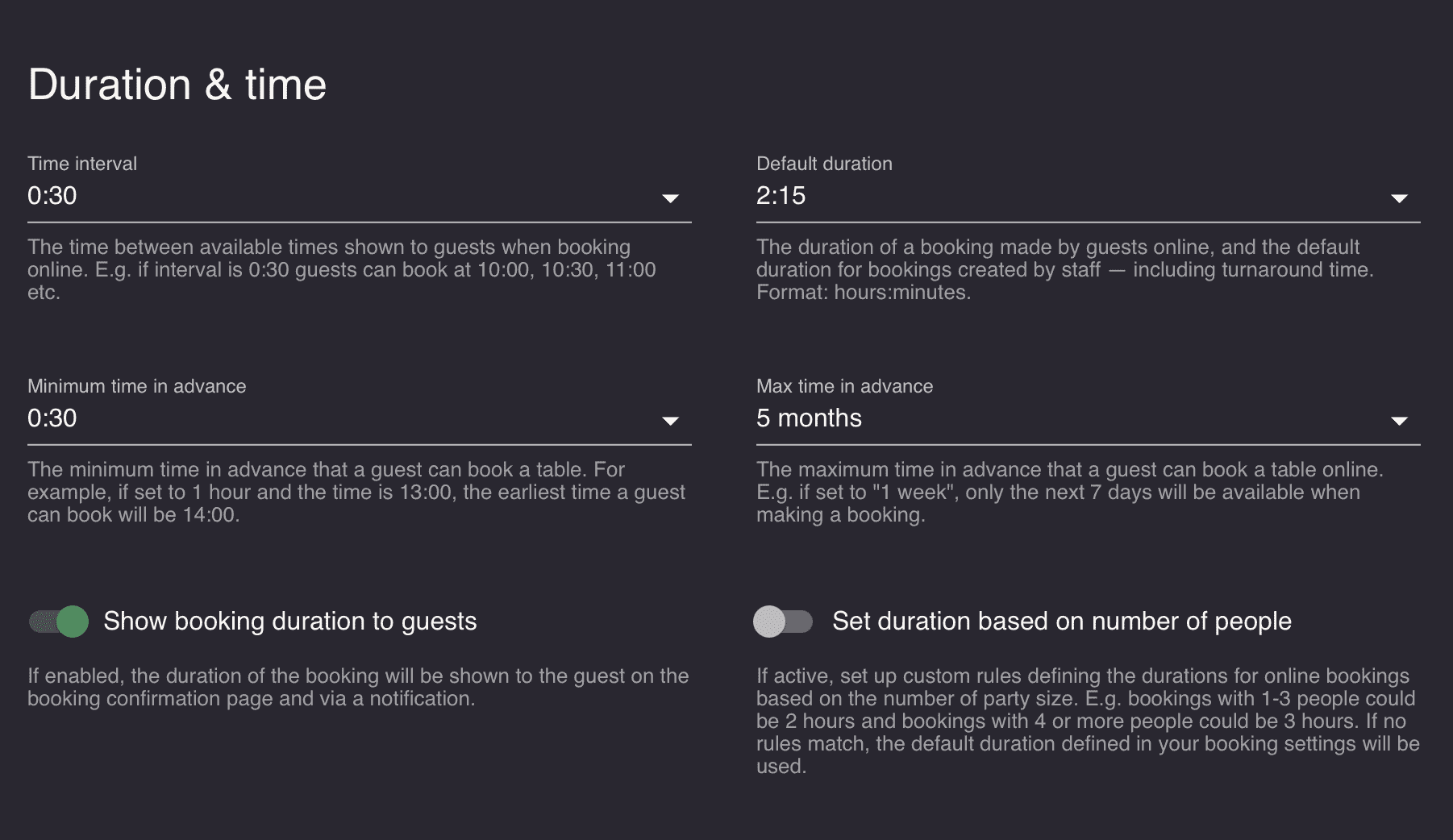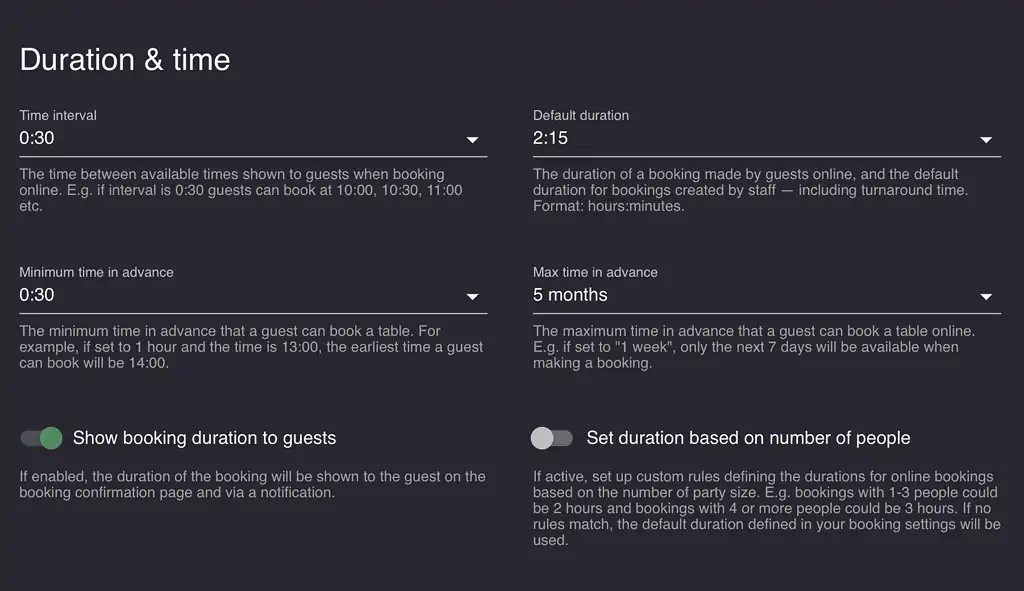 Choosing area to set up table management
Do you have several areas in your restaurant? Maybe you have multiple floors and/or also offer outdoor serving. Some areas might be more attractive to guests than others, therefore, you can choose if you want guests to be able to choose an area when they book a table. You can also define opening hours for each area making the management of areas more convenient to your staff.


Do you need any help with setting up table management?
We hope that this guide about how to set up table management for your restaurant has been useful. If you have any questions, please do not hesitate to contact us on [email protected].