Does your restaurant offer take away? Is it unmanageable and inconvenient on busy nights? Or maybe you just prefer to prioritize your time to make the best food possible for your customers. The resOS online takeaway system will help you and your restaurant maintain control, even during the busiest nights. The takeaway system is simple and easy to use for you and your customers, because of the user-friendly design.
Add, remove and edit items from your menu
The system makes it easy for employees to make a clear and manageable menu-cart for the customers. Using the icons on the right, you can create your menu exactly as you want it. Furthermore, the resOS online takeaway system allows you to add pictures of each individual item, to increase the attraction of your food options for the customers.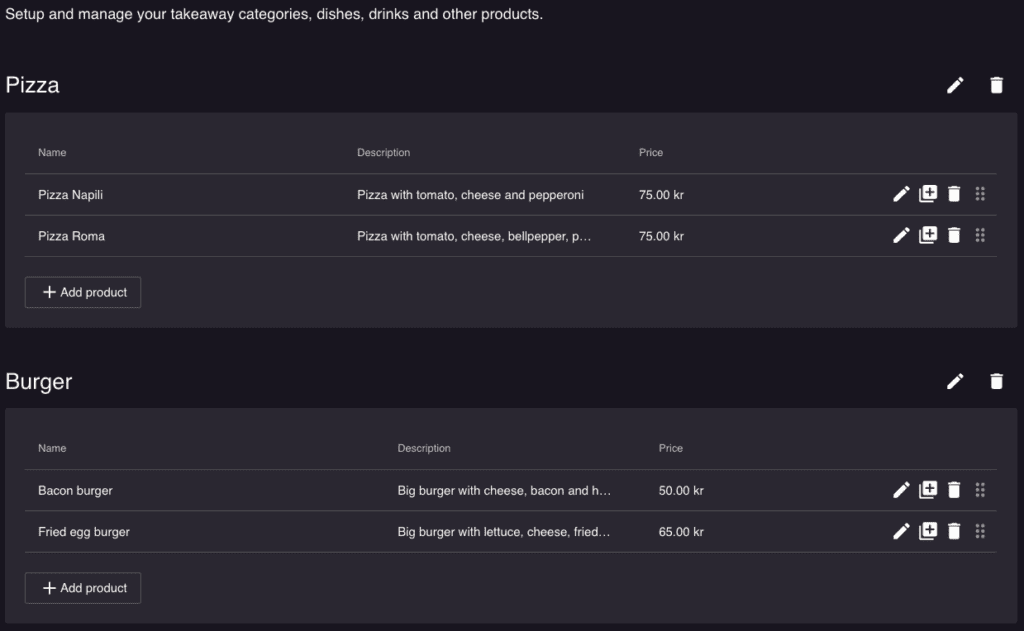 The resOS online takeaway system supports a variety of payment methods
We at resOS know that customer experience means a lot in every business. Therefore, we've added numerous payment methods for the customer to pick from. If you want to edit the payment methods, to fit your restaurant perfectly, this can easily be done in the settings menu, as shown below:

Does your restaurant offer delivery?
Covid-19 has had a big impact on the world, especially the restaurant businesses have experienced a big hit. During the pandemic, food delivery has been the reason for survival for many restaurants. Therefore, resOS would love to support you during these weird times.
With all of the features above, the resOS online takeaway system also offers a delivery option for your restaurant. Therefore, if your restaurant is planning to implement a delivery option or maybe you already have it, resOS online takeaway system will make it easy for you to manage. In addition to that, with the user-friendly interface, you can change the time, price, and fee's to your preferable options.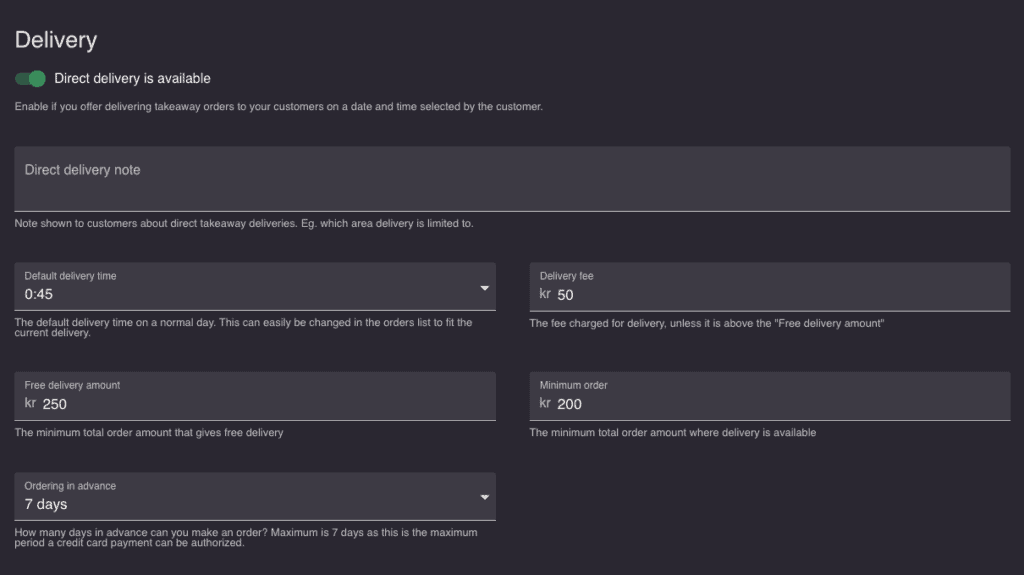 How does the system look, from a customer's point of view?
With the ability to add pictures of your food, combined with the simple and minimalistic layout, your future menu could look like the one below. The menu has a very user-friendly interface, with a clear overview of the food items your restaurant is offering.

Do you want to try the resOS system?
resOS takeaway system has a 4% transaction cost with credit card payments, but we take 0% in commission.
Do you have any questions regarding our takeaway system? Don't hesitate to contact the resOS team at [email protected]. We would be glad to help you, the best we can!