Finding the best online restaurant reservation system can be hard. Today there is a lot of different software that can help you manage your bookings and therefore, it's easy to get lost between them all. However, for the majority of the systems, you have to pay and quite often the price can be high especially if you have a small business that is just starting to grow. So what to do in that case when you would like to try out using a booking system, but can't afford to pay lots of money for it? Don't worry! In this post, we present to you the best FREE reservation systems for restaurants!
1. TableAgent
TableAgent is a 100% free reservation system powered by the Amazon.com AWS Cloud. There is no need to download any software or provide credit/debit card details. Once signing up, all features are available to use with no time limit or a maximum number of bookings or covers. Although, there are a few extras that can be purchased, like an online payments feature, or SMS texting. If a restaurant doesn't need these extras, then all features are free to use, which include waitlist management, floor activity tools, and seating time restrictions. The layout of the user interface is a bit old-fashioned but fairly simple to use. If a restaurant is looking for a free and simple reservation software to start with, TableAgent could be a good choice.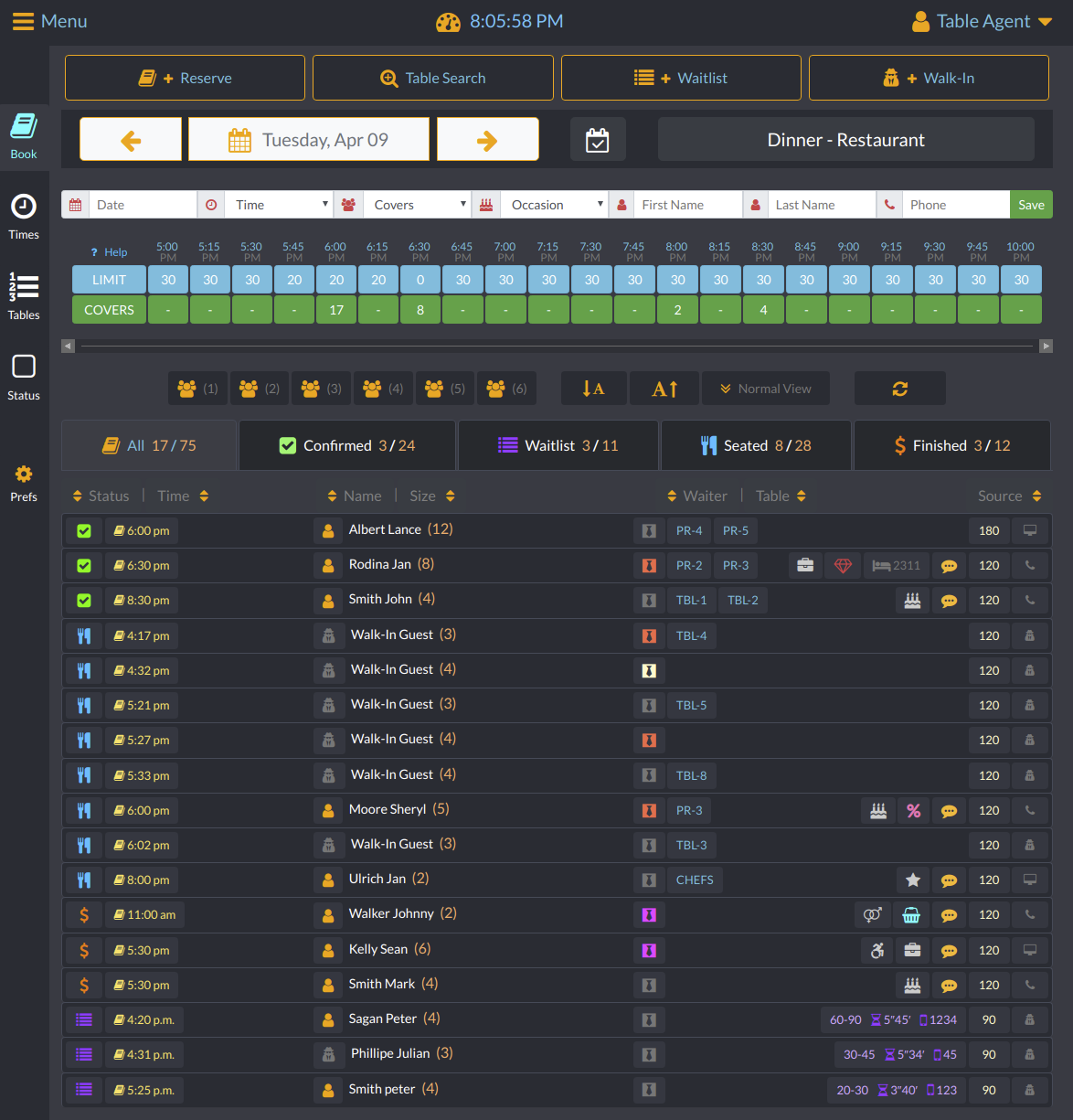 2. GloriaFood
Just like TableAgent, GloriaFood is also a completely free restaurant reservation system. Besides that, GloriaFood also provides a food ordering system, which can be used free of charge as well. Similarly, optional paid extras can be purchased if a restaurant needs those features. These include an online payment service, marketing tools, and branded mobile apps. Speaking of which, one of the disadvantages GloriaFood has is that it is not available on desktop. Instead, a mobile app needs to be downloaded. The range of features GloriaFood provides is wide and there are some unique ones too. These are for instance orders from Facebook, vacation mode, or a QR ode menu.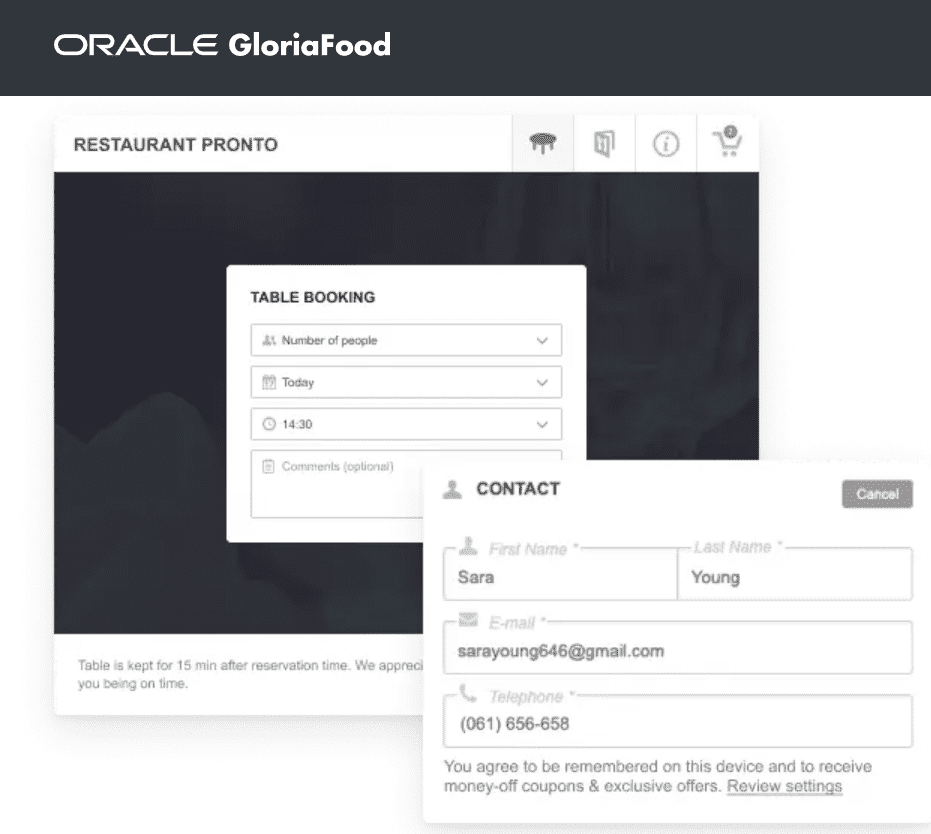 3. resOS
resOS, which is our own restaurant reservation system, couldn't be left out of course. Among more paid plans, resOS also offers a free plan for smaller restaurants or for businesses just starting up and looking for a free option. The free plan includes 25 bookings a month and all features included in the paid plans can be used. There is no time limit, so restaurants can use the system with the free plan as long as they want to. New features are constantly being developed but there are already plenty of cool features such as an intuitive floor plan, online payments, and SMS notifications. resOS also offers a delivery app that can be used along with the reservation software.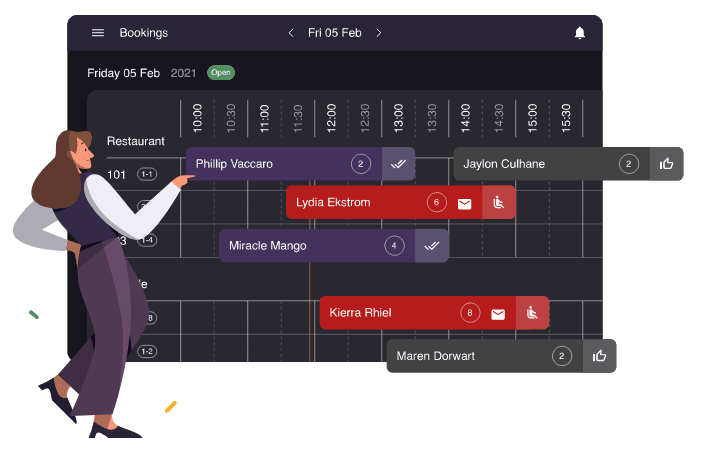 4. Carbonara
Carbonara, as they say, is a 'truly free' reservation system for restaurants. In opposite to TableAgent or GloriaFood, there are no optional paid extras available. The system can be downloaded to mobile devices but it is now also available on desktops. The user interface is bright, clean, and easy to use. One of the main features Carbonara provides is the waitlist, which helps restaurants manage tables in peak periods. If, however, you are looking for a more advanced booking system, check out this post with the 7 best online booking systems for restaurants.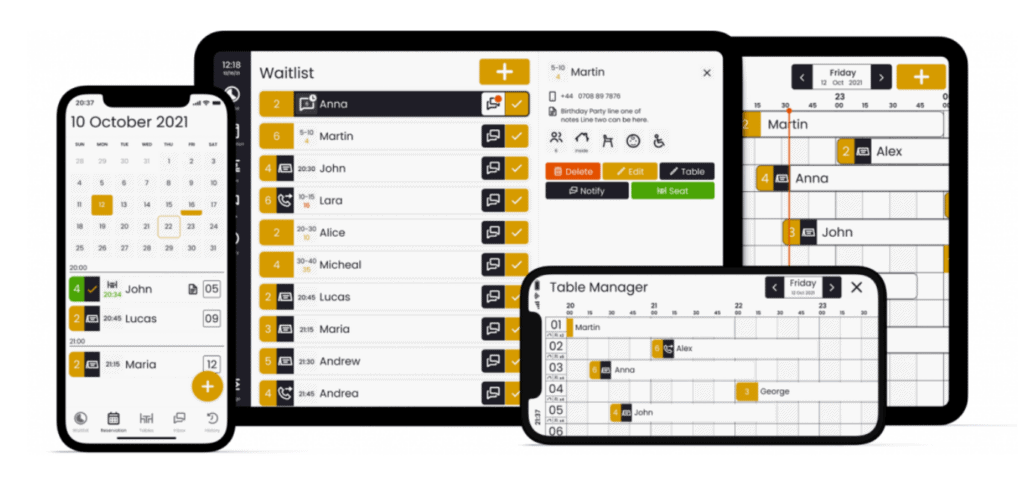 5. resmio
resmio offers 3 plans for restaurants. The 'basic' is free, and then there is also 'premium' and 'ultimate'. Furthermore, many add-ons are available to choose from for extra costs. One of the main advantages resmio has is that reservations are unlimited in all plans. Although, the variety of features included in the free plan isn't as big as that offered by the previously mentioned competitors. These features include a Google Reserve button, QR code for guests, or booking notifications. The layout of the system is modern and it is easy to get an overview of the bookings.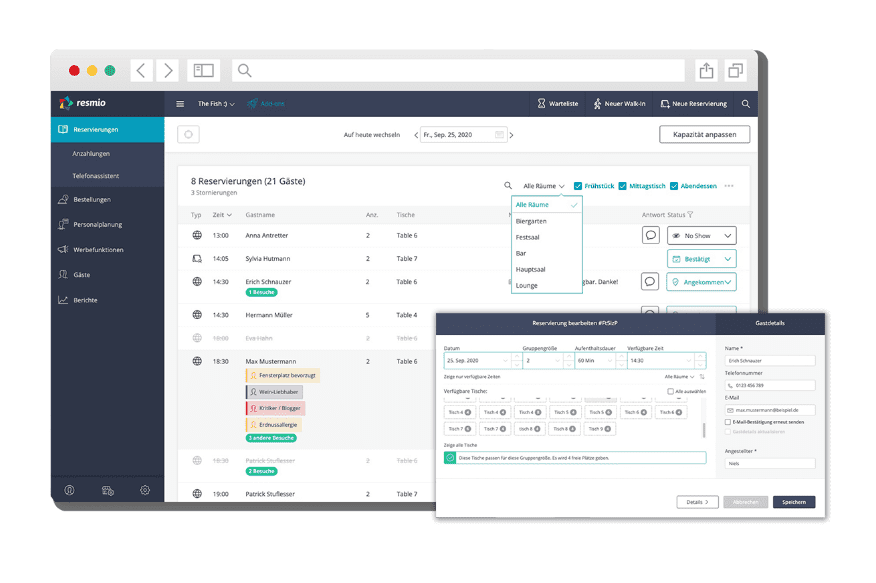 Interested in trying out resOS?
Try now resOS and you can get one month's trial for any chosen paid plan. So, if you are interested in giving it a try, this could be a good starting point. Start by creating a profile here and if you need help or have any questions, you can always reach us at [email protected]