resOS guides you to set up different seatings for your restaurant with criteria that matches your services. With this guide on how to set up different seatings, you will quickly be ready to take online reservations for your different seatings.
Set up seatings for your opening hours
The different seatings you add apply for different hours during the day. So you first need to go to your 'Dashboard' in the top right corner of the page and choose the menu 'Opening hours'. As shown in the image below, there are small icons in line with some of the opening hours. These icons indicate the criteria for that seating. Now let's look into the different criteria you can choose.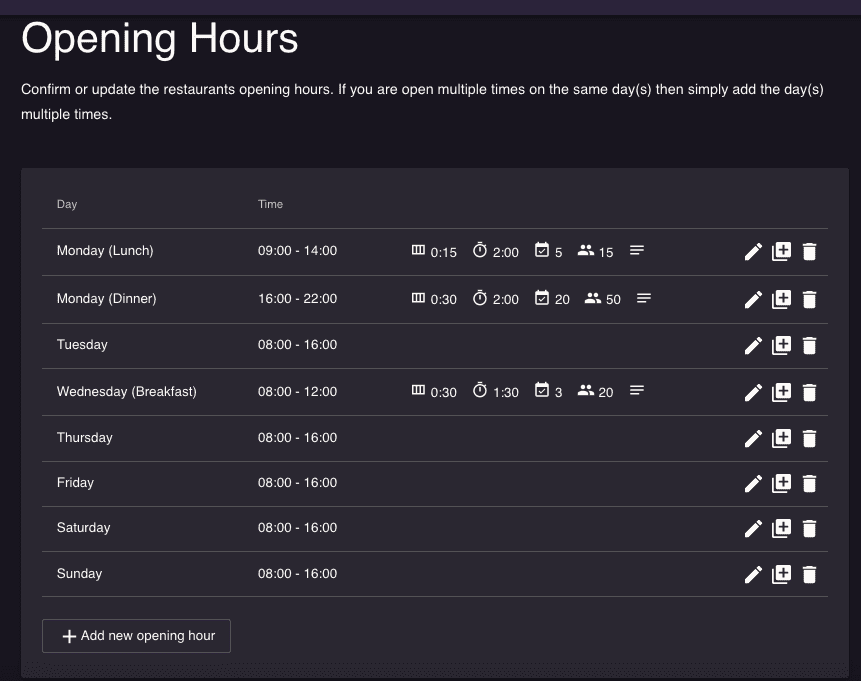 Choose different criteria for your seatings
Press on the box '+ Add new opening hour' to add an opening hour or seating. You can add more than one seating per day. For each seating, you can add the following criteria:
Opening hours for that seating – lunch could e.g. be from 9:00 – 13:00.
The maximum number for either guests or bookings accepted through online booking for this seating. This allows you to add a limit of availability per seating.
Title – An optional title for the seating that will be shown above available times on your booking page. This will make it clear to the guests that they are booking for e.g. lunch or dinner.
Note – An optional note, that will be shown for the guest when making a booking at this time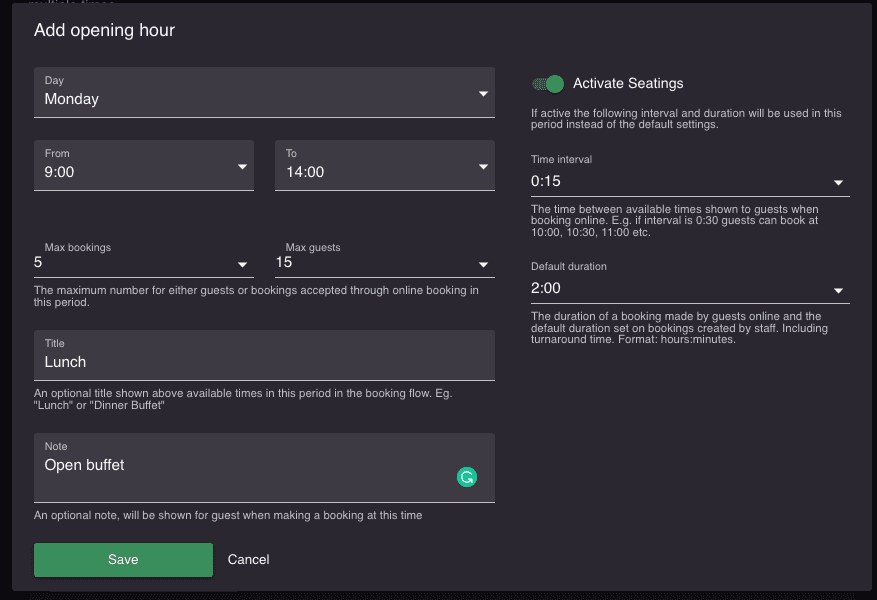 Set the time interval and default duration for your seating
It's important to note that on the right side of the page you can choose to 'Activate Seatings'. By activating the seating you choose a time interval and default duration for that seating that will be used instead of the default settings for interval and duration.
Time interval: The time between available times shown to guests when booking online. E.g. if interval is 0:30 guests can book at 10:00, 10:30, 11:00 etc.
Default duration: The duration of a booking made by guests online and the default duration set on bookings created by the staff. Including turnaround time. Format: hours: minutes.
You can always edit your seatings by pressing on the pencil icon, delete them by pressing on the trash icon, or duplicate them by pressing on the + icon.

Need any help?
We hope that this guide about setting up seatings has been useful. If you have any questions, please do not hesitate to contact us on [email protected].