If you are taking bookings and orders through Facebook as well, you should definitely integrate them with resOS. Keep on communicating with your customers through social media to ensure you never miss a booking or order placement!
How Facebook bookings can be used with resOS

If a potential customer finds your restaurant through Facebook, there's a chance they will want to make a booking right away without going to your website.
You can integrate your Facebook account with resOS and sync the bookings without having to redirect your clients anywhere else before securing their bookings.

Many people use Facebook, and it fastly became a place full of potential where businesses and individuals can advertise, spread the word about themselves, get reviews, and communicate with their customers. Many resOS's users choose to take bookings this way as it is the simplest and fastest way for their customers to be converted from interested searchers to actual bookings and orders!

Add a "Book Now" button to your business Facebook page and let the customers make the booking through your resOS from Facebook. Integrate your Facebook business page, and all your customers will be able to make a booking with you through the biggest social media platform. With only one click, Facebook will send customers to your resOS booking page and bring you more customers in a super easy and convenient way!

Integrate Facebook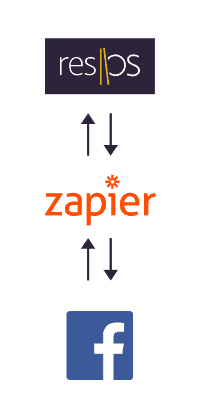 To integrate Facebook into resOS, you need to install the Zapier app in the resOS system. Not only will it allow you to connect Facebook to resOS, but here you will also find thousands of other integrations that can be beneficial to your business success.
Once you get started with Zapier and connect it with your resOS account, you can create Zaps with the apps you already have and the ones you think will help you manage the eatery better - in this case, with Facebook Booking! The process is straightforward, and those integrations can open many possibilities for you and your business's success and efficiency.
If you don't have a resOS account yet, sign up for free access below and start making your business easier and more efficient! Activate the Zapier right away, and you can explore the many more integrations and apps we offer
Do you need help getting started?
Our customer support team is always ready to help you! Write us at [email protected]