Using the resOS takeaway system, your customers can choose between a variety of options such as delivery and pickup with resOS. You can change the options of takeaway, to fit your restaurant perfectly. Whether it's the normal takeaway, delivery, or eat-in, the resOS takeaway system can do it all. You can easily control your settings within the resOS panel.
What takeaway options you could have?
Delivery: manage your restaurant's deliveries by adding delivery times and price, or adding a note for the customer
Pick up: customize how you would like your guests to pick-up their order
Eat-in: an option which you can enable so guests can also decide to eat at your restaurant after ordering online
Closing pick-up or delivery for the day if you get too busy
Takeaway options: Delivery
The delivery - as the name indicates - helps your restaurant to manage delivery. From the resOS panel, you can change the delivery times, the delivery price, and even add a note for the customer. Furthermore, you can add a brief introduction to your takeaway system, that for example could include a nice welcoming for your guest. Moreover, you can easily adjust the minimum order as well as the amount for free delivery.
Another great thing is that you can allow pre-ordering! Simply just set "ordering in advance" so your customers could preorder their favorite meals.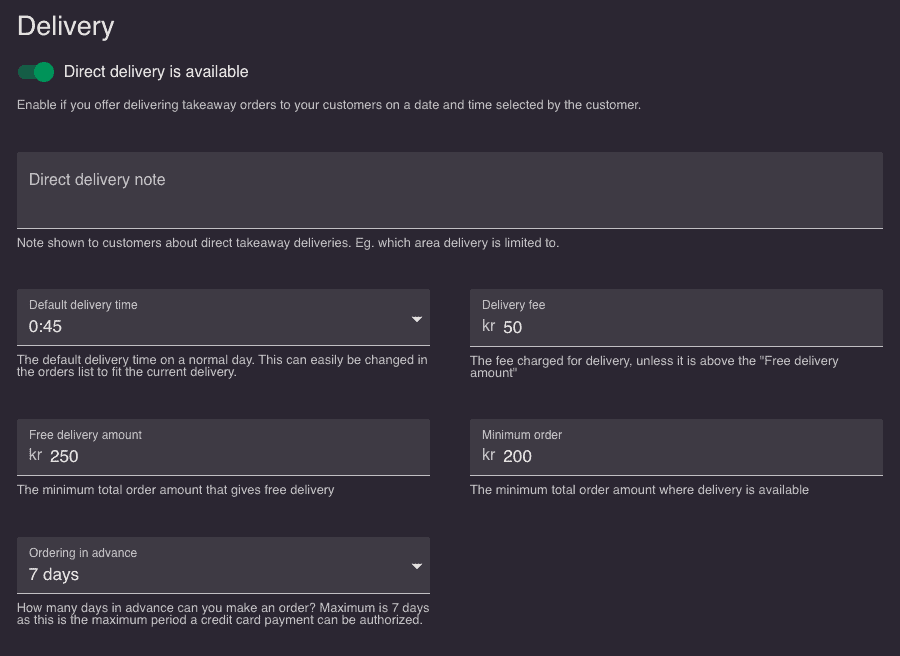 Takeaway options: Pick up
Just like with the delivery option, you can change the settings for pick-up to fit your restaurant perfectly. You can edit the preparation time for each individual meal that your restaurant offers. Furthermore, you can add a note for the customer, if you have anything important that your customers need to know. You can always adjust the pick-up time in case you get busy and need extra time to prepare the meal.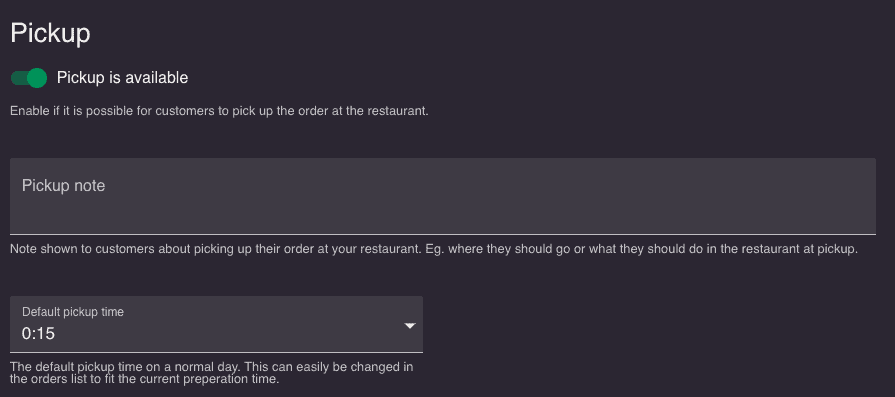 Takeaway options: Eat-in
Last but for sure not least, the resOS takeaway system supports an eat-in option. With this option, you can easily enable and disable the option of eating in your restaurant. This is especially useful during the corona times, when things are changing in a blink of an eye. Furthermore, you can add a note to your customers, with some information about your restaurant, the rules about eat-in, etc.

Close delivery or pick-up for the day
In case you already have a lot going on your plate for the day, you can always simply close delivery or pick-up. All you have to do is just go to menu --> orders --> in the top right corner you will see two options. One of them will be "Current delivery time" and the other "Current pick-up time". This is where you can change the delivery or pick-up time for the day, the moment, or close it. And it is up to you if you want to close both or only one of them!

Please note that there are some transaction fees that apply when using takeaway and accepting credit card payments. You can read more about the transaction fees in our support - Transaction fees FAQ.

However, resOS doesn't take any commission.
Do you want to try the takeaway system?
If you want to try the resOS takeaway system, including all the features, you can read more about it here. If you have any questions regarding the system or resOS in general, you can contact us at [email protected]