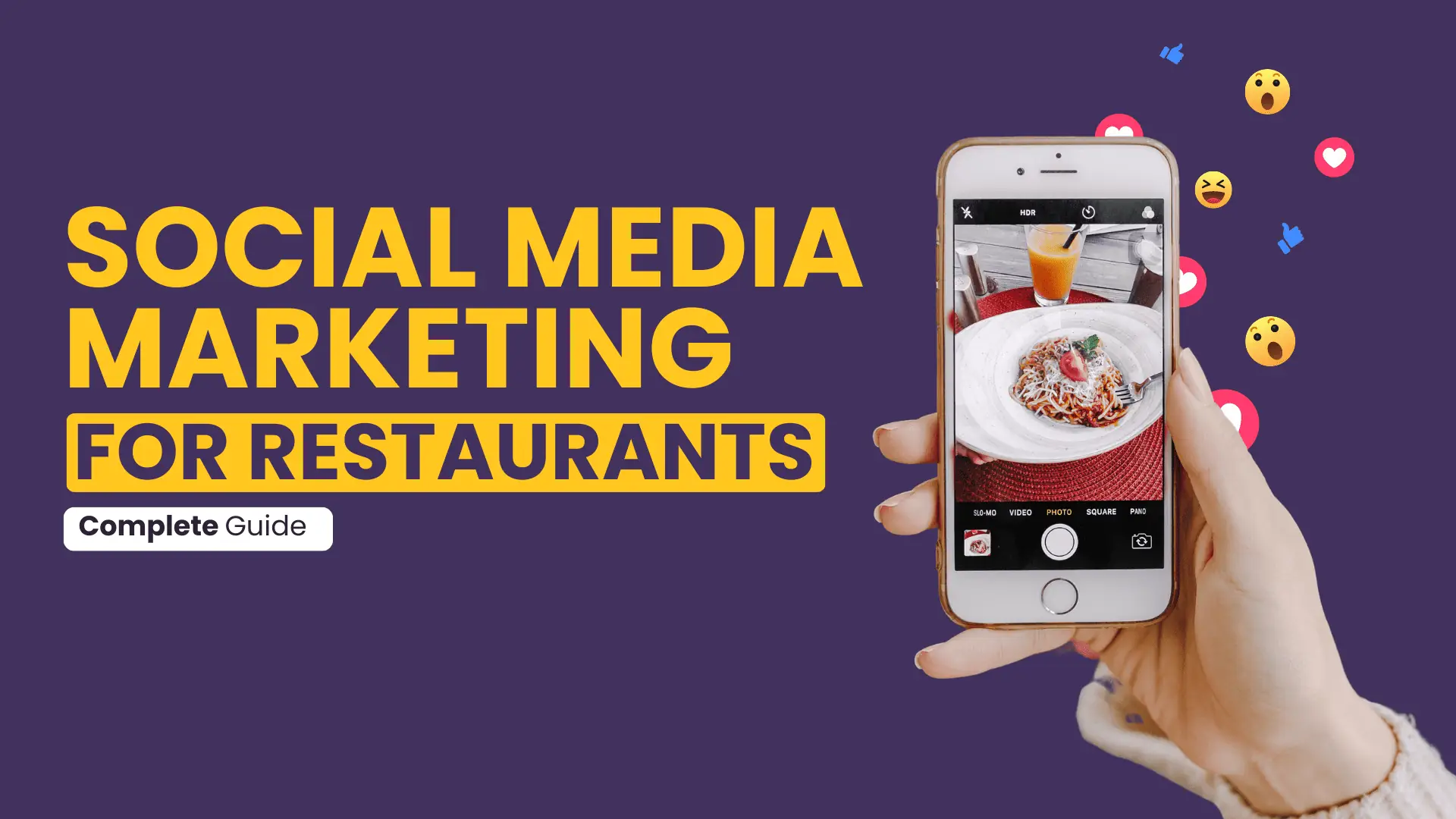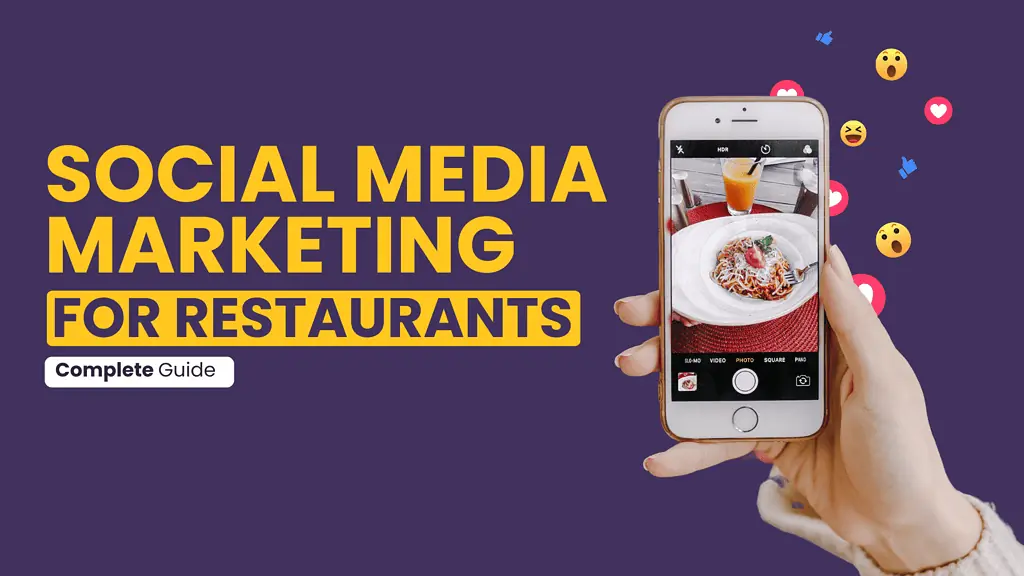 In the digital age, social media has become an indispensable tool for businesses, including restaurants. With billions of active users, social media platforms offer a unique opportunity for restaurants to reach a wider audience, engage with customers, and build brand awareness. In this comprehensive guide, we will explore the benefits of social media marketing for restaurants and provide actionable strategies to help you effectively utilize social media to promote your restaurant.
What are the top benefits of Social Media marketing for restaurants?
Social media marketing provides several advantages for restaurants. It boosts brand awareness and customer engagement. Moreover, it offers cost-effective marketing with targeted advertising. It drives website traffic, boosts sales, and showcases products.
Additionally, it builds customer trust, offers insights and analytics, and enables influencer collaborations. It also facilitates real-time feedback, aids in market research, and provides a competitive edge. Lastly, it assists in crisis management and reputation building.
Benefits of social media marketing for restaurants
Social media marketing offers numerous benefits for restaurants, including:
🎯 Widespread reach: Social media platforms allow restaurants to reach a much wider audience compared to traditional marketing channels.
😍 Engaging platform: Social media enables two-way communication, allowing restaurants to engage with customers, answer questions, and build relationships.
💰 Cost-effectiveness: Creating an account on social media platforms is free, making it an affordable marketing option for restaurants.
📈 Attract more customers: With billions of users, social media platforms are a valuable source of information for potential customers looking for dining options.
Read more about the 👉 cost-effective booking system
Why is social media important for restaurants?
Market research
Understanding your target audience and competition is essential for effective social media marketing.
For instance, if you own an Italian restaurant, you can use social media insights to discover that a significant portion of your audience loves vegan pasta dishes. By analyzing your competitors' posts, you might find that they're not offering vegan options, giving you a unique selling point.
Wider audience reach
Social media platforms allow you to reach a global audience, expanding their online presence and increasing brand visibility.
Imagine posting a video of your chef preparing a signature dish. A food lover from another country might see it, decide to visit your restaurant on their next trip, or even ask for a recipe to try at home.
Increased brand visibility
Regular posting on SoMe helps create awareness and recognition for your restaurant brand.
For example, by sharing behind-the-scenes content (see examples), like your staff's preparation for a busy Friday night, you can humanize your brand and make it more relatable.
Customer engagement and loyalty
Engaging with customers on social media platforms helps build relationships, foster loyalty, and improve customer retention.
Responding to a customer's post about their fantastic dining experience at your restaurant can make them feel valued and more likely to return.
Showcasing visual appeal
You can use social media platforms to showcase your offerings through visually appealing images and videos.
A photo series of your restaurant's ambiance, from the cozy interiors to the plated dishes, can entice potential customers to visit.
Real-time customer feedback
Social Media platforms provide real-time feedback from customers, allowing your restaurant to gather insights and improve the customer experience.
If a diner posts about an overly salty dish, you can immediately address the issue, ensuring consistent quality.
Influencer marketing impact
Collaborating with influencers can help promote your restaurant to a wider audience and drive customer engagement.
Imagine partnering with a local food blogger who has a large following. Their review can introduce your restaurant to thousands of potential customers.
Promotion and special offers
As a restaurant owner, you can use social media platforms to promote special offers, discounts, and events to drive sales.

For instance, offering a 10% discount to customers who share a post about their meal can boost both sales and online visibility.
Insights and analytics
Social media platforms provide valuable insights and analytics to help your restaurant make informed marketing decisions.

By analyzing which posts get the most engagement, you can tailor your content strategy, focusing on what resonates most with your audience.

Resource: https://www.statista.com/statistics/272014/global-social-networks-ranked-by-number-of-users/
10 Examples of social media marketing strategies
Discover how other restaurants are excelling in their social media strategies and get inspired. 🤫 Psst… all these restaurants use our restaurant management system, resOS, and shine in social media marketing.
Behind-the-scenes content: Postgården shares behind-the-scenes videos and photos of their kitchen, showcasing how their dishes are prepared.


Source: https://www.facebook.com/watch/?v=986535695855680
✅ This gives customers a sneak peek into the restaurant's operations and builds trust.
---
Direct reservations: a Café called Pickle in the Middle uses the "Book now" feature on social media platforms like Instagram and Facebook to allow easy table reservations through their profiles, partnering with resOS for the service.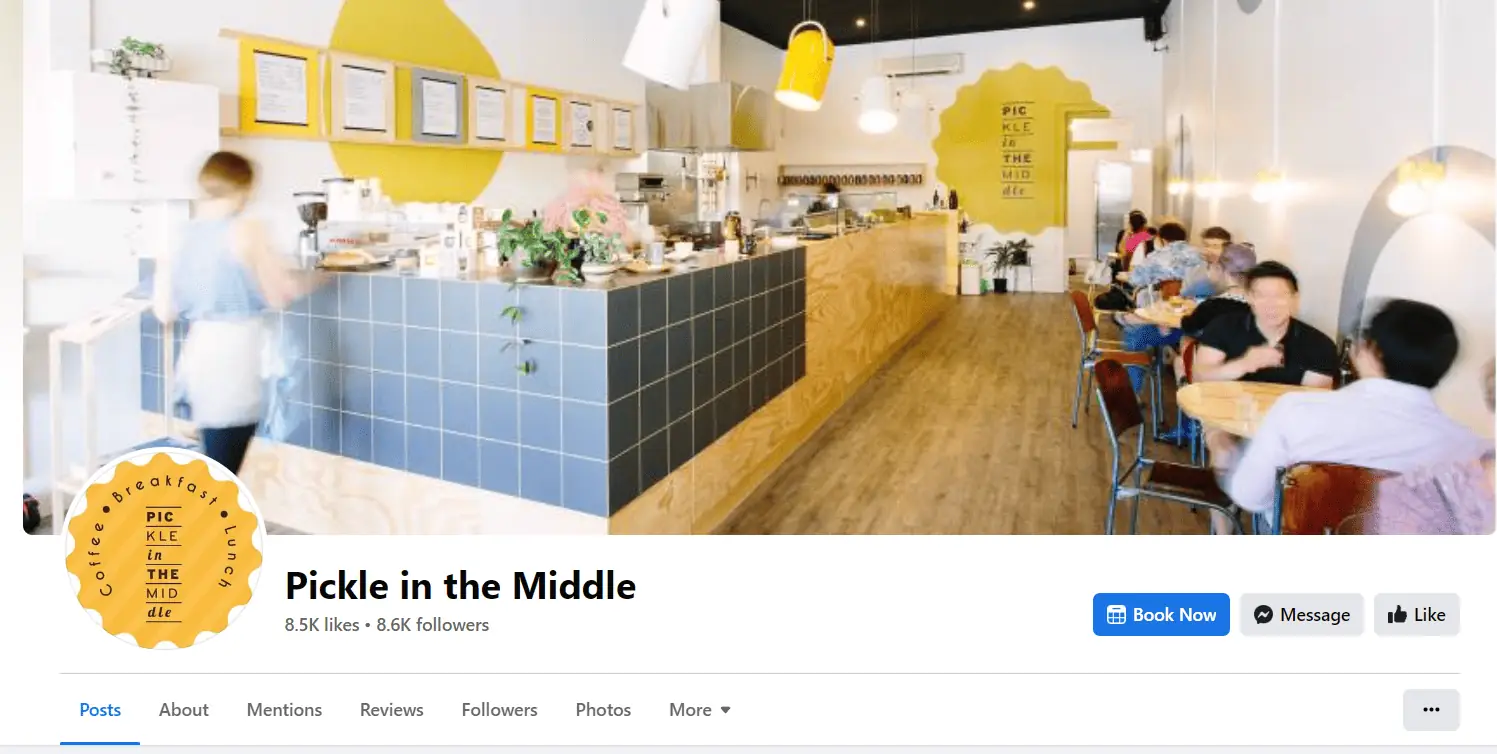 Source: https://www.facebook.com/pickleinthemiddle/
✅ This simplifies the booking process for customers.
---
Responding to online reviews: Djangos Smokehouse actively monitors their Instagram page and responds to their comments and reviews.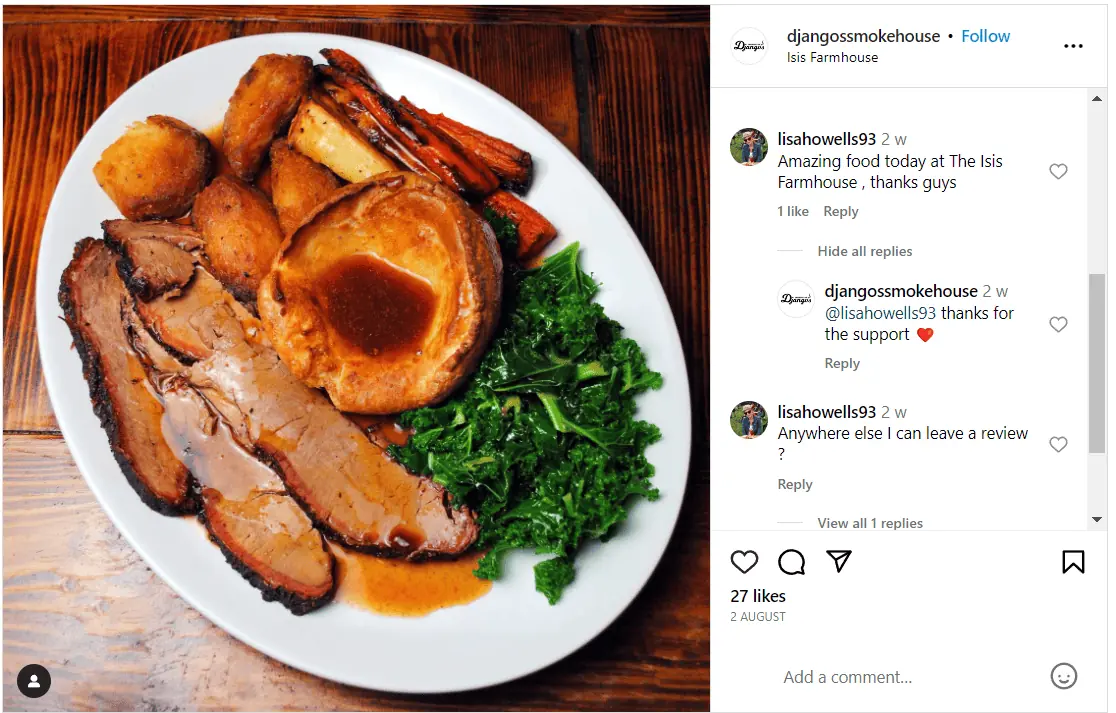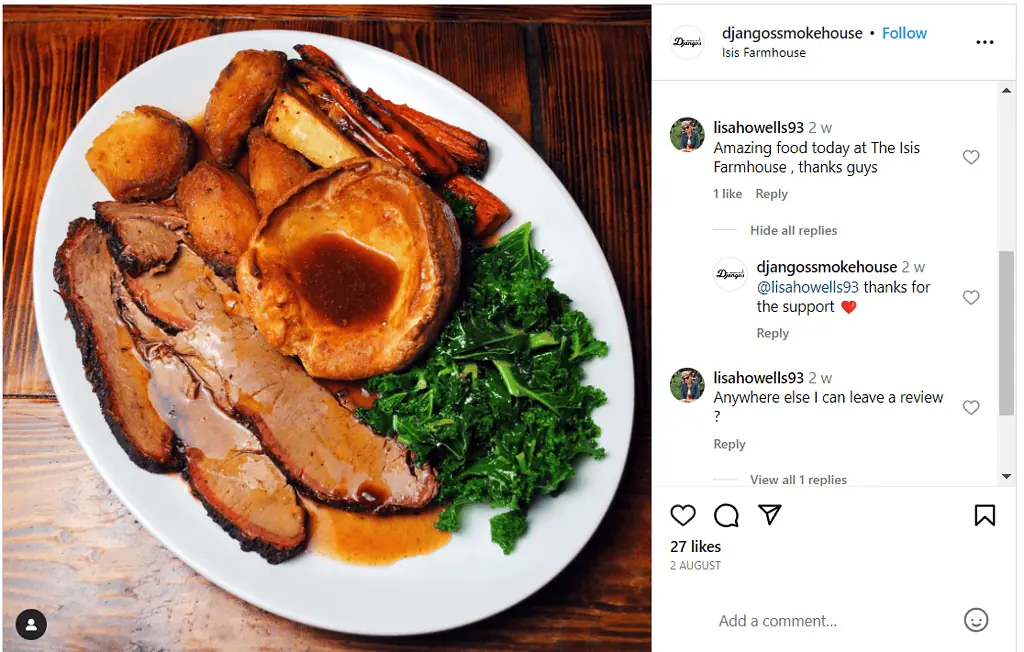 Source: https://www.instagram.com/p/CvcaU5joRae/
✅ This shows transparency and a willingness to improve based on customer feedback.
---
Highlighting special offers: A Swedish-based restaurant called Pizzeria Mums regularly posts about their specials on their Instagram page.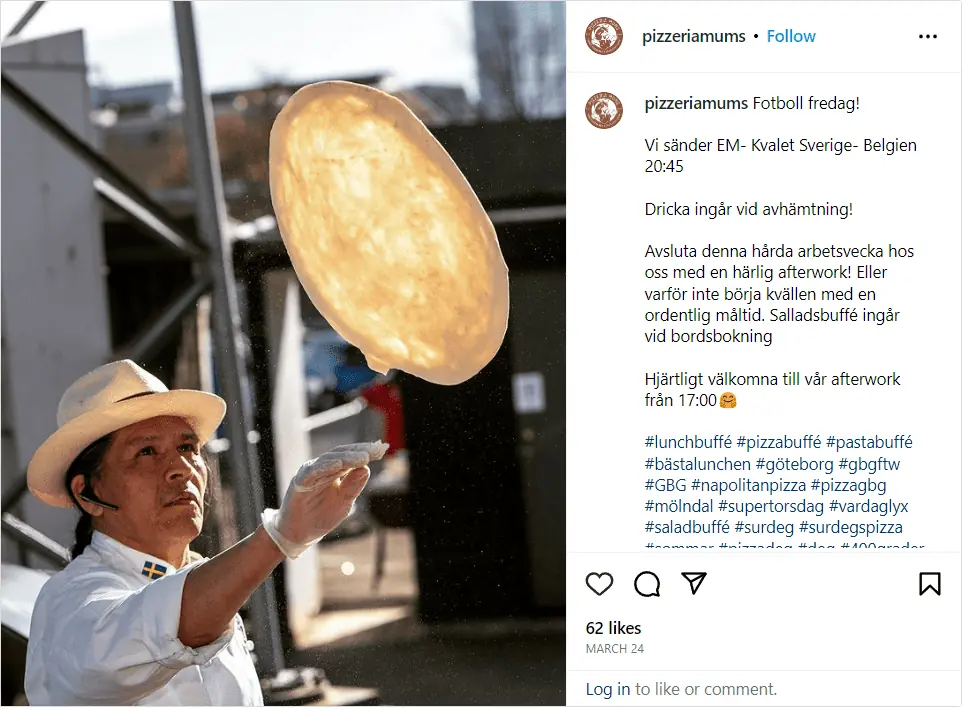 Source: https://www.instagram.com/p/CqKvQHgjkf3/
✅ They use visually appealing images of their dishes, along with detailed descriptions of the offers, to entice customers to visit.
---
Hosting social media contests: Jerome's Wine Bar And Shop runs contests on their social media platforms, offering gift cards to lucky winners.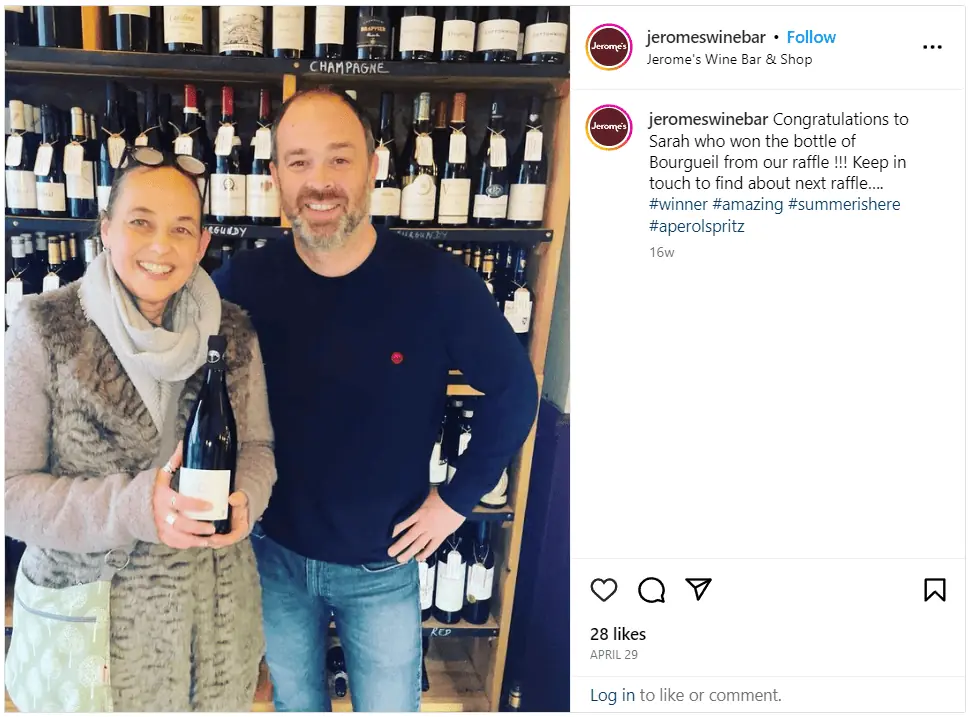 Source: https://www.instagram.com/p/CrnmXniozI2/
✅ This encourages engagement and attracts new followers.
---
Spotlighting employees: Sevag Aharounian highlights their employees, including those with different abilities, in their social media posts.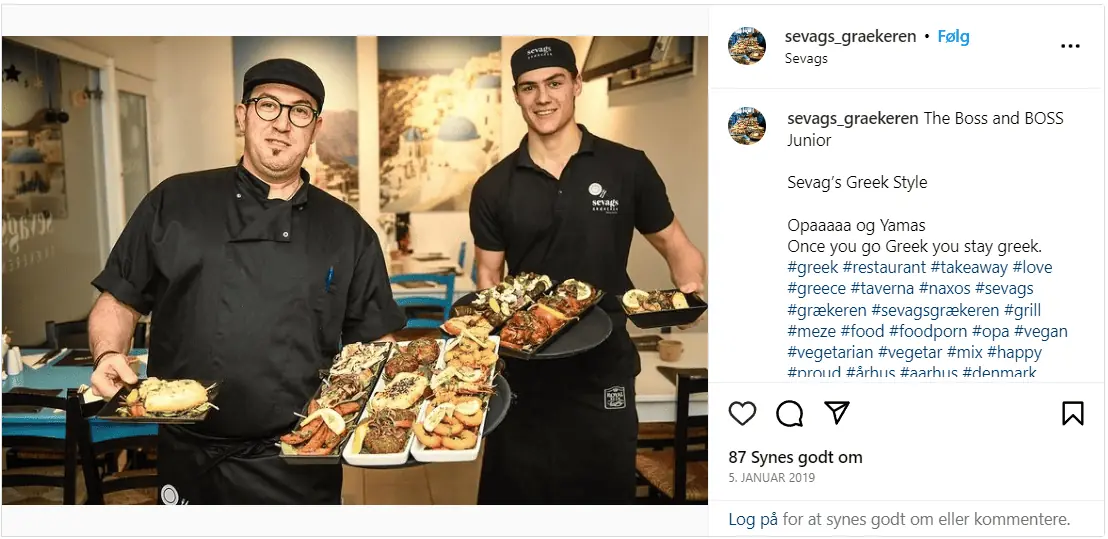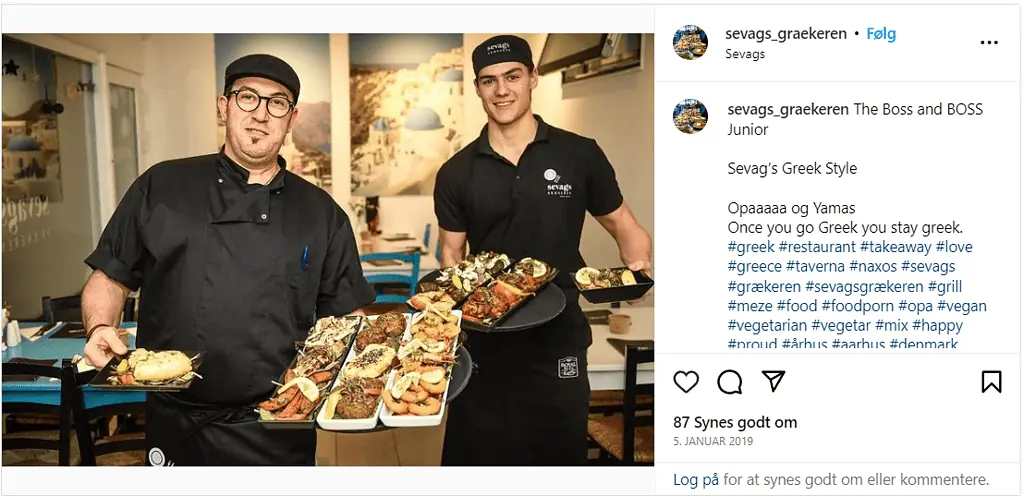 Source: https://www.instagram.com/p/BsRJRnKBtDA/?hl=da
✅ This humanizes the brand and shows that they value their staff.
---
User-generated content: Seaside Jönköping encourages guests to share photos of their meals on Instagram.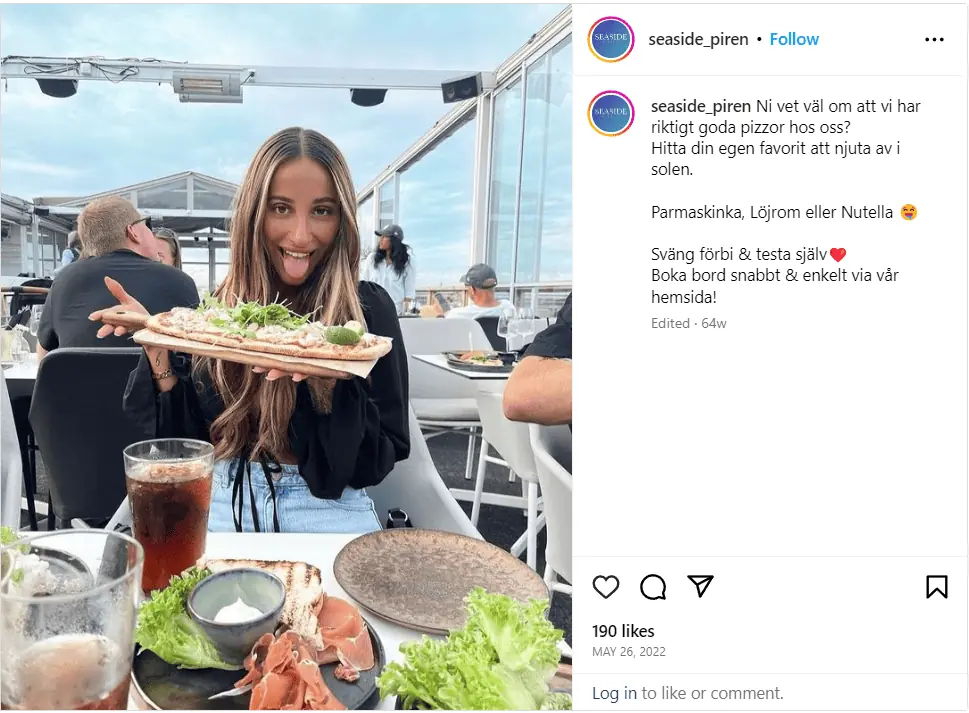 Source: https://www.instagram.com/p/CeBbtvXt560/
✅ This not only helps generate buzz about the restaurant but also provides them with free content for their own social media channels.
---
Event promotion: The trendy restaurant VGN Boulevard frequently promotes its pop-ups and special events on their Instagram account, sharing eye-catching visuals and event details.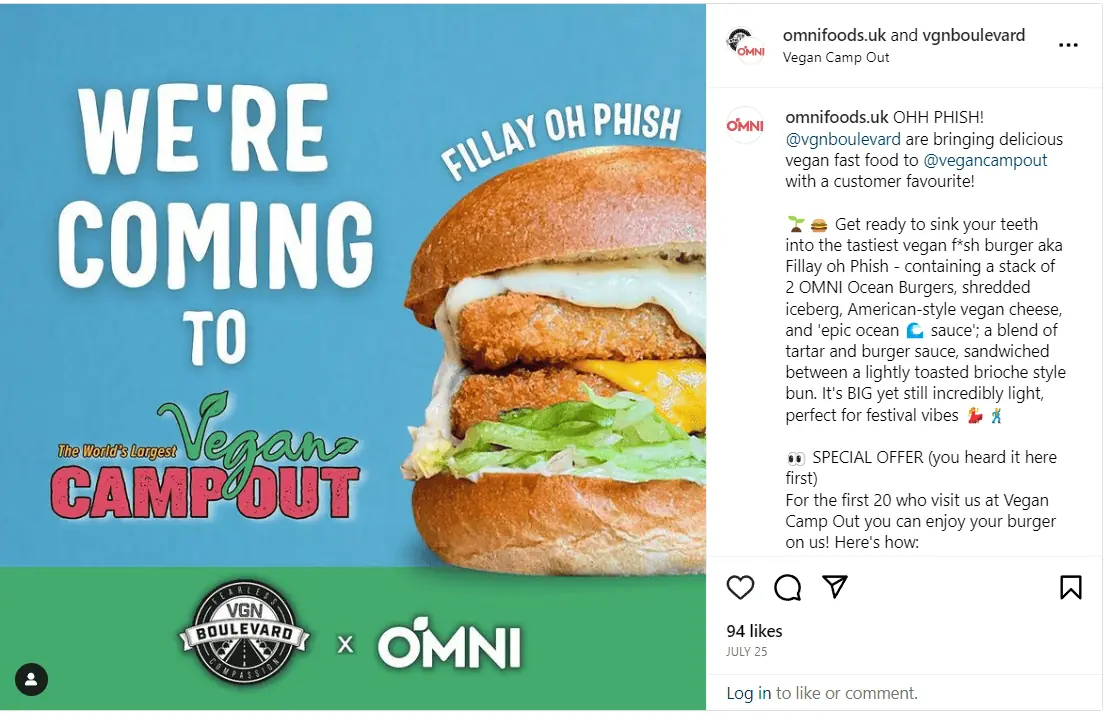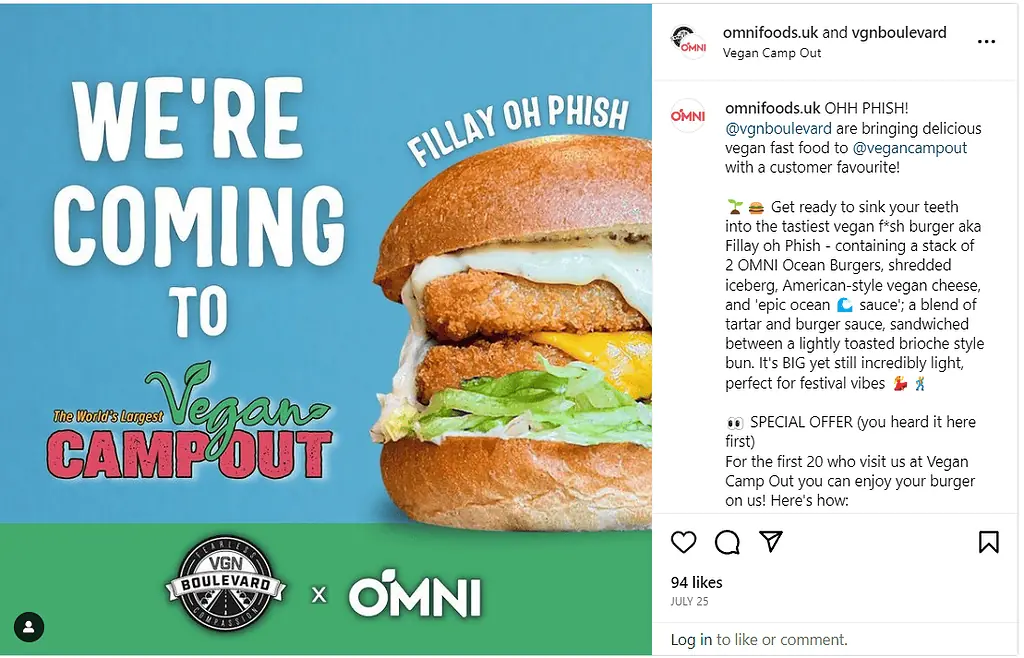 Source: https://www.instagram.com/p/CvHb3QzLGM3/
✅ This helps create excitement among their followers and encourages them to attend the events, increasing foot traffic and sales.
---
Customer Testimonials: Earsham Street Café shares positive customer reviews and testimonials on their Instagram account, highlighting the quality of their food and service.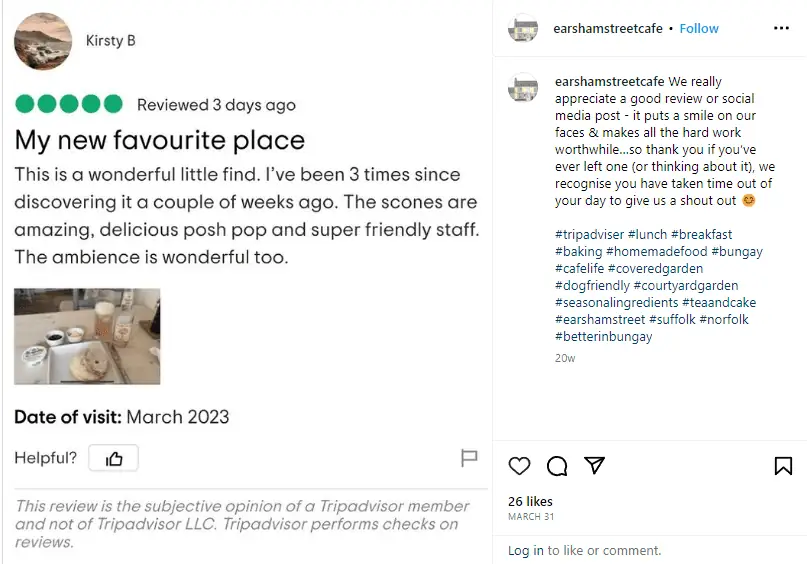 Source: https://www.instagram.com/p/Cqc29PZDUQP/
✅ This builds social proof and can help persuade potential customers to choose their restaurant.
---
Multi-platform presence: Restaurants should use multiple platforms (e.g., Instagram, TikTok, Facebook, YouTube) for wider reach. Focus on quality and repost content. Meta Business Suite simplifies Facebook and Instagram tasks.
✅ Having a presence on multiple platforms enables restaurants to reach a broader audience, stay competitive, and engage with their customers more effectively.
---
Having a strong social media presence combined with an efficient restaurant booking system can simplify your day-to-day operations. Check out our resOS system management, which we offer for free, to elevate your restaurant's efficiency and online presence.
How should restaurants use social media?
Creating a strong profile Create a professional and appealing profile on social media platforms with relevant information about your restaurant, including contact details, location, and menu.
Share captivating visuals Share visually appealing images and videos of your restaurant's offerings to attract customers.
Engage with the audience by responding to comments, messages, and reviews. Build relationships and foster customer loyalty.
Post regularly on social media platforms to maintain an active presence and stay top-of-mind for customers.
Use #hashtags strategically, to increase the visibility of your posts and reach a wider audience.
Showcase customer reviews and testimonials and share positive customer reviews and testimonials to build credibility and trust.
Run contests and giveaways to engage with your audience and promote your restaurant.
Monitor analytics to track the performance of your social media marketing efforts and make informed decisions.
Leverage paid advertising Use paid advertising to reach a targeted audience and drive customer engagement.
Stay updated with the latest trends and incorporate them into your social media marketing strategy.
When Should Restaurants Use Social Media?
The best time to post on social media platforms varies depending on the platform and your target audience. Generally, posting during peak hours when your audience is most active can help increase engagement. The frequency of posting on social media platforms should be consistent and aligned with your marketing goals.
Conclusion
Social media marketing boosts restaurant brand awareness, engagement, and sales. With cost-effective ads, product showcases, and real-time feedback, restaurants can leverage social media for business growth and customer loyalty.