Are you interested in how you can improve your business and strengthen your relationship with your customers? Then keep reading and get the latest facts on how to add a restaurant review site to your business and how online review sites for restaurants can improve your business.
What exactly are online review sites?
Online review sites are where your customers can write good or bad reviews, depending on their experience at your restaurant. Some review sites even allow businesses to pay for enhanced listings. Many customers take online reviews into account before making a decision. They're looking for verification and reassurance that your restaurant is right for them. Therefore, reviews (or lack thereof) can directly affect whether or not potential customers decide to visit your restaurant. 
As customers we are quite often asked to leave a review – not only in the restaurant business but also in other businesses (for example in the clothing industry), which makes review sites common and recognizable to us as customers. An article from 2021 finds that 93% of customers take online reviews into consideration before they make a purchase or decide to visit a restaurant.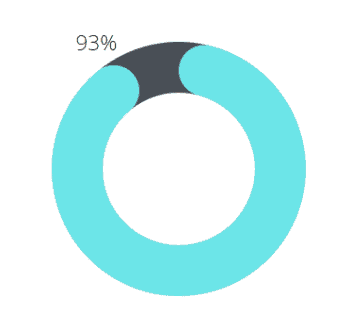 Have you ever wondered why online review sites are important to restaurants?
Here's a short list that outlines the most important elements of why online review sites are important to a restaurant's ongoing business.
When your restaurant uses online review sites to reach and engage with customers, it makes customers feel appreciated and heard.
When review sites are used on a daily basis, your restaurant's publicity increases. It can improve your ranking on Google and make you even more visible as a brand.
It makes you look trustworthy. If people have nice things to say about your restaurant, then they're most likely also willing to write a good review. Your restaurant can build trust and reliability from the positive reviews. New potential customers can look you up on various review sites and decide for themselves if they want to visit your restaurant or not.
Let's see what it might look like…
When you search for specific restaurants on Google, it often looks like the picture below. In this example, I have Googled "best Italian restaurant in London" and Google then shows me the restaurants with the best rankings. Therefore, it's a major advantage if your customers review their restaurant visits as it will increase your restaurant's publicity.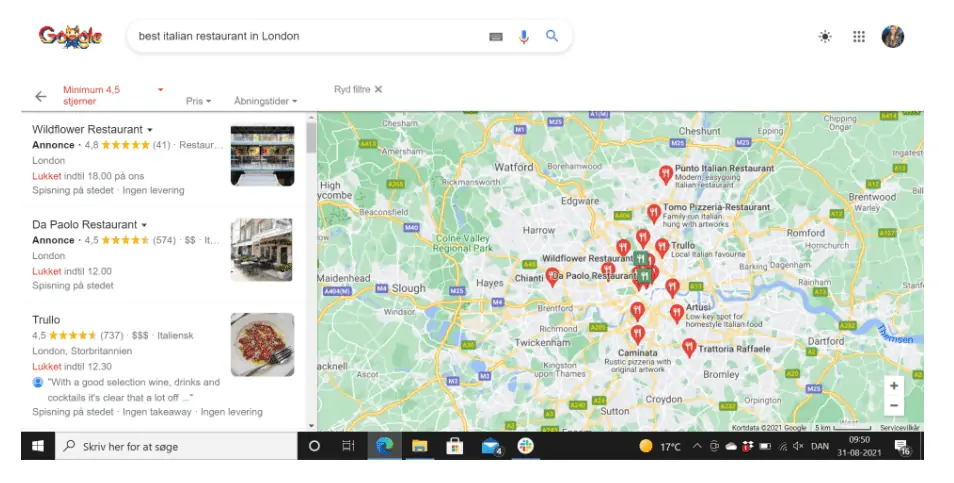 The visual aspect
Below you will find an example of a review of one of the Italian restaurants above. The customer gave the restaurant 5 stars and even added photos, which makes the review even more reliable and helpful for others. The visuals actually play a big part of a restaurant's business. The more appealing the visuals are, the more likely it is that new customers will visit the restaurant – because as we like to say, we eat with our eyes.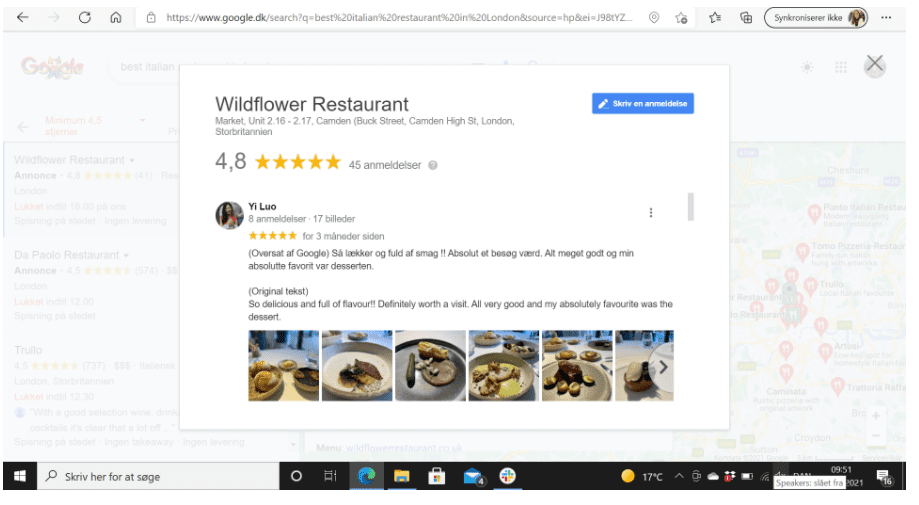 How do online reviews affect your ranking?
The quality and quantity of reviews can affect your ranking on online review sites. As customers, we use online reviews to validate our decisions and search engines have a similar approach. The search engines trust the online reviews from customers and rank the restaurants accordingly. So, in general online reviews positively affect your ranking on Google. Getting as many positive online reviews should be part of your SEO strategy. In fact, an article from 2017 indicates that the 5th most significant parameter that determines a restaurant's ranking is online reviews. 
You can advantageously optimize your Google profile, as it can create extra clicks for your restaurant. So, if you haven't already set up your Google My Business listing, you should! This will also give your business a public identity. The more people who trust your restaurant, the more likely it is that the conversion rates will increase. A decrease in your conversion rate can be due to negative reviews and an increase in your conversion rate can be due to positive reviews. Therefore, the nature of your reviews can affect your search engine rankings. But, the total number of reviews will also have an impact on your ranking.
Like I have mentioned earlier, spending time on responding to reviews can have a positive impact on your ranking. The interaction of communicating and engaging with your customers can only benefit your restaurant positively and it's a great way to build brand loyalty and awareness.
If you're featured on multiple websites, it'll also increase your backlinks.
So, it's obvious that there are several ways in which online reviews can affect your ranking. As a restaurant owner, you just need to keep an eye out for these and do your best.
How do you get customers to leave an online review?
There are several ways you can get your customers to leave a review. Let's quickly run them through.
Start by just asking. After your customers have visited your restaurant, you need to encourage them to leave a review and this can be done very simply, by just asking them politely.
Use email marketing. Get your customers to sign up to newsletters. You can add a link to a specific review site at the bottom of the email, that will guide your customers to your preferred review site.
Social media is a sure winner. You can reach out to customers on Facebook, Instagram, Twitter, LinkedIn, etc. This is a great way to interact with your customers and get them to leave a review. If your guests have had a nice experience, there is a really great chance that they'll leave a review if you ask politely!
Hand out business cards with a QR code they can scan, to get to your preferred review site. It's both easy and smart.
Call-to-action. Be creative. It can be an image, text, or something completely different. You can for example add a fun note at the back of the menu card or a sign in the bathroom that asks your customers to please leave a review.
What are the best restaurant review sites?
This is the internet's answer to some of the best review sites for restaurants. Let's dive deeper into each of these review sites and have a look at how the setup works for them individually.
TripAdvisor
TripAdvisor is mainly used within the traveling industry and is a great tool to attract tourists and increase awareness internationally. TripAdvisor includes reviews on hotels, tourist attractions, restaurants, and more. These types of reviews don't cost a dime to make.
As a guest, you can even save up to 50% if you book your next restaurant visit in London through TripAdvisor. This is because TripAdvisor has collaborations with restaurants all over the world, which increases publicity and revenue for both parties. When a customer submits a review through TripAdvisor, it automatically goes through various checks by TripAdvisor's tracking system, before it is published on the website.
At the time of writing, if you Google: "Indian restaurants in London", the first search result is TripAdvisor's post on "The 10 best Indian restaurants in London". Grand Trunk Road has taken first place, not only because of its great food but also because of the way it interacts with its customers online. The restaurant makes sure to reply to reviews, and if there's a problem, this is taken care of by staff to ensure that the customers are satisfied. Grand Trunk Road acts in a professional manner when managing reviews – and it has paid off.
Trustpilot
Trustpilot is used for reviewing all sorts of different businesses. It's especially popular in Europe and The United States of America. With online reviews, and especially with Trustpilot, not all customers read the reviews at length; some simply just look at the star rating. If your star rating is low (or even average), you can often wave goodbye to new customers. An article from 2020 finds that if your ratings increase by even just one star, it can lead to as much as a 9% increase in revenue. Therefore, you should always pay close attention to your stars.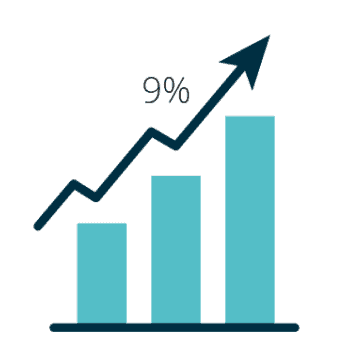 Let's see what it can look like when companies get bad reviews. The image below shows different opinions about a kebab restaurant in London. The restaurant received a poor review and decided not to respond. Therefore, the restaurant has opted out of the possibility of finding a solution to the problem. Naturally, the restaurants that engage and interact with their customers online also get better publicity. A good advice would therefore be to listen to your customers and make them feel seen and heard. It will definitely pay off in the end.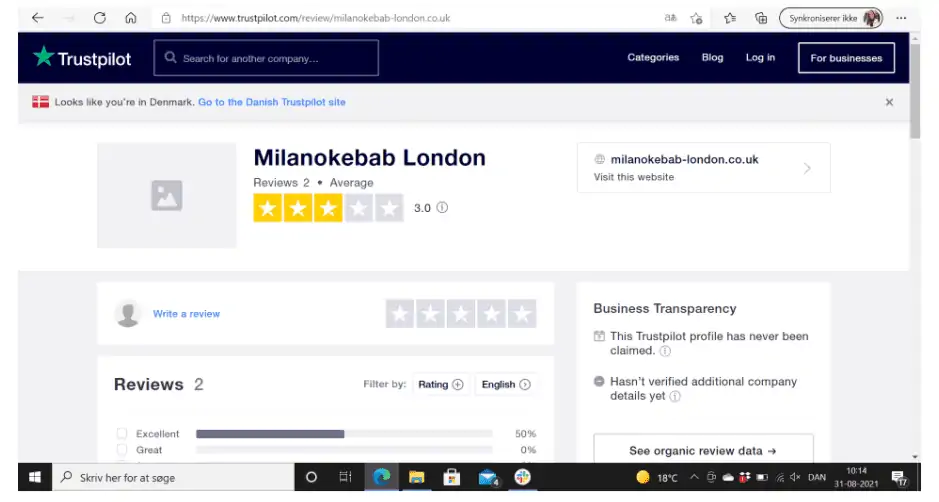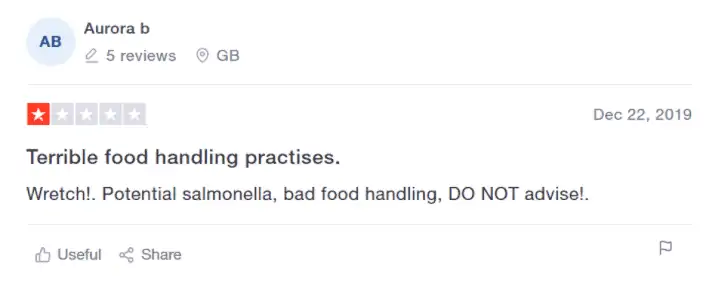 Google reviews
Google reviews are also used for different types of businesses and it can help your business stand out on Google, as the reviews appear next to your business profile. In order to get Google reviews, you need to verify your business and also remind your customers to leave a review. The reviews are tied directly to Search, Google Maps, and your Google My Business listing. Below is an example of two different reviews for the same restaurant. More specifically, reviews on a popular British cafe called Peggy Porschen. Their star rating is overall very good, but people still have different experiences when visiting the restaurant.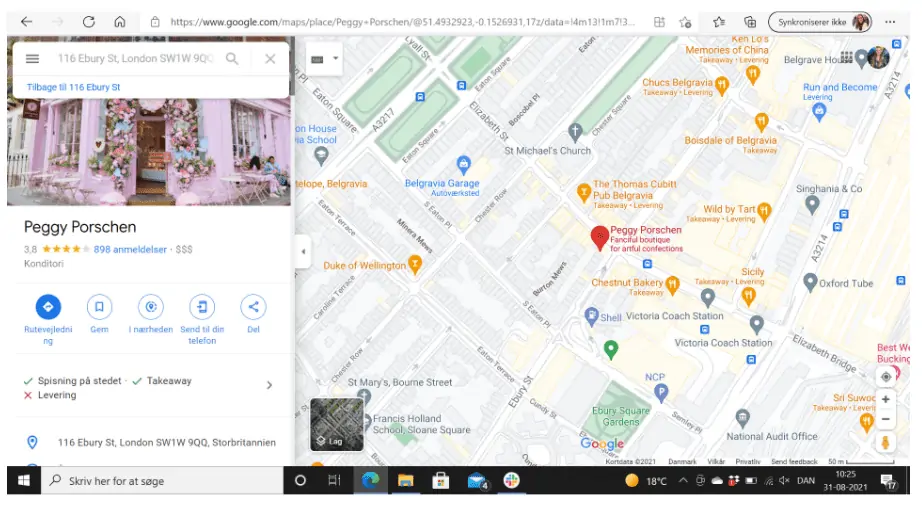 In the picture below, Peggy Porshcen is replying to a good review. They make the customer feel appreciated and end their reply with "Hope to see you again sometime", which indicates that Peggy Porschen appreciates and values their customers. It helps drive the loyalty between a customer and a business.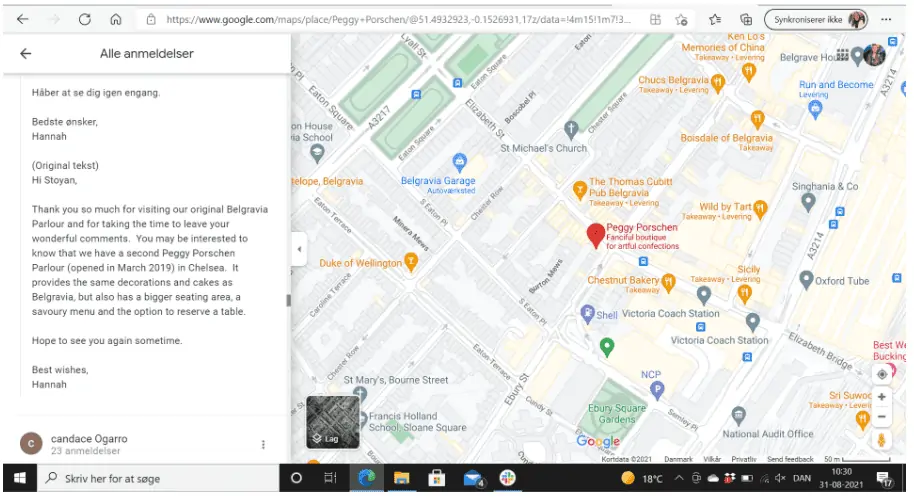 In the example below, Peggy Porshcen is replying to a bad review. Once again, we see the restaurant interacting with the customer, trying to come up with a solution to the problem instead of just ignoring it. They, therefore, increase the chances of being able to welcome back the customer.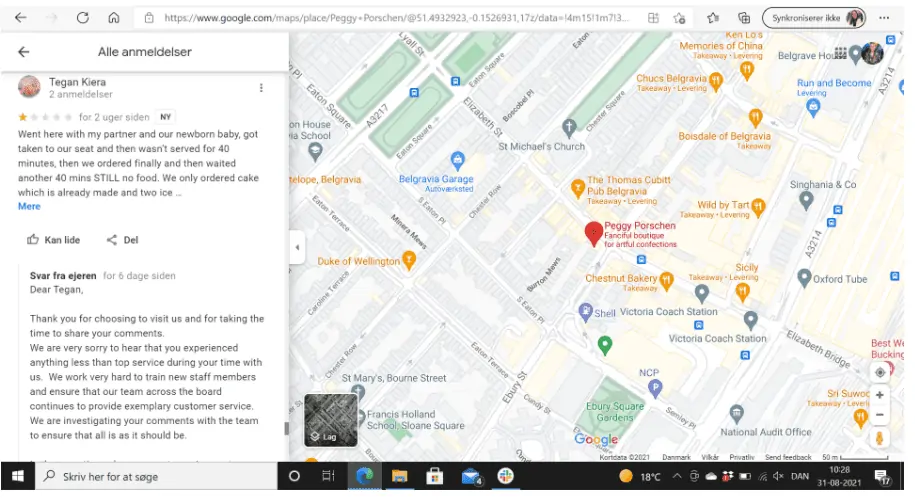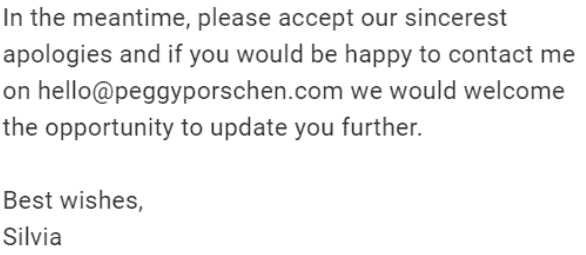 Facebook reviews
When you Google certain restaurants, the link to their Facebook page will automatically be linked. Since Facebook has such a far reach throughout the entire world, it makes it an essential player when it comes to branding businesses. An article from August 2nd, 2021 indicates that there are approximately 2.89 billion active monthly users on Facebook. And many of these users use Facebook to read reviews about various companies. As a company, you can link your company profile and your company's Facebook page together, so you automatically get updates directly between the two channels. If your restaurant wants to increase its presence on Facebook, you need to learn how to use these reviews to your advantage. The reviews can help increase the level of awareness – and the way you interact with your customers can be essential for you as a company. The picture below shows a customer who has reviewed the Danish restaurant Noma (one of the world's best restaurants), and in the picture, you can also see how the restaurant has taken the time to respond to all the messages it has received.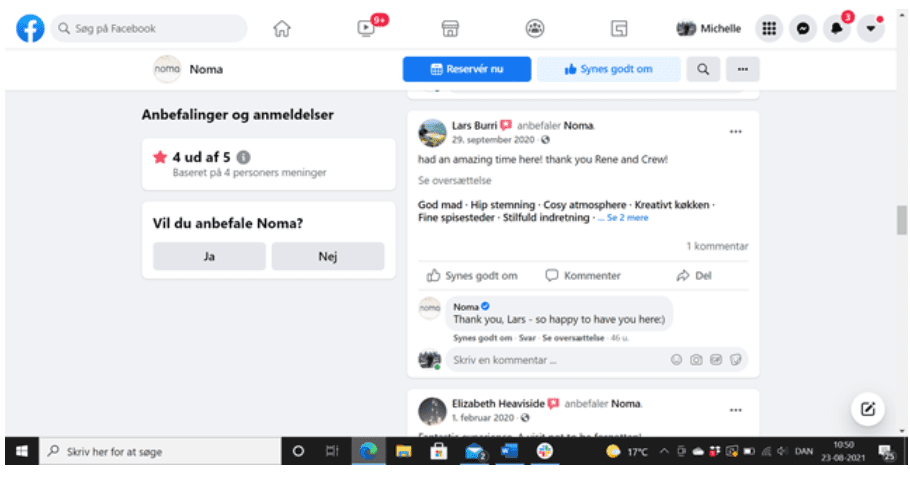 Some restaurants even share good reviews on their social media channels. This is a good way to make their customers feel valued and at the same time encourage others to visit.
You can actually collect feedback automatically
If your restaurant needs an online booking system, then you can check out resOS. It's a modern online restaurant system that makes it easy to manage bookings. The system can automatically ask your customers for feedback after they have left the restaurant. The customers will be sent a questionnaire with the option to provide feedback by rating their experience or by writing feedback. If the feedback is positive, the system will then ask your customers to write a review on one of your social media channels – this could be your Instagram account or your Facebook profile. This is an opportunity to improve your restaurant and to avoid bad reviews online.
So, let's sum up quickly, shall we…
If you want your business to grow with the help of reviews, it's crucial that you interact with your customers – even (and perhaps most importantly) if the reviews are bad. A bad review can easily have a good outcome, you just need to handle it like a boss. If you respond in a professional and sincere way, you'll be able to make a good impression and the outcome can be better than what you first expected.
At the same time, it's important that you encourage your customers to leave a review after their visit to your restaurant.
The better reviews you get, the better ranking you get on Google. A better ranking makes it possible for you to reach a larger potential audience, who should visit your restaurant next time they're in town.