Having an online booking system allows your customer to reserve a table at your restaurant without having to call to check availability. It also allows you to manage your floor activity, the distribution of your guest to optimize the seating, and the dining preferences of your customer so you can deliver the best service. Customers look for a seamless experience from beginning to end when reserving a table at a restaurant. All in all, an online table reservation system makes it fast and easy for guests to reserve a table, and even easier for your staff to manage table reservations. We did the research for you and made this list of the 7 best online booking systems for restaurants.
What is the best online booking system?
As a restaurant owner, you need to find an online booking system that suits your restaurant's needs. What matters the most to you? Price? Usability? Or maybe you are looking for specific features that makes it easier for you to manage tables and reservations – or maybe its a mix of all three. You have to find the best booking system for you. We got here 7 excellent booking systems with insight into features, limitations and pricing.
resOS
resOS is a flexible and user-friendly online booking system for all kinds of restaurants, big and small. This system aims to make it easy and cheap for restaurants to get more bookings and satisfied guests. Usability is the top priority – both for the guests and for the staff using the software. resOS provides restaurants with automatic (or manual if this is preferred) table management and takeaway with numerous features, including automatic customer profiles for everyone who has ever booked a table at your restaurant. resOS is also a Google partner and therefore 'Reserve with Google' is included when using the software.
The software is built to improve the performance of the restaurant. It provides guests with an easy way to book a table, communicate changes, and prepay. resOS also helps prevent no-shows by providing the opportunity to require prepayment, deposits, or a no-show fee, as well as the possibility to flag bad guests in the system. The system is available in multiple languages and can be used on both iOS and Android.
resOS wants to make it possible for restaurants to effortlessly deal with table reservations. This online booking system is perhaps the most flexible and easiest to use for a reasonable price.
Key Features
Manage booking times and tables with a list, calendar, schedule, or floor plan view, depending on your preference
Allows easy communication with guests about e.g. preferences or potential changes to the booking
Allow guest to not only choose the best time to eat at your restaurant but to choose the table they prefer
Possible to require prepaymentm, deposit and no-show fee
Process payment through Stripe
Collect guest feedback after their visit, improve your restaurants service and prevent negative online reviews
Get notified about a new reservation through SMS, e-mail, or through an automatic phone call from resOS's robot
Reserve with Google
Automatic customer profiles
Check out all the features that comes with resOS' online booking system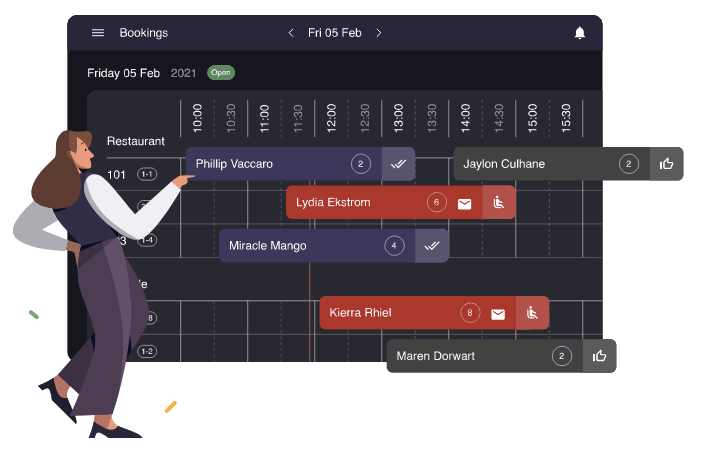 Limitations
The booking system and the takeaway ordering system do not come in the same package. Therefore if a restaurant e.g. uses the online booking system and now wishes to try the takeaway system, it would have to subscribe to the takeaway plan. Although, the takeaway system prices are fairly low.
Pricing
The price ranges "from free to cheap". resOS has 4 different solutions for the online booking and table management system. All price plans include all features, free setup, and support, and have no binding – the difference is simply the number of bookings that can be made in the system per month.
From 0€ per month – Free: Allows up to 25 bookings per month.
From 29€ per month – Basic: Allows up to 350 bookings per month.
From 59€ per month – Plus: Allows up to 750 bookings per month.
From 89€ per month – Unlimited: Unlimited bookings each month.
The system can be used in 6 different currencies: EUR, GDP, AUD, USD, DKK, SEK.
OpenTable
OpenTable serves restaurants, restaurant groups, pubs, bars, hotels, and grocery shops. The software enables diners to find and book a table for every occasion.
Open Table is designed to make your restaurant discoverable by an audience of diners. The marketing solutions provided allow your restaurant to get more exposure through display advertisement and social media marketing. The platform also has an incorporated CRM system which includes tailored communication and targeted campaigns. The integration allows the restaurant to have a point of sale system, manage content and marketing campaigns, manage delivery, and partner with other booking websites.
Key Features
Reservation system and table management
Create customer's profile, be updated on the preferences, and personalize the experience
Boost the restaurant's reach with display marketing, SoMe marketing, and manage your ROI of your campaigns
Get customer feedback, access benchmarking insights, and uncover new opportunities
POS integrations
Integration with email marketing platforms, content manager systems, booking, and delivery partners
Limitations
Not a limitation but more of a downside. OpenTable charges 1$ per customer it seats, which can quickly become expensive on a monthly basis. Also, OpenTable is highly focused on the marketing tool aspect and less so on the online booking system.
Pricing
OpenTable offers 3 different price plans The plans are the following:
29$ per month – Basic: Includes the basic tools for reservation, takeout, marketing strategy, and analysis.
249$ per month – Core: Includes tools for reservation, takeout, marketing strategy, marketing analysis, table management, inventory, and POS integration.
449$ per month – Pro: Includes the tools mentioned above and also automated campaigns, guest preferences, guest profile, and staff scorecard.
Some of the plans have additional fees such as 1/1.5$ per network covered (each guest that found your restaurant through OpenTable), 0.25$ per reservation on the company's website, and 2% service fee for "Takeout" and "Experience".
Eat App
Eat App offers online reservation and table management of all sizes. Its software has been on the market since 2015 and is used by many restaurants. The essence of Eat App is to provide restaurants with a system that helps streamline operations, improve guest experience, and increase guest engagement. The goal of the company is to automate as many operations as possible so the restaurant's employees can focus on delivering outstanding hospitality and making every guest feel important.
The system enables table management through the grid, timeline, floor plane, and list view. It also includes smart in-app suggestions to optimize the seating, keeps track of guests' preferences and history in a guest profile, provides reports on how the restaurant is performing and follows up on spending customer data to build targeted marketing campaigns. The software is available for desktop, iOS, and Android.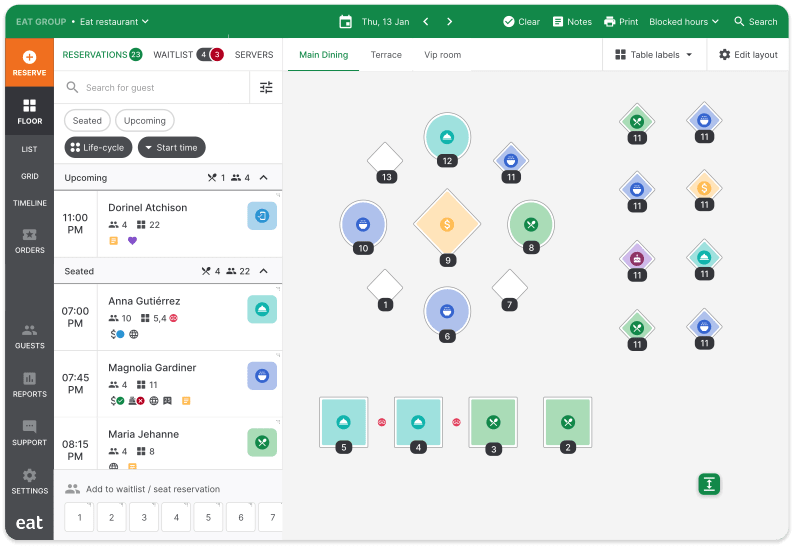 Key Features
Online reservation that increases number of seats covered and reduces no-shows
Automatic messages for both confirmation of reservations and customized campaigns
Use table management that allows you to plan the shift in advance and optimize seating
Have guest data at your fingertips so you can customize the dining experience
Repost & Analysis to understand and act on the restaurants performance
Improve efficiency by automating routine tasks that keep running in the background
POS integration, phone integration, payment integration, and many more
Limitations
The high price might be a downside to businesses, especially small restaurants or coffee shops. Eat App does offer a demo but no free trial which could be insufficient to understand how the software fits the business needs.
Pricing
Besides the demo, the Eat App platform offers 3 price plans:
119$ per month – Basic: Offers the fundamental functionalities in the online reservation, messaging with a limitation of 250/month, table management, and guest data. Does not include any automation features.
209$ per month – Pro: Offers most of the features with the exception of API access & data integration as well as custom integrations. Limit of 1,000 messages per month.
Price request – Enterprise: Includes all the functionalities with a custom limit of messages.
On both the Basic and Pro plans, the POS integration and the phone integration have an additional price of 90$ per month and 25$ per month, respectively.
Resy
Resy helps restaurants improve their service by providing them with reviews that are not public. Those reviews are therefore much more constructive and actionable since they are more detailed and not for the public view. Resy also guides restaurants on how to identify problems in a granular fashion. It almost feels like the problems are being solved in real-time. The company promises to increase your restaurant's ROI, enhance your guest's experience, and streamline operations at your restaurant.
Key Features
Allow customers to reserve a table at your place through multiple platforms
Provide regulars with exclusive access to waiting list
Send automatic confirmation text and reduce no-shows
Automatically improve seat optimization
Access the platform across devices
Make guests feel at home by having their historical data at your fingertips and also build up your CRM from there
Collect guests survey response about the restaurant privately and get more visibility without the public-facing view
Get access to reports and analyses to understand and improve the restaurant's performance
Limitations
Highly-priced compared to other software. Besides, Resy offers only a demo which does not allow the potential customer to try the software for themselves.
Pricing
Resy offers 3 different price plans. There is no free access to the platform but you can request a demo and see if it is what you are looking for. The 3 plans are:
249$ per month – Basic: Experience the essentials of Resy
399$ per month – Pro: Enjoy the full-service solution with premium support and coveted customizations. Possible to create 2 reports a year and includes POS integration.
899$ per month – Enterprise: All the features of the Pro and the possibility to gain deeper insights with custom metrics and reports
Hostme
Hostme is a modern restaurant reservation, table management, and online ordering solution. The goal is to reduce frustration for diners, hosts, and restaurants and replace the traditional reservation system with a real-time app that avoids no-shows.
The Hostme app is a very comprehensive software that includes functionalities to manage not only the floor but also the orders and the staff. It is an intuitive and customizable restaurant management software. Can be used in both IOS and Android. The system is currently available in 9 languages and still counting.
Key Features
Accept online reservations from your website while you go about your day
Integration with several websites and apps to improve your online presence
Eliminate costly no-shows by requesting "Reservation Deposits" or charging "Cancellation Fees"
Table management so you have a visual assessment of the table status and can track the restaurant occupancy
Includes online waiting list and possibility to save guest's preferences
The server rotation and management feature allows you to equitably assign servers to tables
POS integration and advanced analytics report to optimize the restaurant's performance
Limitations
It's been reported that the synchronization between the devices is not as efficient. This means that if an alteration on a reservation is done on a desktop device it will take some time to appear on the tablet version. However, Hostme has been quick to solve this problem.
Pricing
Hostme offers 4 different plans. All Hostme plans allow a 2 weeks trial for free, no credit card is required. The plans are:
29$ per month – Ordini: Manage all your orders in one place.
39$ per month – Piccolo: Includes the essential features for restaurants that don't need advanced reporting.
99$ per month – Mezzo: A more comprehensive option than Piccolo. For restaurant chains with several locations.
149$ per month – Grande: All the features with no extra costs. The only plan that has POS integration and custom branding for emails included.
The Fork
The Fork is a subsidiary of Tripadvisor that helps restaurants manage online reservations. The company is dedicated to maximizing your restaurant's visibility, increasing reservations during off-peak periods, and equipping you with an efficient management system. The platform operates in no less than 22 countries all over the world.
With more than 13 years of experience, The Fork combines technology with the knowledge of the restaurant industry to deliver this software. Using this platform, your restaurant is also accessing a comprehensive network of potential customers. Not only do you make yourself available to locals – but also to travelers.
Key Features
Increase the restaurants visibility by being accessible on the Fork app for people looking for restaurants, it's partners and encouraging customers reviews
Manage your reservations and send automatic and personalized reminders to customers.
Floor plan for an optimized table management
Identify potential no-shows by safeguarding your reservation with credit card imprint
Enhance your business strategy with customizable reports
Multi user configuration for different permission settings and authorization manager
Limitations
The packages the Fork offers for restaurants vary according to the country and some of the packages are not available in some countries. For example, The "Pro" package is not available in countries such as the UK which makes a restaurant in this country choose between a free version with a small number of features or the complete version for £ 125 per month. There is no in-between.
Pricing
The platform has a monthly fee and an additional "pay-per-use" fee. This means that every seat covered by The Fork or one of its partners will be billed to you. The pricing also varies depending on the country as well as the free trials and what's included in the plans.
Given the example of the Fork Manager for Spain, the plans and pricing are:
0€ per month – Free: Includes the basic online reservation and management features such as confirmation messages, customer reviews, and integration with social media platforms
30€ per month – Pro: The first 3 months of this package are free. Besides the features from pro, it also includes functionalities to optimize table managing and fight no shows
75€ per month – Pro+: All the features including management and customer loyalty tools
ResDiary
ResDiary is an online reservation and ordering system designed to help hospitality venues reach their full potential. The software is used by 9,000 businesses across 6 continents. The venues have increased exposure and extra bookings by using ResDiary applications, via venue websites, APIs, social media, and 3rd party sites.
The aim of this software is to provide venues with a one-stop solution to manage tables, orders, and events. Besides the base product, the platform also offers the ResDiary Lite. This is a lighter version of the software for small restaurants that had no previous need to use one of these systems, begin to take online bookings, and safely manage their capacity.
Key Features
Table management that can be viewed as grid or list of table plan
No commission on booking. No matter from which partner platform the guest found your restaurant, there will not be added any fees to the monthly payment
Manage events enquiries and use the software to identify the best available spaces in your restaurant
Online ordering system for your restaurant to take online orders
Cloud-based system so you can access anywhere from any device
Process payment through Stripe
Build and manage a fully GDPR compliant database with ResDiary's tools
Limitations
The ResDiary platform doesn't have features to prevent no-shows or to charge a prepayment.
Pricing
ResDiary offers 4 price plans in which the payment is done in a quarterly contract. Each one of the 4 plans includes all functionalities. The only difference is the number of reservations it allows the restaurant to make using the platform. The plans are:
99$ per 3 months – RD Connect: Allows up to 150 reservations
129$ per 3 months – RD Express: Allows up to 450 reservations
189$ per 3 months – RD Pro: Allows up to 1000 reservations
189$ per 3 months – RD Ultimate: Unlimited number of reservations
What now?
Now, it's time to leave the paper agenda and join one of this innovative software. To keep a restaurant up and running is not an easy task – let alone improving its profitability.
Any of these online booking systems will definitely upgrade how you manage reservations, staff, and payment by relying on a platform to automate regular tasks and optimize the process in your restaurant. It allows your future and current customers to easily book at your place, receive a personalized and optimized service, which makes their dining experience a whole lot smoother and more pleasant.
Join one of these programs and boost your restaurant's visibility, organization, optimize your resources and overall improve both the service and the restaurant's profitability.
The combination of functionalities of each one of these software and its price are diverse and hopefully, with this guide, you will find the software that matches your restaurant's needs.
Care for a 1-month free trial?
resOS offers a 1-month free trial with no binding on any of the price plans. All price plans include all the features that the software has to offer. Jump right into resOS online booking and table management system and try it for free.