With resOS' shop system, you can:
Increase your revenue by adding unlimited products to your shop
Allow pickup at the restaurant and/or direct delivery
Get a full overview of current and delivered orders
Accept VISA, MasterCard, and Apple Pay payments
Easy and tangle-free setup
Do you wish to have your own restaurant shop, where you can sell your unique sauces, cheeses, wine, and other delicious treats? Maybe you already have one, but need an easier management system? resOS shop system for restaurants allows you to sell your unique products in an easy and tangle-free manner. In this way, your customers can enjoy your unique flavors and products at home without you having to invest too much time. Here you can read more about the different features of our restaurant shop system.
We want you to be able to focus on creating unique restaurant products for your customers. Therefore, we developed resOS shop system for restaurants in a way that makes it easy to set up. You should be able to start selling in only 5 minutes!
The system does not force you to change your daily routines. On the contrary, it will allow you to choose the settings you are most comfortable with. For instance, the system allows you to decide the payment method and delivery method that suits you the best. You can also personalize your restaurant shop by including a text shown at the top of the shop page. This could include a welcome message, info about your restaurant, and more.
Overview of the front page of your user-friendly ordering platform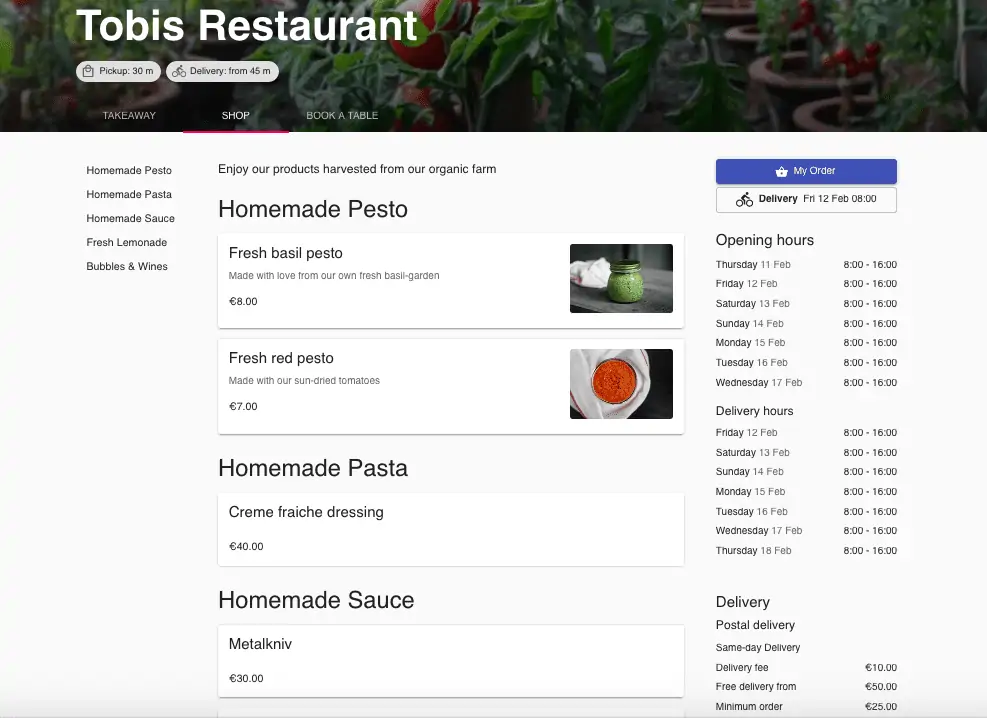 After the customer has chosen a delivery method and time, the full frontpage of your awesome online shop will show. Here the customer will have a full overview of your categories, products, opening hours, prices, and delivery.
Order summary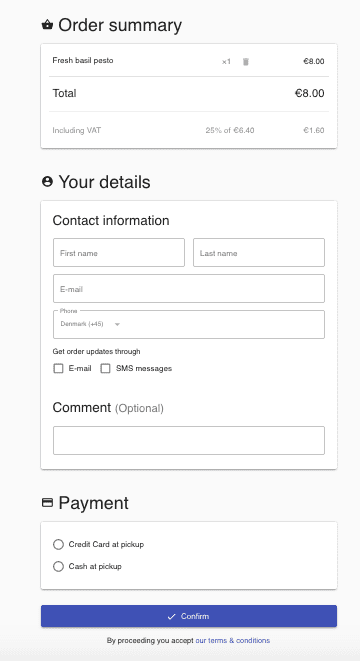 After placing the order and proceeding to check out, the customer will have an overview of its order, price, and delivery. The customer will also be asked to add contact information and choose a payment method. The contact information ensures that the customer will receive an order confirmation on email/SMS, and will allow you to contact the customer in case it is necessary.
Read also about our resOS' takeaway system.
Add an unlimited number of products in resOS shop system for restaurants
The system allows you to add an unlimited number of categories and products. What you add in the system is what the customer will see directly when he or she orders. This makes it easy to change your restaurant shop during the day, if you, for instance, sell out one of your unique products. You can even include a little description of your products, in order to let your customers know why they are unique.
Are you ready to set up your own user-friendly ordering platform?
We are ready to help you get started with setting up a user-friendly ordering platform with all your amazing products! To give you a great start, we offer you a 1 month free trial with no binding. Do not hesitate with contacting us at [email protected] – We look forward to hearing from you 🙂