An online restaurant booking software is one of the most important tools for many restaurants, cafés, and other eateries. The booking software needs to fit the restaurant's needs in terms of features, pricing, user-friendliness, and customer service. So what restaurant booking system should you choose? There are many options to choose from; some of them are big players in the market for booking software, and some of them are small and more simple options. Then you also have the middle ones, such as resOS' restaurant reservation system and table planner
Two of the bigger and well-known providers of restaurant booking systems are resy and OpenTable. To make it easier for you to find the most suitable table booking software for you, we're going to compare these two major players: OpenTable and resy. At the same time, we're also going to present you with cheaper but very good alternatives that you might want to consider.
OpenTable and resy are both known to be very good software, but they are also quite expensive and require a substantial financial commitment. So it's about figuring out exactly what your restaurant needs and considering whether you can have your needs fulfilled by a perhaps smaller but very effective booking system.

So, lets look into the different booking systems, shall we?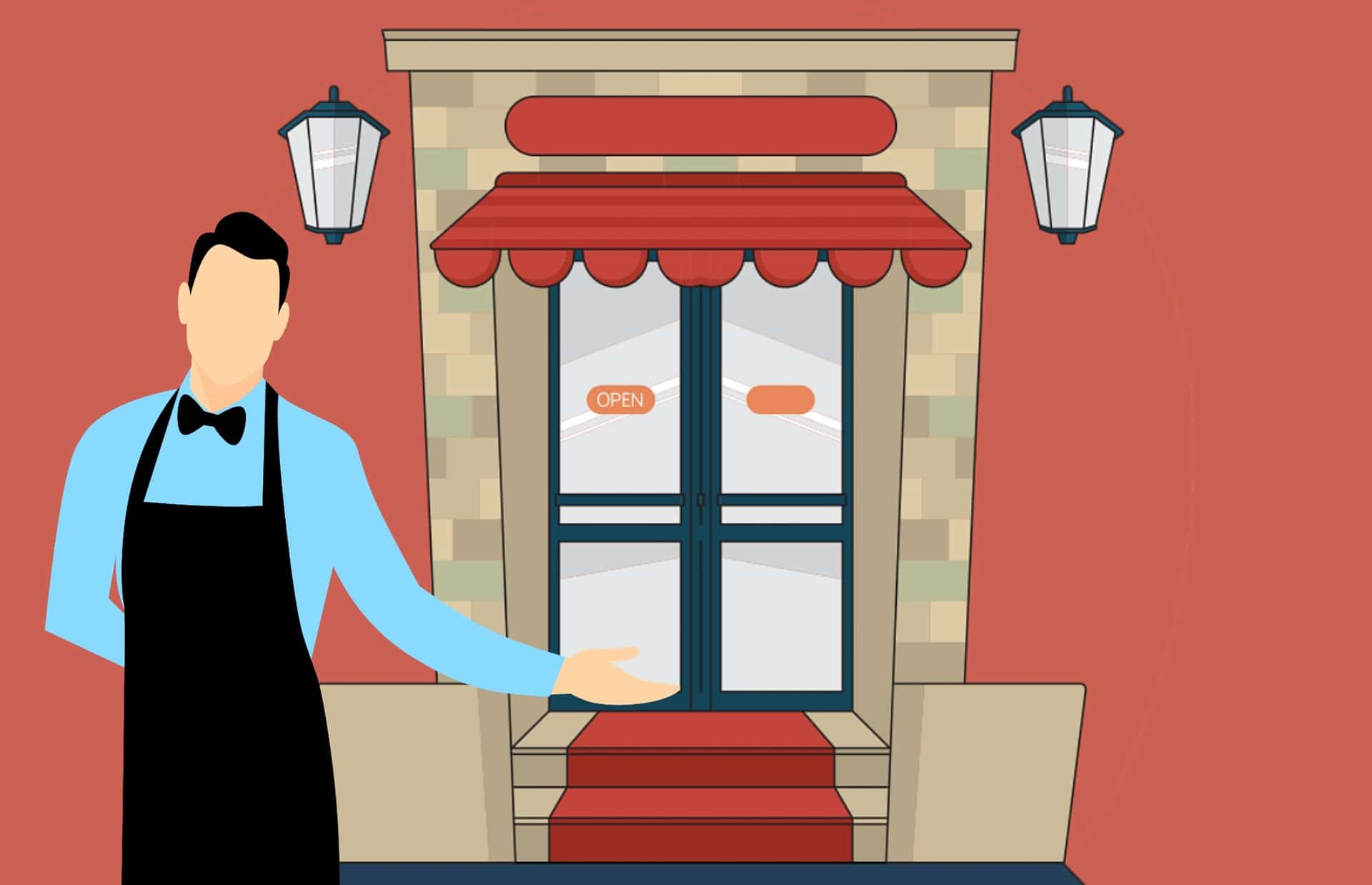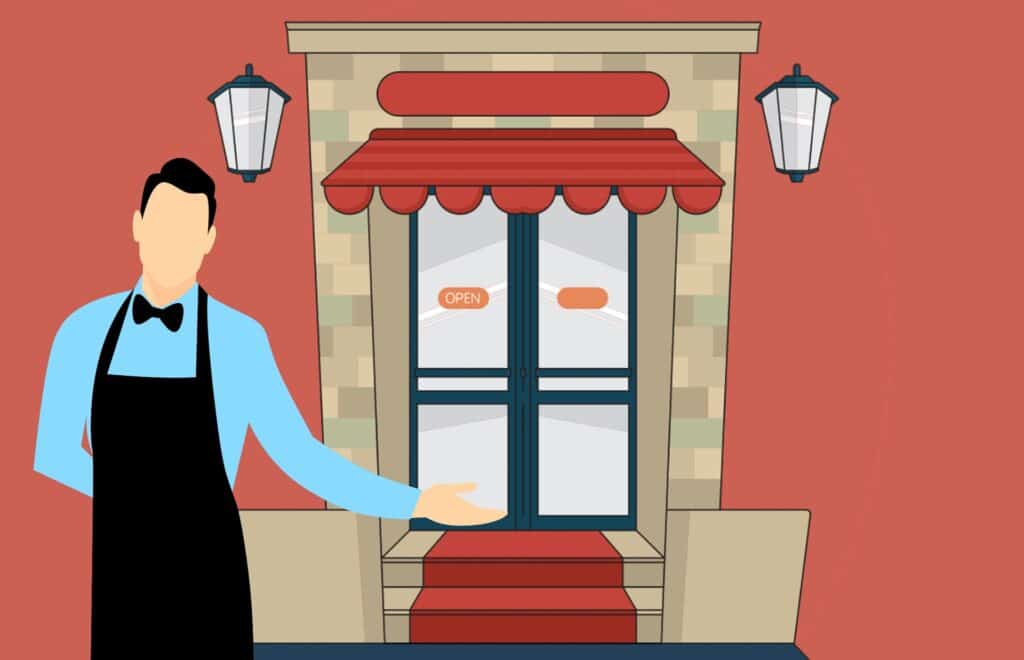 About resOS
resOS is a flexible and user-friendly restaurant booking software. It suits well for any size restaurants. The software is made to improve the performance of the restaurant. It provides guests with an easy way to book a table, communicate changes, and prepay. This online booking system is perhaps the most flexible and easiest to use for a reasonable price.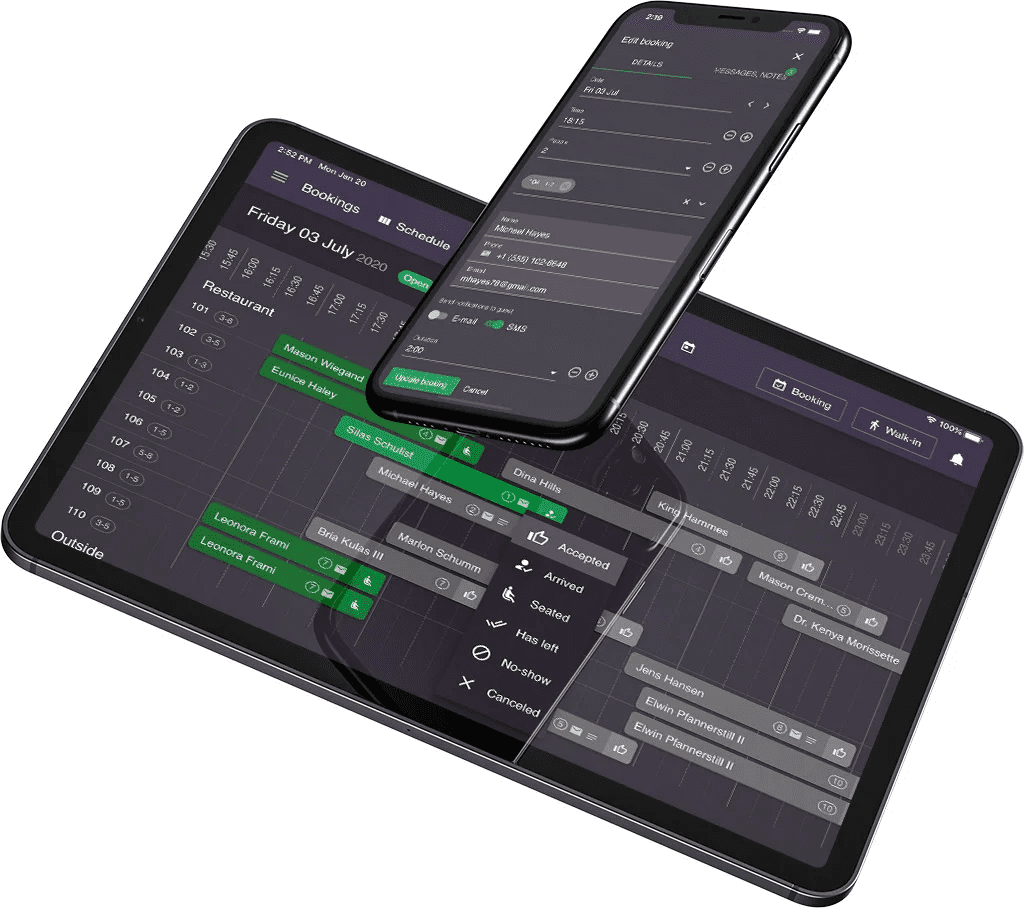 Features
resOS provides restaurants with table management and takeaway with numerous features, including automatic customer profiles for everyone who has ever booked a table at your restaurant. resOS is also a Google partner, so 'Reserve with Google' is included. Another important feature is prepayment, deposits, or a no-show fee. You can also flag bad guests in the system. Feedback feature is also included in all plans, so your restaurant can improve service and prevent negative online reviews.
Pricing
resOS has 4 different subscription plans. All of them include all features, free setup, and support. You can pay on monthly basis with no binding or choose annual payment option and get 20% discount. You have also possibility to try software 30 days for free.
The free plan costs nothing, but has a limitation of 25 bookings per month. The Basic plan costs $35 and you can have up to 350 bookings per month. The Plus subscription is $65 per month and includes 750 bookings per month. Unlimited plan is $95 and has no booking limit.
About resy
The resy platform is an online restaurant booking system that has existed since 2014. They use resy OS, a full-service software platform that optimizes touchpoints of the whole customer journey, from researching restaurants to giving feedback afterwards. The restaurants are displayed on a resy platform, so guests can find new restaurants in their chosen area. As they are relatively new in the market, they are still growing their network.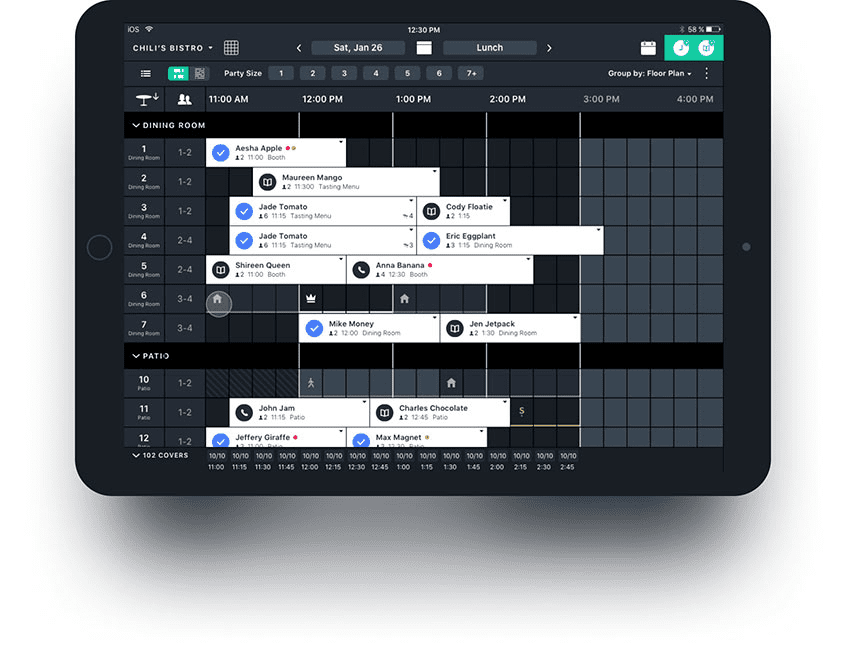 Features
resy, being restaurant booking system, offers online reservations, table management, and waiting list features. Apart from these, they also offer guest surveys, which are important for restaurant businesses to build strong relationships with their guests. Another feature worth mentioning is performance benchmarking. This feature helps you see how your restaurant is doing in comparison with other restaurants in your city. Furthermore, the resy platform offers third-party bookings, which means that guests can reserve a table in your restaurant not only on your restaurant website and resy's owned channels, but on other sources.
Pricing
resy has three subscription plans with different rates. Unlike many other restaurant booking software, resy does not provide a free trial period.
They offer 3 subscriptions. The most basic subscription plan has restricted features and costs $249 per month. The Pro subscription costs $399 and is the most popular of the 3 plans. The most advanced subscription plan – Enterprise will cost you $899.
About OpenTable
OpenTable is indeed the biggest player in the market. They offer a wide range of features. Waitlist and table management are to name a few. As with resy, OpenTable lists the restaurants on their platform. OpenTable, on the other hand, charges restaurants a cover fee for bookings done via their platform.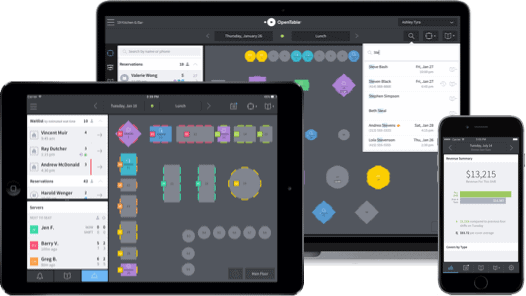 Features
The features offered by OpenTable are similar to resy. The feature that is not common in many other restaurant booking software is shift management. This is relevant only for bigger restaurants to help manage their staff. Menu management is also not a very common feature that this restaurant booking software offers. They are also Facebook partners, which differentiates them from our second examined system.
Pricing
OpenTable has three membership levels and a 30-day free trial of the Basic subscription. The basic subscription is 29$. In addition to that, there is also a network fee cover that is $1.50. If a guest books a table from your restaurant's website, the charges are $0.25/cover or a $49/month flat fee.
The most popular is the Core subscription, which includes tools for reservations, takeout, marketing, table management, and more. The Core subscription price is $249.
449$ per month is Pro plan. It includes core subscription features and also automated campaigns, guest preferences, guest profile, and staff scorecard.
Both Core and Pro plan have per network fee which is $1. That means for each booking made through OpenTable platform you pay $1. This, of course, makes OpenTable very expensive software. All plans also have a Takeout and Experience service fee of 2%.
So which restaurant booking software should you choose?
Both restaurant booking software offer similar features and are more suitable for bigger restaurants that can afford such expensive systems. The more expensive plans offer more features. We at resOS include all features no matter what subscription plan you choose. So all restaurants can get the best service from us and therefore spend more time with their guests. resOS is the most affordable option out of these three. The only difference between our plans is the number of bookings. Both resOS and resy do not have extra fees, unlike OpenTable. But still, resOS is the most affordable. We always want to make sure that you choose the right restaurant booking software, so we offer a free trial period, unlike resy.
OpenTable is the oldest player in the market. They have a huge customer base, which is their biggest strength. resy offers advanced features that OpenTable does not have. As an example, third-party bookings and reviews. One and the other offer everyday customer support, as well as we at resOS are ready to help 24/7 and answer any questions you might have. If you are still in doubt about which system to choose, we also have another blog post with a list of the 7 best online restaurant booking systems in 2022.
Interested in trying out resOS?
Try now resOS and you can get one month trial for any chosen paid plan. So, if you are interested in giving it a try, this could be a good starting point. Start by creating a profile here and if you need help or have any questions, you can always reach us at [email protected].