We at resOS have integrated Stripe with the restaurant system we have created for easier, faster, and more convenient payment transactions. Keep reading for more information about the integration between Stripe and resO
About Stripe
Stripe is an online payment processing platform that allows businesses to send and receive online payments. Today, many companies, both startups and large enterprises, use Stripe integration for fast and efficient payment processing. Their mission is simple – to make it as easy and convenient as possible to accept payments over the internet. With Stripe, you can accept payments in more than 135 currencies and in most countries.

To put it simply, Stripe integration will allow your restaurant or cafe to receive payments online.
In your resOS system, we have two places where this can happen:
Bookings (as deposit or prepayment); This could help you to reduce no-shows, but also up-front payments for events.
Online orders, such as takeaway and delivery.
Stripe benefits
Firstly, registering for Stripe is a very quick and easy process. All you have to do is to provide basic banking details about your business, and in a matter of minutes, you are good to go!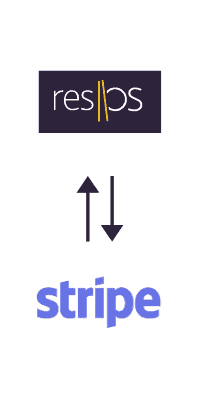 There are numerous benefits of using Stripe through resOS:
The pricing policy of Stripe is very appealing as there are no monthly fees or cancellation fees. The processing fee is very low, it ranges from 1.4% to 2.9% + 30 cents per transaction.
There is no commission fee from resOS's side on top of Stripe's processing fee.
In your Stripe account, you will get access to all the information and settings on how you would like everything to be handled.
Automatic payouts from Stripe, which can be, based on your settings, daily, weekly, etc.
Accept almost all payment types, compared to many other payment systems
Easy setup of Stripe integration
There are few easy steps to follow in order to start using Stripe.
The first step would be to activate the Stripe app in the resOS system. After that, go to the Stripe settings page when it's active, and connect/create a Stripe account with your resOS account to get started!

Stripe payments method options
Stripe supports a lot of popular card-payment methods around the world, such as Visa, American Express, Mastercard, Maestro. You can see the full list of supported cards here. Besides, they support several non-card, local payment methods: iDEAL (Netherlands), EPS (Austria), Giropay (Germany), Sofort (Austria, Belgium, Germany, Italy, Netherlands, Spain, Switzerland). See the full list here.
Do you need help getting started?
Our customer support team is always ready to help you! Write us at [email protected]