We at resOS have integrated PayPal with the amazing and complex restaurant system we have created for safer and faster payment transactions. Keep reading for more information about the integration between PayPal and resOS.
About PayPal
PayPal is a payment method that allows you to send, request money, or set up a merchant account online. It's a secure and easy way to handle payments without having to complete bank transfers. PayPal is also a popular method of transferring money between businesses or individuals in an easy and quick way. With more than 150 million active accounts, PayPal allows individuals and businesses to receive and make payments in 203 countries with more than 100 currencies.
How does PayPal work?
You just have to create an account with your restaurant's email and benefit from a secure world-wide trusted payment method. Your guests can easily send you money through their email address or phone number and you don't need any special set-up. The moment you receive a payment through PayPal, you will receive a notification by email and the money will go to your PayPal balance. From there, you can either keep them on the platform or you can automatically transfer them to your bank account.
PayPal benefits
The most beneficial aspect of PayPal is that it's a safe way to handle money, both for you and your customers. It doesn't only protect the transaction – it also protects your account. Another benefit with PayPal is that it requires no monthly fees.
It's convenient for both you and your customers since there is no waiting time and you don't have to keep contacting your customers to remind them about the payments. And as for your customers, they can pay you from anywhere in the world at any time.
At the same time, your customers can easily pay just by typing in their password if they choose to save their account. The whole process is fast, your customers don't have to fill in their bank account information any time they log in, and you get your money right away. Convenience and accessibility are vital for a good user experience, which ultimately leads to loyal customers.
PayPal & Zapier
If you thought about using Zapier with your resOS platform, you will be happy to hear that PayPal is one of the apps you can integrate with Zapier. By choosing to integrate PayPal with Zapier, all your processes will be automated, and your workflow will become smoother than ever. And besides that, you have more than 2,000 apps that you can integrate with Zapier that would take care of your administrative daily tasks and will give you more time to focus on bringing value to your customers. By combining PayPal with Zapier on your resOS platform, you will be prepared for everything and you will end up having all the features you want in an easy-to-manage and secure restaurant platform, which includes a booking, takeaway, and webshop system.
resOS, PayPal & Zapier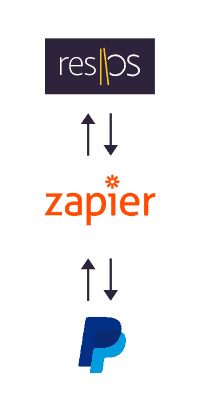 There are 4 easy steps you can follow in order to integrate PayPal with Zapier on your resOS restaurant platform. Before doing so, you need your resOS account, you need a PayPal account, and you need a Zapier account. After creating accounts for each of the previously mentioned platforms you need to:
1. Log-in with your new Zapier account on your resOS platform
2. Create a Zapier integration with PayPal
3. Choose the data you want to sync
4. Your data will automatically be synced between PayPal and resOS, giving you direct access between the two platforms

That's it, you are all set!

Do you need help getting started?
Our customer support team is always ready to help you! Write us at [email protected]