The resOS' online restaurant shop system, gives you the possibility to offer unique products that your customers love! Maybe you have a special wine? homemade jam? or perhaps a specially brewed coffee that your guests can't get enough of? Use the resOS' shop system to offer these products online.
To make things super simple for you, we developed a clear and easy to use shop orders' overview from where you can manage all your shop orders. This overview will make it easy for you to keep track of orders while running the daily operations in the restaurant. This article will show you how easy it is to manage your online shop orders with the resOS' online restaurant shop system
Keep track of all your online orders and their status

Once your customers have visited your online shop, they will choose their favorite products and place an order. Afterward, you will automatically receive an order request, which is clearly marked with yellow. In this way, it will be clear to you, which orders have not been confirmed/declined yet. The shop orders' overview also provides you with the delivery form, time, name of the guest, amount charged, and the status.
Additionally, you can sort your orders in the following:
Today: Here is an overview of all orders made for same-day delivery/pickup, so these are the orders you need to prioritize.
Preorders: Customers can choose to place an order some days ahead. So here are all the preorders that you can prepare for.
Postal: You can choose to enable the option of delivering an order by post. So here is an overview of orders that needs postal management.
Archive: We make sure to save all your orders, also the old ones, in case you need to go back and review an old order.
Easily manage every single order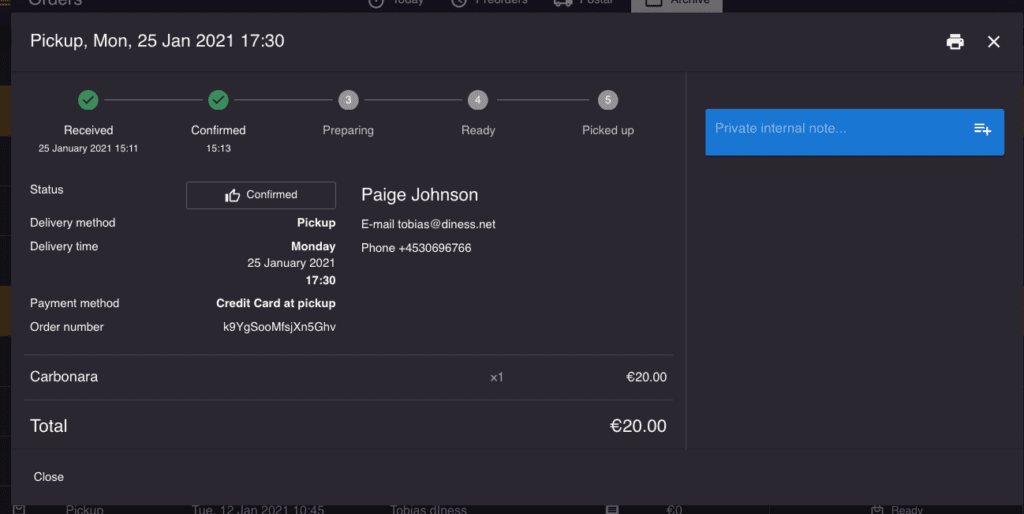 Once an order has been placed, you can click on the single order to get a complete overview of all the details. In the picture above, the order has been received and confirmed by the restaurant. The order now needs to be prepared and ready for pickup. All the important details are presented e.g. the guests' contact information, delivery time, and payment method. In case the order has a special request or needs special attention, you can place a private internal note for the staff.
Manage current delivery time and current pickup time

resOS allows complete flexibility when you manage your shop system for restaurants. Things can suddenly get hectic because of all the orders coming in or other factors. In that case, you might need to extend the current delivery time. You might also have a need to change the current pickup time to avoid that the restaurant suddenly gets too crowded. This feature allows you to take the time you need to prepare the orders. At the same time, you avoid getting annoyed guests.
Read also about the different delivery options you can offer with resOS' shop system for restaurants.
Are you ready to set up resOS' online restaurant shop system?
Do you want to know more about the shop system? We are ready to help you get started! To give you a great start, we offer you a 1 month free trial with no binding. Do not hesitate with contacting us at [email protected] - We look forward to hearing from you :-)