Managing a busy restaurant can be a stressful job. You need to juggle walk-ins, and guests arriving for their reservations, while also answering the phone to take new bookings. So, wouldn't it be nice if all the information you need was readily available? With resOS' advanced in-app search function, it is.
The advanced in-app search function is one of the many cool features that help you effectively manage bookings. This means that you can now quickly search for the information you need. We hope that this will make it easier and faster for you and your team to book in and seat the guests.
And a quick tip: Try pressing ctrl + f or command + f to open the search tool even faster. The search bar will appear right in the middle of the screen!
Find the information you need about your guests with the help of in-app search function
What would you say is the information you need to access the most often? Our best guess would be your customers, bookings, and orders. This is why we've made it possible to easily search for all three things in our system. And you can use it all: names, emails, and phone numbers to locate the needed information. Sounds great, doesn't it?

When you search for a name, email, or phone number in the system, you'll get a quick overview of all the customers, bookings, and/or orders that have come through to the system with that information. From here, you can easily go to your guests' customer profiles. And here see their details, any previously added comments, view previous bookings and/or orders, previous conversations on specific bookings, and more.

Read also about our feature of automated customer profiles here.
This will make it both easier and faster for you to find your guests and create or update their bookings, orders, profiles, etc. We have the feeling that this will be especially efficient. For example, you get a call from a guest who would like to make changes to their booking. Another example could be that they have questions about an email she/he has sent. You just search for the number they're calling from, and voilá - you have all the information you need.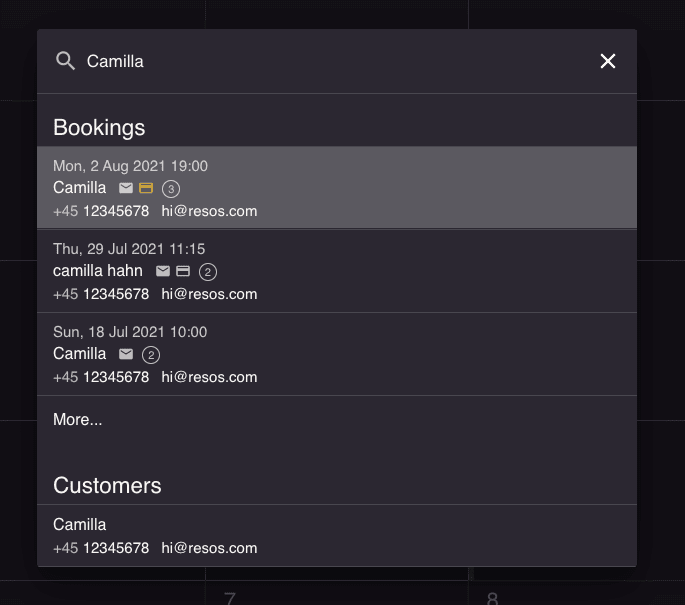 You decide who should be able to access the search information
Whether you prefer for everyone at your restaurant to be able to access everything or you have a selected few with the full overview, you can set up search access accordingly. So, everyone will automatically have access to it to make it easier for you. But how much they can see with the search result depends on their user rights. This means that you can set customer, booking, and order rights as you prefer, and then the system will show information accordingly. If, for example, one of your employees does not have customer rights, the system (of course) won't show the customers in the search of that particular employee. But you can easily change that by just going to settings --> users --> and editing the user rights.
Do you have any questions about this feature? Do not hesitate to contact us at [email protected].
Would you like to learn more about the many cool resOS features? Check out the cool visual restaurant table planner feature here.