resOS's takeaway system is developed to fit any kind of eatery, including 'Dark Kitchens'. resOS is a flexible and user-friendly system that will simplify your work even more. Sounds interesting? Then keep on reading and get to know how you can work smarter and increase your revenue with resOS takeaway for Dark Kitchens.
A Dark Kitchen is basically a delivery-only restaurant. Other names for this phenomenon is cloud kitchens or ghost kitchens. These types of restaurants produce food that can only be consumed somewhere else. In times like these with a pandemic going on in the world, this is for sure a very convenient solution for everyone! And for resOS' takeaway system, the focus is to ease the daily work for you, so that you can focus on delivering tasty foods to your guests!
Add an unlimited number of products to your takeaway system
resOS' takeaway system is a flexible system that allows you to add an unlimited amount of product categories, dishes, extras, and sides. When you add a new product or category in the system, the customer will see it directly when they order. This is a convenient solution if you, for instance, would run out of an ingredient during the day. It's also super-easy to use as a customer and to get a good overview of what products, dishes, and sides that you offer.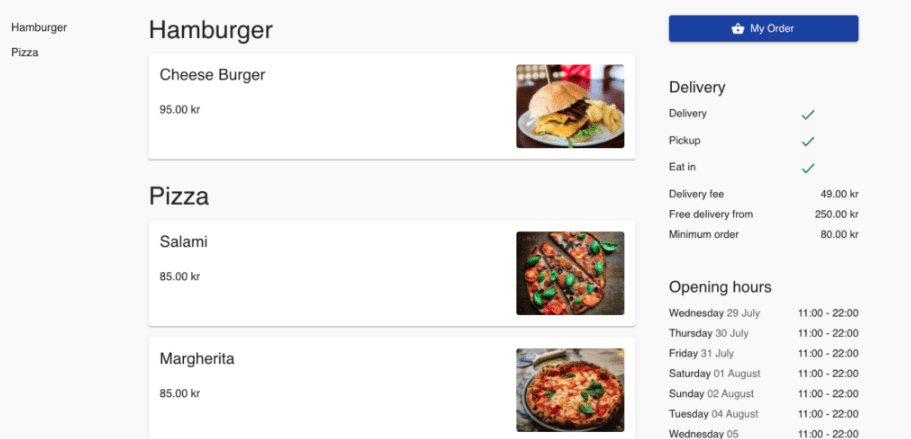 With resOS' takeaway for dark kitchens, you can:
Increase your revenue by adding unlimited products and options
Get a full overview of current and delivered orders
Accept VISA, MasterCard, and Apple Pay payments
If you want to know more, you can read all about the system here.
If you have any questions about the takeaway system, please contact us at [email protected]. Our wonderful support team is always ready to help. Also, be sure to check out the different price packages to find your best deal and get 1 month for free.