A new year means new features! This update includes a new integration to Zapier, that opens the doors for a lot of integrations. Zapier offers more than 4000 integrations, so whether you want to send yourself an email each time you get some new feedback or want to add all your bookings to a Google Doc as a backup, we got you!
Besides that, we added improvements for booking pre-payments and not-show fees as well as setting up opening hours, hopefully, it makes the system easier and more flexible for you to use.

Zapier integration
With the new integration, it's only your imagination that sets a limit on which systems it's possible to integrate with, you can see a list of the most popular ones here.
For a start, we added 4 events that work with Zapier:
New bookings
New customer
New feedback
New order
This means that in Zapier you can create triggers using the above events, I'll try to give a few examples.
When a new booking is made, you could connect it with Google Sheets, and add the booking data to a sheet.
When a new customer is created, you could connect it with your newsletter provider (eg. Campaign Monitor) and add a new subscriber to your lists, or create the customer as a new contact in your CRM.
When a new feedback is added, you could send yourself an email saying you got new feedback and even add some of the feedback details directly in the mail.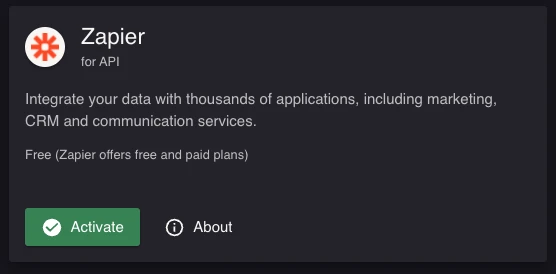 We expect to add more triggers and events, so if there is anything you need or would like, let us know.
Booking pre-payment and now-show fee improvements
It's now possible to customize the booking payment "completion time", so instead of only allowing your guests 10 minutes to complete the payment before their booking is automatically deleted, you can give them more time. There are multiple options that can be found in "Settings" > "Bookings" under "Managing payments".
Also now you may choose to not charge a customer if you cancel a booking that has a no-show fee. Until now the system would automatically charge the fee if a booking was canceled, deleted, or declined after the cancellation deadline, but now it will ask you if you want to charge the customer or not.

Opening hour improvements
One of the features we hear the most about in our support is opening hours. How to set it up correctly with all the different settings you need to take into consideration, such as areas, intervals, and booking duration.
We have improved validation checks and added better help texts, which should help you avoid the most common mistakes, like making it clear when the last possible booking time for your guests would be with your current settings.

As always, if any questions about the above please reach out to our support at [email protected] and we're ready to help you 🙂