You've thought about the chef, the waiters, the food, and the menu, so why not think about your restaurant's interior design? It's most likely way more important than you think!
Unique interior design has the power to level up your guests' experience at your restaurant. But there are so many decisions to make when it comes to what type of interior and setting you're going for, and it can be quite overwhelming.
Let's start with the basics: What is interior design?
Interior design is the art of enhancing the interior of a building to achieve a healthier and more aesthetically pleasing environment for the people using the space. It can be a home, shop, restaurant, business, and so on. You can hire an interior designer to help you with the project. An interior designer will plan, research, coordinate, and manage everything for you.
Interior designers are experts in creating more space, improving the space efficiency, the functional usage of space, the lighting effect, the color effects, the textures, patterns, scale, size, etc. But that's not to say that you can't succeed with your interior design without an interior designer. Actually, we strongly urge restaurant owners and managers to include interior design in the planning process of opening or growing their restaurants!
The restaurant business can be a tough market to infiltrate and stand out in. Therefore, it's not always enough to offer incredible food and service – your restaurant also has to offer a unique dining experience to enhance customer satisfaction and ensure that guests come back. The interior design of your restaurant can play a major role in this! You should try to use the interior of your restaurant to your advantage.
Before you start, there are a few things you should have in mind…
You can't just start handing out hammers to craftsmen or order a liter of paint from the local paint shop. How do you want your customers to feel when they arrive at your restaurant? What kind of atmosphere do you wish to create for them? How many do you want to be seated in your dining area? These (and more) are all questions you should think about before you start planning the interior design of your restaurant. Your guests are the ones who will make your restaurant a success, so you should remember them in every step of your process.
Here's a short list of things to think about when you plan your restaurant's interior design:
Decide on a concept
Do you own a fine-dining restaurant, a cozy café, a family restaurant, a fast-food restaurant, or something completely different? It's important to decide on a concept to avoid confusing your customers and to create an interior design that supports your restaurant's concept.


Colors are important
Colors can be a part of your theme for the restaurant. Maybe you have a logo with colors or a website with a specific color theme? Make sure to include it as a theme in your interior design as well to create a unified experience and ensure brand awareness.


Lighting is everything
What kind of feeling and vibe do you want to give your customers? Lighting definitely plays a significant role in this. Lighting can create a feeling of intimacy and coziness. In larger spaces, a chandelier can give a more elegant vibe. The choices are endless.


Space is key
Your customers will spend a certain amount of time in your restaurant, you should therefore make it as comfortable as possible for them. How you place your tables can also be crucial, as a lot of customers don't want to be seated too close to people they don't know. So, think about the space when you devise the floor plan.

5 examples of stylish restaurants in the UK
Now, we'll look into the interior design of 5 different restaurants in the UK that have impressed the rest of the world. They get customers from near and far who just want to get a glimpse of their exquisite interior design.
In the UK, there are heaps of restaurants killing it on social media because of their interior design. They have influencers and celebrities talking about them, which makes them reach a wider target group. People from all over the world, therefore, add these 5 restaurants to their bucket list of places to visit.
UK is ahead of its time when it comes to instagrammable and intriguing interior restaurant designs
The time has finally come to have a look at these 5 restaurants that can inspire your interior design. They all have an intriguing interior design that has really put them on the map.
1. The Florist Liverpool
The Florist Liverpool restaurant will make you feel like one of the characters in Alice in Wonderland. The restaurant is known for its calm colors with trees and flowers, making it seem as if you're in a forest. When you first enter The Florist Liverpool, you walk directly into a stunning entrance hall, where you're met with two breathtakingly beautiful trees, blooming as if it's summer all year round. You're also able to snap a quick photo by the floral photo wall, which has been predicted to be one of the most photographed restaurant places in England.
The entire restaurant is inspired by flowers – even the menu, which is inspired by the three key styles of floristry: English Summer Garden, Ikebana, and Modern Contemporary with herbal twists fresh from the garden.
Like most other restaurants, The Florist Liverpool also decorates for each holiday. During Christmas, The Florist Liverpool decorates the front of the restaurant with hundreds of string lights, which almost gives you a feeling of being in the world-famous Christmas movie Home Alone.
2. Saint Aymes
You shouldn't miss out on the idyllic Saint Aymes café in downtown London. The Saint Aymes cafe quickly became known as the prettiest café in London with its bright and colorful interior. Every inch of the restaurant is utilized with the most exquisite interior design. The front of the restaurant is covered in dozens of flowers in pink, white, and purple tones.
Saint Aymes has tried to create cozy corners, which a lot of restaurants could also benefit from doing. Adding round tables and pillows like Saint Aymes can soften the entire look of the restaurant and make the space feel much more inviting.
Saint Aymes has tried to incorporate the interior design into the food and drinks as well – with its signature pink coffee cups with the logo on them, milkshakes in all the colors of the rainbow, and pancakes topped with cotton candy. This is a place one must definitely not miss out on – it's like a whole new world and we can guarantee that you'll love it, both as a guest, but also as a restaurant owner. There's so much you can take from Saint Aymes and add to your own business.
3. EL&N café
If cotton Candyland existed, we're pretty sure it would look somewhat similar to EL&N café. The interior design will make you feel like you're in a pink fairytale. EL&N café is not hard to spot, not even from far away, as the entire café is covered in beautiful, pink flowers.
When we say everything is pink, we truly mean that everything is pink. The flowers, the chairs, sofas, walls, cups, straws, and much more. It almost looks unreal. If you need a photo with a purple phone, in front of hot pink flowers, then this is the place to visit. Élan café has all the cute spots for new photo opportunities.
ÉL&N café helps its customers create that picture-perfect moment – every time. The brand embodies creativity, style, and optimism. And just like Saint Aymes, EL&N café has also created dimensions and depth to the restaurant. EL&N café has done this by mixing various textures of materials, and this can be done by pairing a leather sofa, with velour or woven throw pillow, you can even add plants, metal tables, and so on.
So, if you like pink and coffee, then Élan café might be your new favorite place to hang out and get inspired.
4. Bourne & Hollingsworth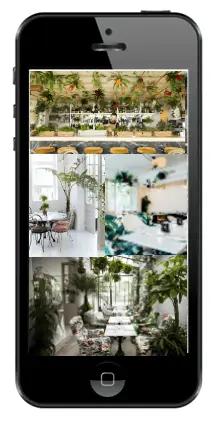 Is it a greenhouse or is it a restaurant? Well, both. And, also, much more. Bourne & Hollingsworth is a restaurant, greenhouse, cocktail bar, cookery school, and late-night underground drinking and dancing den. So, really, it has it all.
And that also includes the interior design of the restaurant (let's just stick with 'restaurant' for now).
Bourne & Hollingsworth screams elegance while still able to maintain a casual and welcoming interior design with plants crawling the walls and hanging from the ceiling and different aesthetically pleasing chairs. The restaurant has managed to combine textures, shades, fabrics, furniture, and plants in one big elegant yet homey atmosphere.
With small, elegant tables accompanied by (often flowered) chairs in different shapes and colors, Bourne & Hollingsworth has created an oasis of informal charm.
The beautiful floor-to-ceiling windows and well-groomed plants of all sorts create a feeling of entering a charming greenhouse. And where better to enjoy a refreshing drink than in a cozy, elegant, and charming establishment full of life and sun?
5. Sketch
The list wouldn't be complete without mentioning Sketch. Sketch is a favorite among A-listers and influencers alike. Every inch of this restaurant is ready for a photo shoot – even the egg-shaped toilets. The bathroom is decorated according to the season, meaning, if it's Valentine's Day, the bathroom will be decorated with roses and a more romantic feeling and if it's Christmas, it will make you feel as if you're visiting Santa Claus.
Sketch has 4 different areas you can dine in. Each of these have different designs. There are hot pink sofas as far as the eye can see, a magical forest where the chairs are wearing ballet shoes, a sunset kind of feeling area – and for a more casual encounter, you can try out the parlor, where you can enjoy a cocktail. All 4 rooms offer a unique interior design and are definitely something that should be experienced.
If you're ever in the London Mayfair area, then we highly recommend giving Sketch a chance, as it will both fill your stomach and your Instagram feed.
What can your restaurant learn from these interior designs?
All five restaurants are examples of interior design that are all out! But that's not to say that you need to paint everything pink or plant a forest inside your restaurant to have an intriguing interior design. But, the five restaurants above do bring something to the table that works! And that can (maybe) provide you with some inspiration for your own decor.
7 concrete tips to interior design based on some of UK's most beautiful restaurants:
Bring nature into your restaurant to create an elegant yet homey vibe
Holiday specific decorations create attention
A minimalistic approach will create a sleek and polished look – for a sophisticated decor
Creating 'instagrammable' interior design is likely to increase publicity and awareness
Bright colors and flower walls is an instagram-magnet
Allow yourself to go crazy with every available room for an over-the-top, unique, and unforgettable experience
Interior design is your restaurant's silent salesperson. We live in a digital world in which social media holds a lot of power – creating an "instagrammable" or completely unique restaurant will increase the chances of guests posting pictures on social media platforms, which spreads awareness and brings in more guests.
If you have a unique interior design, you should make it a key element in your marketing and in the experience you want to provide guests with. Interior design can have a psychological impact on your guests; they will most likely end up ordering more food, drinking more, staying for longer, etc. if they're enjoying their surroundings.
What's the conclusion for these 5 restaurants and their intriguing interior design?
By now, we can probably all agree that interior design for restaurants requires knowledge and expertise, but that's an investment likely to have a high return. Unique and intriguing design attracts more and more guests to restaurants, increases their time spent at your restaurant, and betters the chances of free marketing such as posts on social media and positive word of mouth.
Here, we've presented 5 restaurants that have all succeeded in creating a unique interior design. Although having a completely pink restaurant or serving food in a greenhouse might not be for you, there are five things all of these restaurants have in common, that (almost) all restaurants can benefit from:
Use colors to attract people
Have the aesthetic in place by using flowers, trees, photo walls, etc.
Use textures, shapes, and so on to create dimensions and depth
Provide an overall unique dining experience to all your guests
Rome wasn't built in a day, and neither is a restaurant. But like all good things, practice makes perfect.