A new restaurant booking system is an opening for many exciting developments for your business. Be sure to make the right choice for your restaurant and your needs! Follow our guide below to get started with an online restaurant booking system, and to learn more about restaurant booking systems in general!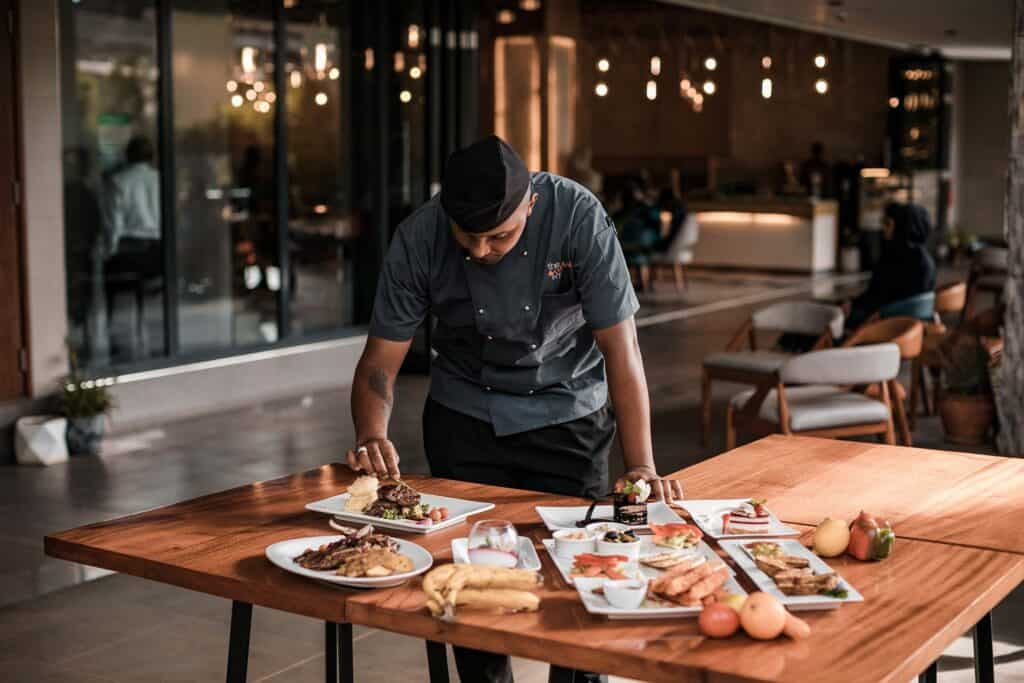 What is an online restaurant booking system?
A booking system for restaurants is an online system that can assist you in managing bookings, tables, payments, and much more. Handling bookings is so much more efficient when automated via a restaurant booking app. Forget about only receiving bookings from phone calls and emails. A restaurant booking system offers different features, such as:
Managing bookings and walk-ins without the paperwork
Automatic or manual table management
Allowing guests to choose an area in the restaurant
An easy and smart booking flow for guests
Charging a deposit/pre-payment for bookings
Read also about 10 important must have features in a restaurant booking system.
Today, as a consequence of the widespread use of technology, 90% of people looking to book a table at a restaurant want the ability to book online. 35% of those people will book a table elsewhere if this is not an option at your restaurant.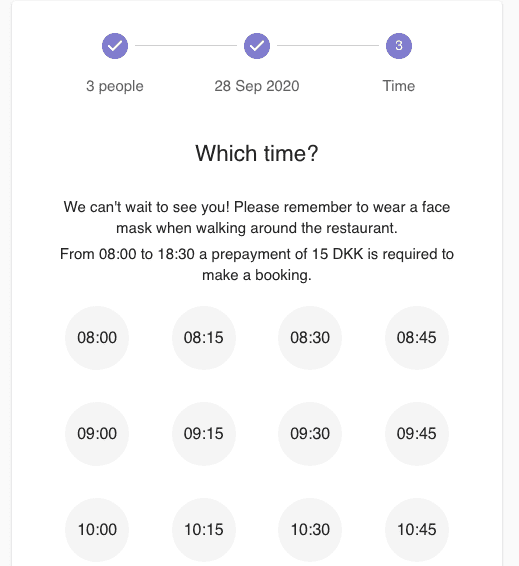 A restaurant booking system is not only beneficial when it comes to receiving more online restaurant bookings. Also, it facilitates everyday tasks in the restaurant for your staff. As everything runs online in a smart and simple system, managing bookings have never been easier. In other words, implementing an online restaurant booking system is a small investment, which ultimately will greatly benefit your restaurant in the future.

Why is a restaurant booking system important for a restaurant?
As already mentioned, a booking system for restaurants is important for both restaurants and guests. Here are some examples of what such a restaurant booking app can do for your business.
Simplify your daily work
First of all, a restaurant booking system is important as it streamlines everyone's work. All the way from the tactical level at the headquarter to the operational level in the restaurant. When implementing a restaurant booking system, you will immediately experience how the daily service is organized way better. It will improve communication between guests and restaurants, which means much fewer misunderstandings and no-shows.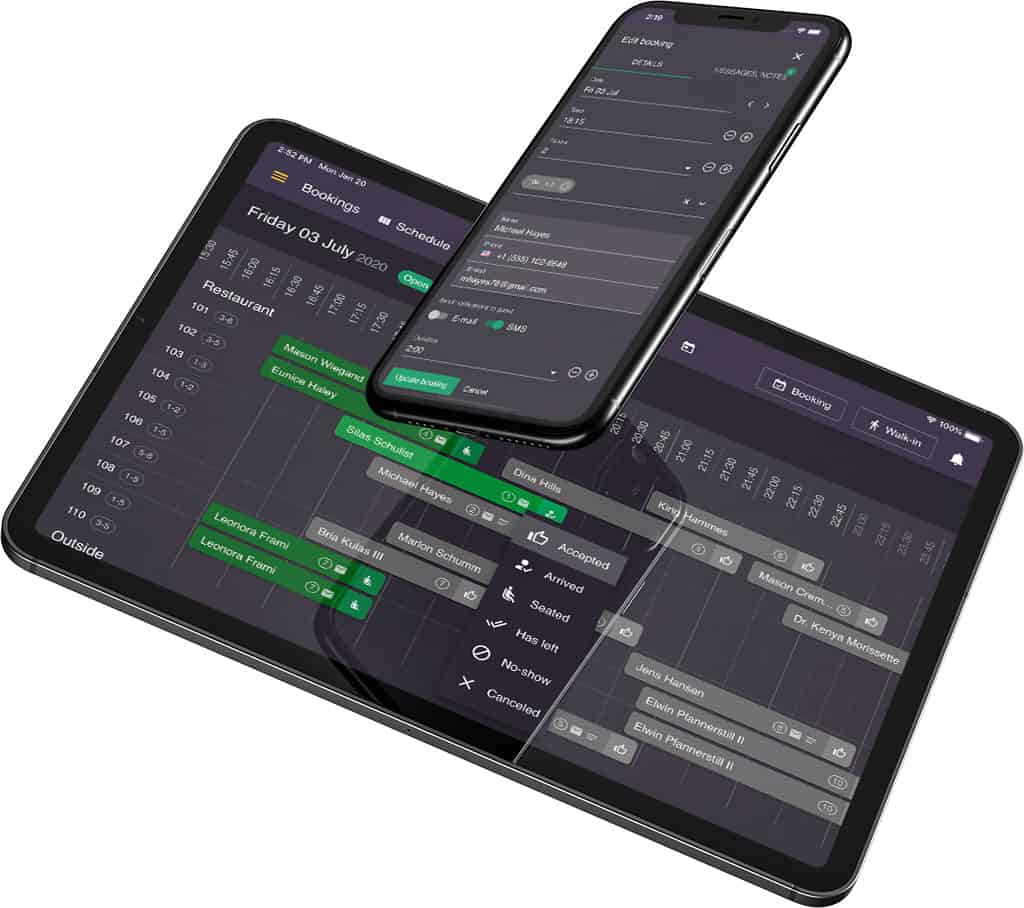 In connection with this, a good booking system also organizes the whole booking flow for guests. Guests must have the impression, that the booking page is easy to maneuver. They should receive all the needed information ahead of their reservation, such as duration and time. In turn, this ensures a pleasant user experience for guests. This means that guests are more likely to book a table at your restaurant again. It's a win-win!

Valuable for your staff
Secondly, a restaurant booking system is important for your staff. By having a user-friendly and smart booking system, you empower your staff. Without all our waiters, chefs, baristas, hosts, etc, no service could ever be executed. That's why you want to make sure that they are empowered the best way, by giving them all the insights and data you can. For example:
When your waiters know that the restaurant is fully booked for the weekend, they can e.g then organize staff breaks.
They will have a clear idea of how to set up all tables to make ends meet.
They can manage turn around of tables to ensure they are ready in time for the next reservation.
You could let the kitchen know about the capacity for the night. This is valuable in order to let them know that extra supplies might be necessary.
Moreover, a modern restaurant booking system allows you to regulate the capacity in your restaurants. Capacity regulations are extremely important for most restaurants. Not only because of COVID-19 but also because it allows for coordinating staff breaks and preparations between seatings. Basically, a great restaurant system allows you to handle tables and their availability strategically - with minimum effort.
How to Find the Best online Restaurant Booking System - in 3 Steps

Step 1: Define your needs
Our absolute best recommendation when searching the market for a restaurant booking system is to think about your needs. Is it important for you to offer online booking through your Facebook page? Is capacity regulations a valuable tool in your restaurant? Do you want to be able to see all bookings in a listview? Would you like to have a visual table planner? And do you want to handle bookings manually or automatically?

We always recommend asking your staff if they face any challenges in the way you handle reservations now. It is also worth asking if there is a specific feature they think could be useful for the daily reservation management at your restaurant.
Step 2: Assess your options
Assessing your different options is crucial when deciding on your future booking system. Apart from your personal preferences, you should look into various aspects. Aspects such as costs including features, assistance/support from the company, and usability should be considered.

Another important consideration is looking at whether the restaurant booking system is compatible with your POS system, legal regulations, interface usability, and profit-making model.
Step 3: Try it out before signing up
Always make sure to ask for a trial period from the booking system provider you are thinking about setting up. You should always ask for a free trial before signing and paying for the system. This makes it possible for you to figure out if you like the system, and if it complies with your requirements.

Remember to always ask a ton of questions to the service provider you have in mind for your restaurant! Most of the time, it is possible to reach a provider, either by email or by phone.
Try for example resOS 1 month for free.
5 things to consider before deciding on an online restaurant booking system!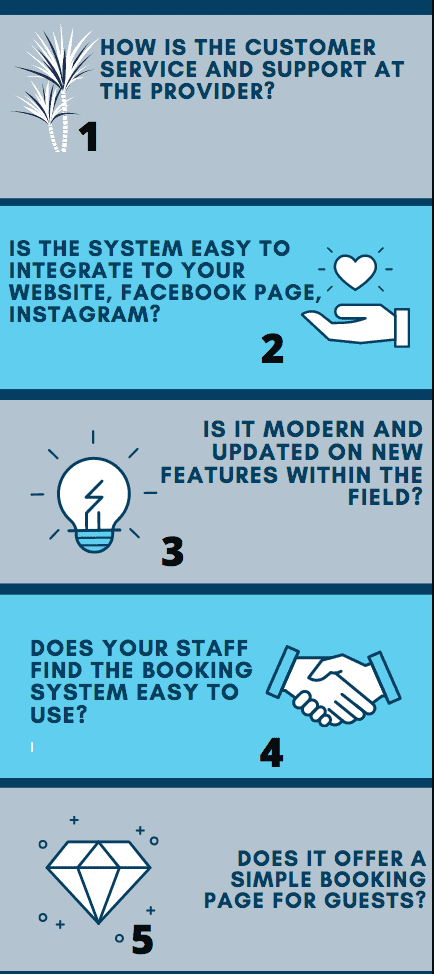 What is the best restaurant booking system for small businesses?
Always choose a restaurant booking system that complies with and matches your requirements. Also, if you have a small business and if a booking system is a new implementation, you might have multiple questions in terms of setting everything up. The key here is then to find a booking system with great customer support. Besides that, we will go through some of the best restaurant booking systems for small businesses in the following!
Sooo, buckle up and assess your options with me!


5 restaurant booking systems for small businesses
Eveve is a booking system that specialises in high volume, busy restaurants, and works with some of the busiest full table service restaurants anywhere. Eveve, as a company, focuses on the long term client relationship, never on short term profit.
resOS offers a modern, user-friendly and simple booking system for small and bigger businesses. resOS have customers from all over the world and functions on all continents. The system offers a variety of features such as a visual table planner, deposit, and table management but keeps the cost at a minimum. resOS is known for their fast customer support, and for always encouraging their customers to request features and give feedback.
Now Book It is a ​restaurant reservations system​ that provides hospitality businesses with the infrastructure they need to accept and manage online bookings. Now Book it offers a cloud-based table management diary and multiple features.
Resy is a restaurant technology partner with 250+ years of restaurant experience and has a network of highly-engaged diners. The pricing at Resy depends on how many features you need at your restaurant.
TheFork is a restaurant booking system where you pay-per-use, which means that reservations made on their website, or on one of its partners, will be billed per seated cover. They offer price plans that cater to different sizes of restaurants.

Absolute 'must-haves' for a restaurant booking system
We see that there are some must-haves when it comes to a booking system. In the following, our take on 'must-haves' is presented. These include table management and easy integrations and setup, among others.
Table management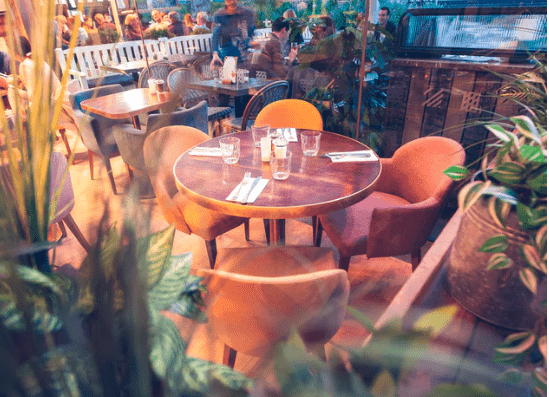 Often, you will find systems that offer different combinations, when it comes to table management. For example, you might have the option to accept online bookings automatically, if a table is available. Another option might be to manually add tables to bookings and manually approve or decline the reservation. Managing tables automatically or manually has its advantages. This depends on how busy your restaurant is, how fast you get comfortable with the system, etc.

Being able to set up different areas and seatings
Setting up areas in your restaurant is a great function. It makes managing tables so much easier, for both customers and restaurant owners. When setting up different areas like 'Outside' or 'Bar', guests feel in charge as they decide exactly where to sit. From a restaurant's viewpoint, it's also a great way of spreading out the capacity during the day. Furthermore, when being able to set up multiple opening hours, with different seatings you ensure your restaurant always being buzzing with guests. During the summer months you might want to limit seatings in your outside area to have some available seatings for walks-in.
...other 'must-haves'

Easy integration and setup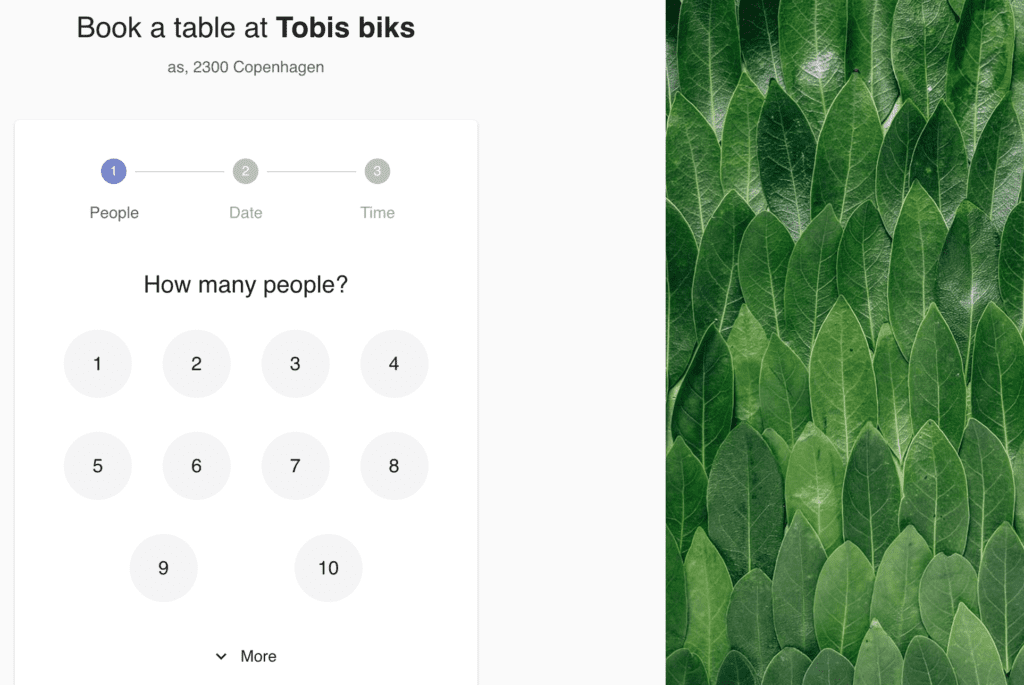 It's important that integrating a booking system into your restaurant runs smoothly. Of course, it's inevitable that setting up your preferences and settings in a booking system might take you an afternoon. But when that's done, you are good to go!

Also, have a lookout for the possibility of integrating your booking link to all platforms. Your Facebook, Google Business account, Instagram, and of course your website should all include a booking link. When doing so, guests are always able to book a table no matter where they look, online.
A visual table planner

This is a must-have if you value having a very easy overview of your restaurant and tables. A visual table planner allows your staff to have a complete visual overview of all areas and tables. Also, you will have an overview of the status of each table and its reservations with a smart color code.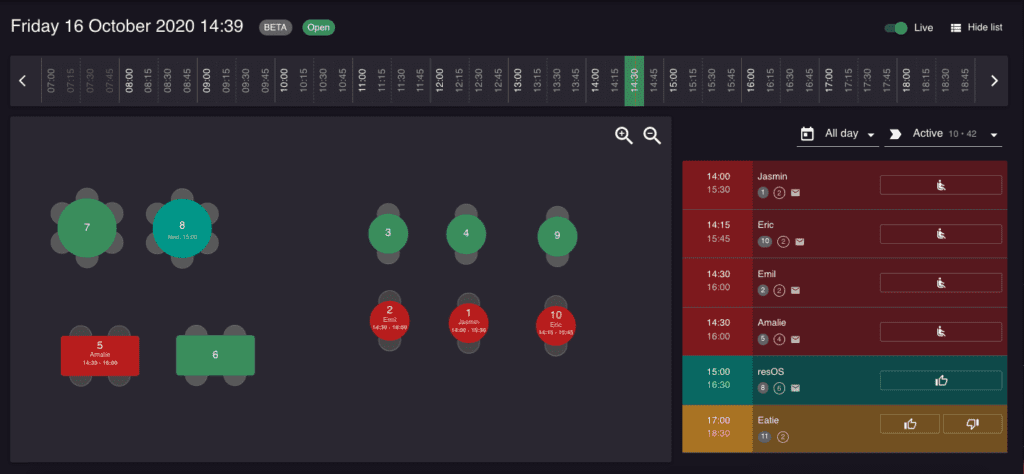 Customization of communication
Another must-have is to customize communication to guests. It's not only important in order to let your guest know the duration of their booking. It might also be extremely valuable if your restaurant has to follow governmental restrictions or other guidelines. During the current pandemic, many restaurants around the world are required to inform guests about restrictions. The restrictions often revolve around face masks requirements, hand sanitizer, social distancing etc in order to stay safe. Ultimately, it is up to you what you want to inform your guests about!

Support
This is one of the most important must-haves if you ask us! It is crucial that the reservation system you are thinking about implementing has good customer service. If you need help with your reservation system, it is crucial that you can reach support within a reasonable time. Setting up a meeting with your software representative can be smart, as they can guide you through the system so you won't make errors early on.

What's next??
As you probably already realized, a booking system can benefit your restaurant management tremendously. Follow our guide, as well as our advice on must-haves before deciding on your restaurant booking system. By doing this, you'll be accepting online bookings at your restaurant in no time. You are always welcome to reach out to us on email at [email protected] if you have any questions on how a restaurant booking system can benefit your business!