In this last resOS update for 2021, we are adding a new integration that allows you to be in charge of what information the customer needs to leave to complete a booking.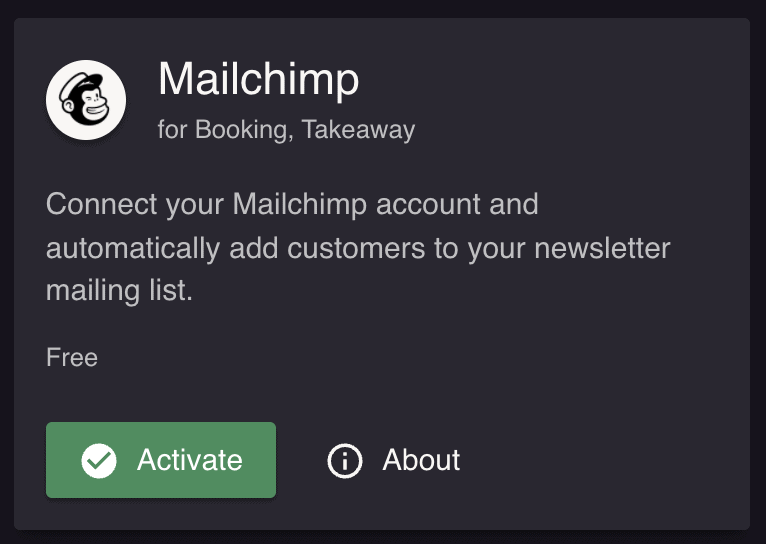 Mailchimp integration and mandatory fields
With this update, we are introducing:
Mailchimp – a new smart integration that allows you to ask your guests to sign up for your newsletter in the booking/order flow. Head over to the app section in your resOS dashboard and activate it to get started right away.


Mandatory fields in the booking flow – with a single setting it's now possible to set if customers should leave a phone number, email, or both when making a booking. Set it up in your booking settings.
Bugfixes – for easier booking and table management
Apart from developing new features, we also continuously update and improve the system and existing features based on user feedback. For this last update of 2021, we have focused on three small bugs in the system:
Fixed the issue with large images on booking flow

Fixed the issues with importing opening hours from Google

Fixed the issue that made it possible to set a duration to minus when manual inserting bookings.
2022 features in your booking system
Here at resOS, we always try to improve and develop new features that make it easier and more seamless for you to run your restaurant, bar, café, or the like on a daily basis. So, here are some of the big things we are already working on and expecting to launch at the beginning of the new year.
What we are working on at resOS for 2022
Google integration – make it possible for your customers to book a table through resOS directly from the google search.

Booking form improvements – when manually creating bookings it will be possible to select an opening hour the booking should match. This will also allow us to show you and your employees warnings inside the system if you are about to create a booking that does not match your opening hour settings.

Payment improvements – we are working on a few small changes to allow payments in resOS to be more flexible. Such as setting your own time limit for guests to pay before a booking is deleted, and we will also add the possibility to set a "Paid outside resOS" status on bookings.
We wish you a merry Christmas and a happy New Year. We are looking forward to an awesome 2022 together and, as always, let us know if you have any feedback, ideas for improvements, etc. We are always available at [email protected]