We are happy to announce that our latest resOS 6.3 update includes the ability to drag and drop bookings in the schedule view, a new "refund" user right to limit which users can refund payments, and more.
Drag and drop bookings
Drag and drop bookings make it a lot faster to move bookings around, change tables and/or time without having to edit them. And it's a feature that has been requested by a lot of our customers, so we're really excited to launch it.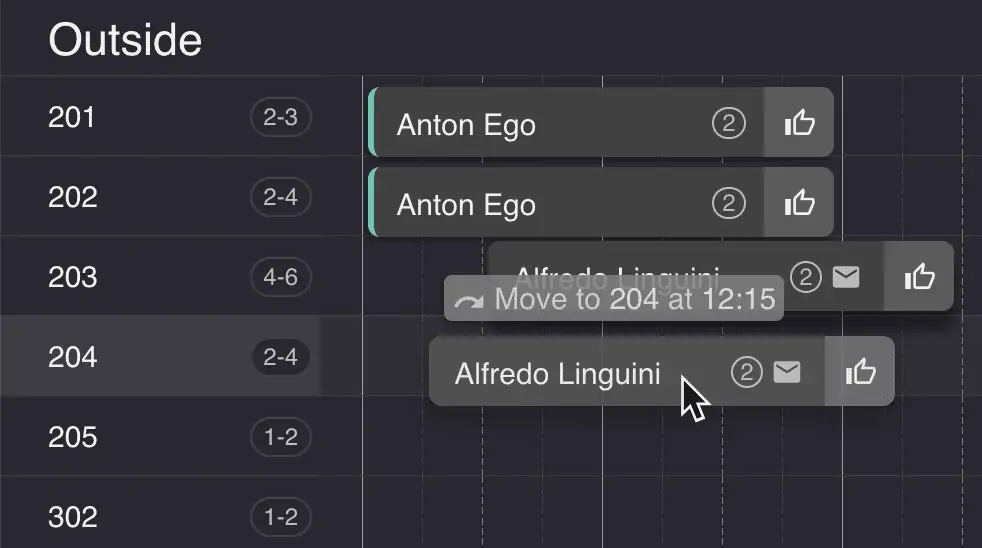 You can drag and then drop any booking
at any table and/or time
on another booking to switch the tables between the two bookings
on name of a table to move the booking to this table without changing the time
on the "Remove tables" icon bottom right to remove all tables from the booking
outside the schedule or on the "Cancel drag" icon bottom right to cancel the move of a booking
on both our online web app and in our native apps for iOS and Android on screens wider than 600px
All moves are quickly confirmed and the system automatically warns you about changes and significantly overlapping bookings.
If you prefer to not use drag and drop or are using an old slow device or an old browser, you can disable drag and drop in "Settings" –> "Booking" just below the "Managing bookings" headline.
"Refund" user right
To limit which users can refund booking prepayments and no-show fees (as well as takeaway order payments), we have introduced a "Refund" user right. This right is required to make refunds unless the user is an admin or owner.
By default the "Refund" right is disabled on existing users with custom rights, so make sure to enable it on any none admin and owner users that should be able to make refunds.
We love to hear your feedback and ideas, so please don't hesitate to write us at [email protected].