We love that we have made it so easy for guests to book a table at your restaurant. But alongside increased bookings, there is also an increased risk of guests booking without showing up. We want to work side by side with you to prevent this, which is why we developed a feature that is going to help you reduce restaurant no-shows.
Change the status to "no-show"
If a guest doesn't show up, you can change the status of the booking to "no-show". This will make it easier for other colleagues to keep track of what happened with the booking. This means, that you quickly can offer the table to another party. You can always change the status on your computer, tablet, or in the resOS app.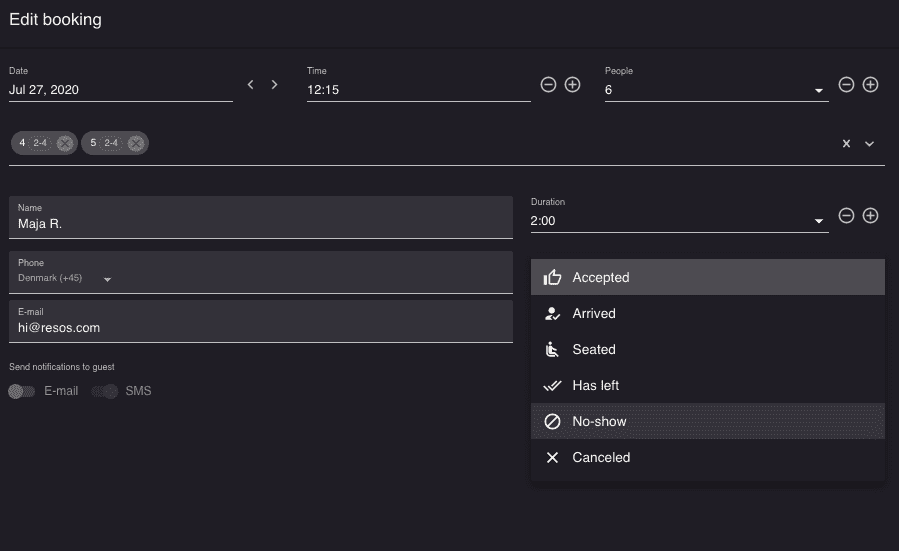 It is important that you remember to change the status of the booking to "no-show" so that the system can register it as a "bad" guest for future bookings.
What does it mean to be flagged as a bad guest?
Each time you receive a new booking, the system will automatically review the information the guest has entered in the booking to see if it matches a previously flagged guest.
This information can be an email address, phone number, userID, or visitorID. If it matches, we will automatically add an alert to the booking. The warning icon will also appear in your booking overview (on the list & schedule). This means that the staff quickly and easily will notice it and know that they should double-check the booking.
With this feature, you will get a better overview of your bookings, and reduce the risk of guests repeating their bad habits. Remember, however, that the system will only warn you - the rest is up to you!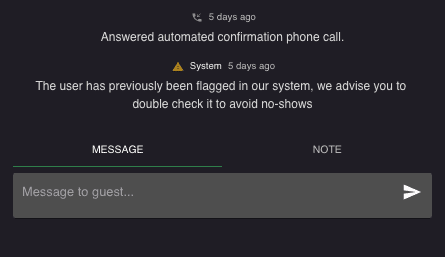 Flag "bad" guests to reduce restaurant no-shows
When changing the status to "no-show", the guest who made the booking will automatically be flagged as a "bad" guest. The guest is not being informed about this. It will only show internally in the system.
Except for changing the status, you can also flag a bad guest manually by clicking on "flag bad guest". This also ensures that the guest is registered in the system.
Even if guests have been flagged, you are always able to unflag them again. This means that it always will be possible to give guests a second chance.

Do you have any questions about the feature?
Don't hesitate to contact us at [email protected]. Our sweet support team is always ready to help you.